I'm going to be honest. I'm not a big coffee drinker. Time and time again, I've thought, maybe this cup of coffee will win me over. But unless I add cream, sugar, vanilla, chocolate, peppermint schnapps, and whatever else is available, I usually don't like it. For the most part, I just don't get coffee.
The only times I truly enjoyed coffee were during trips to Italy and Guatemala. There, the drink was not just a morning kickstarter (or nighttime fuel). Rather, it was valued for its rich, complex flavors and was treated with the same delicacy and respect as any other essential part of a meal.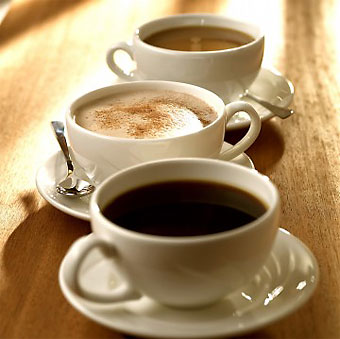 I'm back in Fort Worth now, and I may have finally found a way to bridge that coffee canyon.
My dainty white cup now contains a taste of Latin America. Today's delight features Mexican and Peruvian coffee beans roasted right here in the new Avoca Coffee shop by co-owner Garold LaRue III.
LaRue is no stranger to coffee. His family has been in the coffee business for five generations, and he has been roasting beans for more than five years. To say he has a passion for coffee wouldn't do him justice. You can chat and laugh with him, but when you mention the "C" word, his tone turns serious.
LaRue and co-owner Jimmy Story have been friends since sixth grade and are both celebrating their 32nd birthdays this weekend. They whipped up the Avoca plan a couple of years ago after finding themselves unemployed.
After a year and a half of fund raising and remodeling the structure on West Magnolia Avenue on the Near South Side, the co-owners opened their doors just over a week ago. While you might find LaRue roasting beans in the room adjacent to the shop, Story will probably be working the room, chatting with customers. "I do dishes and bus tables," he said with a laugh.
Avoca occupies what used to be a scooter shop, and some of the previous tenant's architectural features remain. What used to be two large metal rollup doors are now grids of windows, letting in natural light and a view of Avoca's Magnolia neighbors, Spiral Diner, Lili's Bistro, and Nonna Tata.
The interior has a warehouse feel, with exposed ventilation ducts and bare concrete floors occupied by tables, lounge chairs, and sectional couches.
The divider between the shop/lounge and roasting room is clear glass, allowing customers to watch the whole process, from the green coffee beans' arrival to the pouring of a cup at the bar. On the floor next to the San Francisco roaster are four huge bags o' beans, labeled "Guatemala," "Mexico," "Nicaragua," and "Peru." Avoca buys organic when possible and always directly from the farmers, so the buyer knows the full pedigree of the beans. Like any crop, coffee beans are affected by their soil condition, rainfalls, and climates.
"We want to get people used to drinking real coffee again," Story said. By which he means not dumbed down with sugars and artificial flavorings.
I tried an espresso brewed with Mexican beans. Each sip was a wonderful burst of nutty frothiness with an easy, smooth finish.
A cup of Avoca coffee ranges from around $2 to $4.50, while mason jars of roasted beans, currently featuring Mexican and Nicaraguan varieties, are $10 for a half pound, an amount that may last a week in the average household. If you're not sure what you're looking for, the bar staff is knowledgeable and helpful.
I went back for a cup of Peruvian brew served as a cortado: an espresso with a little steamed milk. It was much darker than the Mexican espresso and had notes of molasses and blackberry plus a lingering finish. It was a little out of my comfort zone, but seeing LaRue at the roaster made me feel emboldened and enlightened. "We want to showcase the simplicity of the bean," LaRue said. "We want to bring out the flavors and personality each bean has."
Coffee is a daily ritual for lots of folks, and the guys at Avoca are hoping to add knowledge, quality, and a little flair to that ritual.
"We won't become complacent," Story said. "We won't do the same thing. … People are always going to be asking, 'What are those crazy guys at Avoca doing today?' " –– Katie Ruppel
Contact Last Call at lastcall@fwweekly.com.