Last Thursday evening at Artspace 111, we threw a party. About 200 people showed up, which isn't bad, considering that Artspace 111, while spacious and airy, doesn't have a large spatial footprint. The people who happily piled into the near-downtown gallery/studio had gotten all gussied up to celebrate our inaugural Visionary Awards. Three up-and-coming local artists –– photorealist Michelle Brandley, filmmaker Andrew Disney, and multimedia artist Micah Yarborough –– each received a $500 check. The evening also included a performance by alt-folkies Seryn (courtesy of Fort Worth's Spune Productions) and a popular vote for the best reader-submitted beer label design to appear on every bottle of Visionary Brew, a commemorative beer to be brewed by Rahr & Sons Brewing Company.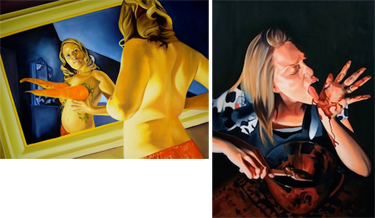 In the beer-label contest, Jordan Roberts' winning entry is subtle but powerful, featuring a red outline of a zodiacal palm on a yellow background, with the label verbiage off to one side. His competition was pretty diverse. Paul Leicht's design consisted of a simple moth outlined in white on a black background, Jeremy Hughes dived into ancient Egyptian symbolism and presented a horned pyramid, Adam Burt offered up a cosmic cow (its mind's-eye aglow), and Matthew Irwin also stuck with simplicity, giving us a Victorian-esque golden telescope.
We announced Roberts' victory right before Seryn went on. By then, everybody was pretty much into the swing of things, though I think I lost some people when I got up on the mic earlier and tried to explain the philosophical underpinnings of the Visionary Awards. If I came off as a little obtuse, here's what I was trying to say: We here at the Weekly like putting on events. We do First Friday on the Green, Thursday Night Live, and, every summer, the Fort Worth Weekly Music Awards. Notice a trend? That's right. All of our events are music-based. We don't offer much for people who either don't like pop music or don't like local music at all. Weirdos, I know, but still. We came to the conclusion that there's really nothing in town that celebrates the fine arts. Yes, there are the Gallery Nights, but as great as they are, they're not, y'know, themed. They're just big (and awesome) parties scattered all over town, each venue offering a different exhibit, some even from (gasp!) non-Fort Worthians. There's also Main St. Arts Festival, but we all know that the average edgy indie-painter is welcome there only as a massive-turkey-leg-eating customer, not as a participant. (Main St. is geared more toward arts and crafts than edginess, which is just fine and dandy. Diff'rent strokes and all.)
We Weekly peeps thought that somebody should do something to honor –– not just exhibit or screen or stage, but to honor –– local burgeoning artists who may or may not already be part of the local/regional Establishment but are, well, let's just say, "new-ish." Of course, to us, "honor" means "throw a big-ass party for," which is what we did at Artspace 111 but only long after we established the Visionary Awards concept.
Here's how it all went down: Even though I know everything (I'm a critic, what?!), I admitted during the planning stages a few months ago that I needed help in selecting our three honorees. I asked a few in-the-know folks, "Who's really making an impact on the local arts scene, even though he or she might not really be established?" I collected the responses, added some of my own, and compiled a short list of about 15 brief bios that I sent to a slightly longer list of in-the-know folks, who kindly gave me their top three choices. I added up the votes, and –– bada-bing, bada-boom –– we arrived at Brandley, Disney, and Yarborough.
And, man, were our in-the-know people really in-the-know. Our winning trifecta is pretty fierce.
Brandley, who earned her bachelor of fine arts degree from California State University-Fullerton, is currently pursuing her MFA in painting from Texas Christian University. Her paintings, much in the spirit of seminal serial woman-worshippers John Currin and Lisa Yuskavage, are photorealist but occasionally grotesque, borderline surreal. And, yes, they can be satirical. Brandley is often the subject of her own works, painting herself into mises en scene that suggest overindulgence and that confront the tyranny of the dreaded male gaze, a perspective that reduces women to merely creatures to be ogled. Brandley stares back, portraying herself as a voracious chocoholic, licking the melted stuff off her hand over a mixing bowl, in one painting, or as a doyenne, checking herself out in the mirror while holding cartoonishly large carrots to her breasts. "I'd like to continue discussing things [like consumption, emptiness, and obsession] in my paintings," she said, "but in a less literal and direct way. The challenge for me is to be a little more metaphoric about my ideas. I don't want anything to be so obvious that you can look at it and walk away. I want to give people a reason to stay and look for a while."
Yarborough, who earned his BFA from the University of North Texas, played in the popular indie-rock band Mission Giant, and was part of the famous Good/Bad Art Collective, also hews to reality in his pieces. His highly detailed line drawings in ink on paper broadcast the same friendly sort of wry, inquisitive romanticism that he does in person. There's a gentleness about them, even when they're of inanimate gadgets or seem to be exploding. Daily effluvia, creatures, and, of course, people also find their ways into the artist's calm yet technically demanding work. Yarborough got a lot of cheers when he wrapped up his acceptance speech by saying, "Fuck Dallas!"
Disney, a graduate of the prestigious film school at New York University, has endeavored to establish a career in filmmaking without ever leaving Fort Worth. In his excited acceptance speech, he seemed to indicate that he's well on his way. On-the-verge actors Jason Dohring and Minka Kelly were recently in town –– "here in Fort Worth!" –– filming scenes for Disney's forthcoming debut feature, Searching for Sonny. The film's trailer was used to raise funds for the film and was also written up in Gizmodo and Filmmaker magazines –– Disney was the first to discover that digital single-lens reflex cameras, intended for taking still photographs, could be used to shoot films on a low budget with drastically reduced crew sizes. The trailer for Sonny, shot on a DSLR camera, played on a loop inside an Artspace 111 gallery.
The weather that day couldn't have been more perfect, and Artspace 111, with its spacious back patio and sculpture garden, proved to be the ideal venue, though in more ways than just by having a high breeziness factor. The gallery walls were covered with breathtaking photorealistic paintings by several Artspace 111 regulars, notably John Hartley, Nancy Lamb, and 111 co-founders and twin brothers Daniel and Dennis Blagg. I felt a lot more sophisticated than I actually am just by hosting a party there.
I was totally impressed by Seryn, whose performance was orchestral and epic. Multi-part vocal harmonies floated over elegantly picked, plucked, plunked, strummed, and occasionally even bowed guitars and a ukulele and drums.
The crowd was made up mostly of young white folks and a few artists, including photorealist painter Devon Nowlin, multimedia artist and Art Corridor II curator Christopher Blay, photorealist painter James Lassen, and conceptual artist Richie Budd, whose most recent piece — in a gallery in New York City, no less — consisted of several actual frat bros, a marker, a lot of beer, and a pot to piss in, among other arty attendees. Big props also to our committee members (too numerous to name) and our sponsors: Ambhar Tequila, the Art Institute, Buffalo Trace, Fireball Cinnamon Whisky, Reata Restaurant, Red Bull, Spune Productions, WineStyles, and Zev Vodka.