Incumbents in Fort Worth political races rarely lose. That's why Fort Worth City Council members largely go unopposed (three races this year fall into that category). The tradition adds to indifference among voters and low turnout on election day.


As a result, those with political ambitions usually stay on the sidelines until a council seat opens up. This year that's happening in District 7, which sprawls from the Cultural District all the way out to Eagle Mountain Lake. Three-term council member Carter Burdette decided not to run again, and five candidates are seeking to replace him. All but one said they would not be running if Burdette had stayed.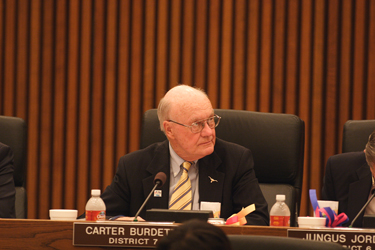 With the mayor's seat open as well, the District 7 election could help make this a tide-changing year at city hall. For many citizens, the old way of doing things doesn't seem to be working. Some think that new leadership is needed as the city faces major decisions on many fronts: reining in pension benefits for city employees, re-examining the increasingly expensive Trinity River Vision project, solving transportation problems with limited funding, and dealing with budget shortfalls.
"What seems to happen in Fort Worth is that we just recycle the same old people, whether they are the council members or those serving on boards and commissions," said Jon Perry, one of the District 7 hopefuls. "The small-business owners I deal with all say, 'They are killing me with taxes, and then they cut essential services.' We are a growing big city, and the same old way of thinking has to change because it is not working right now."
Perry, 56, is a retired U.S. Navy officer and one of the more outspoken candidates in a mostly middle-of-the road bunch. He is the CEO of two information technology companies. Joining him on the ballot are Lee Henderson, 33, a local software and finance consultant; Jack Ernest, 63, who owns a heating and air conditioning consulting business; Jonathan Horton, 29, a local bank vice president; and Dennis Shingleton, 63, senior associate dean of finance and administration at the University of North Texas Health Science Center.
Shingleton seems to be the odds-on favorite. He has received the endorsement of Burdette, who took about 70 percent of the votes in the 2009 race. Shingleton has served on numerous city boards and commissions, most recently chairing the "Let's Talk Fort Worth" forums and the city's Sustainability Task Force, which looked into changing development standards.
"I would not have run if Carter Burdette had decided to run, because he has done a superb job," Shingleton said. "I have been involved in this city for so many years, and I think I understand what is needed right now. We have some hard decisions to make — especially on the city employee pension problem — but now is the time for firm leadership and decision-making. I believe that with my experience I can do that."
While the candidates tend to plow the middle ground when it comes to pension problems and gas drilling policies, all said they see a troublesome disconnect between the city staffers and council members on one hand and neighborhood residents on the other.
"Too often, as this city grows into a very large city, we lose sight [of the fact] that we need to listen to the neighborhoods," said Henderson. "As I have been campaigning, that is the number-one concern among everyone I've talked to. People don't think their voices are being heard." Henderson said he would open up a neighborhood office if elected.
Ernest echoed that sentiment. "There is certainly a feeling of disconnect, especially in this district [that] encompasses the Cultural District, the Como neighborhood, and the Lake Worth area," he said. "These are very diverse groups with very diverse needs. A council member needs to help solve citywide issues like transportation and budgets, but we need to get on the ground and pay attention more to these neighborhood issues."
He doesn't see much of a problem with the city's current gas drilling policies. He recently attended a forum put on by Chesapeake Energy that explained their drilling practices. "There are always questions about safety and environmental issues, but I was delighted to find out all the precautions [the gas drillers] were taking as they did their due diligence on where and how to drill their wells," he said.
Perry said the problem with drilling in the city is that the city often grants waivers to its drilling ordinance. "There should be no waivers at all," he said. "We must stick by our rules and policies and enforce them. If a gas drilling company claims they need to be closer than 600 feet to a residence, we should just tell them no."
Horton said he became interested in running when the city began considering adding a fee to a homeowners' water bills that would help pay for transportation projects. The proposal is still being discussed.
Fort Worth "has the highest property taxes of any large city in the state, and then there is talk of adding more taxes," Horton said. "If we need to find ways to pay for transportation projects, we must first look internally at how the city can save money. In this economy, all of us are finding ways to live cheaper to save money, and the city needs to do the same."
As for the Trinity River Vision project, all of the candidates said it needs to be re-examined due to possible federal funding cuts and a price tag that has reached $900 million.
"TRV should be pulled at this time," Perry said. "If the federal funds dry up — as they appear to be doing — the locals will have to make up the difference. [Fort Worth has] to make some difficult decisions on this project, and now is the time to do it."
Shingleton agreed, though he is not yet ready to pull the plug on the town lake project. "Yes, in a short answer we need to take a new look at city's involvement and if more city funding is needed," he said. "We need to look carefully at the financial numbers and move forward with possibly some changes to the plan."
Another issue is the possibility of creating more council districts. According to the latest census data, Fort Worth's eight council districts average more than 100,000 residents each, one of the highest rates in the country. By state law, the city is required to redraw district lines only if the population changes make some districts much larger than others.
"Adding districts or redrawing the boundaries can have political repercussions and infighting, and we need to avoid that," Henderson said. "But if adding a few districts allows council to serve the citizens of Fort Worth better, we should do that."
Low turnouts usually favor incumbents; in 2009 only six percent of registered voters turned out for Fort Worth municipal elections. But with the mayor's race on the ballot, experts believe that citywide figure could double for the May 14 election. The percentage turnout could be even larger in District 7 given that so many candidates are running.
"The turnout will be much higher, absolutely," said Horton. "But I think it would have been higher anyway, even without the mayor's race. This city is facing all sorts of important issues these days, and I think the citizens of this city realize that change is needed on how we approach some issues. And from what I have heard from the candidates in this council race, I think everyone is taking this council race very seriously."