Fort Worth may turn into a music town after all.


Just a couple of years ago, there wasn't any industry infrastructure in place to support a scene a la Austin. Quality bands? Yes, there's always been a lot of them here. But internationally sought-out recording studios and/or producers? Internationally sought-after venues? Record labels? No. Now fast forward to today. Evanescence's Amy Lee tapped Fort Worth producer Will Hunt for her solo debut, Lola's Saloon is attracting international up-and-comers, and there are now a handful of labels in the 817, including Dada Drumming, the 8-track-only Dead Media, Rescued From Life Records, Rise & Shine Records, Spune Productions, and the latest addition to the label scene, Saint Marie Records.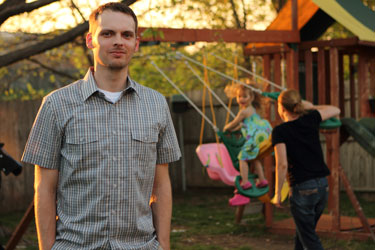 Founded just a few months ago by music aficionado Wyatt Parkins, Saint Marie specializes in ultra-hip indie-rock with a concentration on shoegaze (think: My Bloody Valentine, Slowdive). Parkins wants Saint Marie to be about "50/50" non-shoegaze and shoegaze. "For whatever reason," Parkins said, "saying [shoegaze] seems to grab people's attention more than, 'Hey, I'm starting a label.' When they hear a very specific term –– like 'shoegaze' or 'dreampop' or 'shoegazer,' whatever you want to call it –– their ears perk up. They seem to be more interested."
Four artists –– The Sunshine Factory, Sway, and Swedes Niels Nielsen and Patrik Torsson –– call Saint Marie Records home. Parkins has always been passionate about music, and while Saint Marie was in the developmental stages, he learned that Torsson was on the hunt for a label, which pushed Parkins' plans into overdrive. Along with Nielsen's Welcome to the Promising Land of Hi5ers and Hopeless People, Torsson's At the Line of the Border will be released on Mon., May 2. The Sunshine Factory and Sway are recent additions whose albums will be released in June.
Parkins started out in music like everybody else in the industry: by playing. But he claims his skills weren't refined enough for him to establish a career as a musician. He always had the idea for a label but was too occupied with life to proceed –– in addition to working as a business analyst for ADT Security Services in Irving, Parkins is also a married father of two children, Corbin and Starr.
Parkins was born and raised in East Texas, and not long after relocating to North Texas about a decade ago –– his wife, Kali, has roots in Irving –– he fell in with the crowd at Good Records in Dallas. Parkins began building web sites for highly esteemed indie-rock artists Tripping Daisy and The Polyphonic Spree. He eventually did graphic design for Good Records, Good Records Recordings, and Good Records-affiliated artists. Parkins still does a lot of design work, all under the name Shiny Hotel.
He stopped working for Good Records after the birth of his second child about three years ago. He got the label off the ground around last December with his and a friend's money. Just about a month ago, a major investor came along. "I got the green light to move forward on two or three more artists, and that's what we decided to do," Parkins said. "I had these two bands in mind. I reached out to The Sunshine Factory first, and I'd only known about them for about a month. I happened to run across their CDR of this album they put out that they were selling at shows and online."
At around the time of the investor's arrival, Parkins signed a distribution deal with Darla Records, which means that Saint Marie Records CDs will be available in brick-and-mortar retailers in the United States and Southeast Asia. "When that happened, I ran out and called my wife," Parkins said. "It was an amazing moment. It happened so quickly. It's hard to believe it's only been a month, and all that we've accomplished already is just amazing. The feedback and response has been great."
Parkins perhaps not jokingly refers to online distribution as "the digital demon." Are record labels anachronisms? "I struggle with it a little on my own as well, especially when I first started thinking of this," Parkins said, "but I think from an emotional standpoint, there's a benefit to [being on a label], and with most artists, I think you'll see that. You feed off of not only the label as an artist but you feed off the other artists, so if we have 20 artists on our roster and you're a fan of Sway and you visit our web site to find out about what's going on with Sway, then while you're there, you'll notice other records, other artists, so I think there's a benefit from that standpoint.
"And again," he continued, "going back to the whole promotion thing, there's something a label can do that an artist can't: distribution. Not many distributors are going to deal directly with an artist, so that's a huge piece of it, and I think if you took all those things away, then, sure, there's not much benefit to being on a label, but I think those things are huge. I think they're important enough. There's still some benefit to a label."
Parkins is quick to specify "an independent label." The major labels, he said, "are losing money left and right, and it's just because they want complete control."
Parkins, conversely, is not interested in owning the rights to any artist's mastered record. "If I was an artist, I wouldn't give that up, so I wouldn't expect that of them."
Parkins is currently in talks with a fifth band. To contact him, e-mail info@saintmarierecords.com or snail-mail Saint Marie Records, P.O. Box 48723, Fort Worth, Tex. 76148.