Tre Garrett, Jubilee Theatre's artistic director since January, recalls the moment when, as a teenager, he found his place in the theater. He'd wanted to be a performer pretty much the whole time he was growing up in Houston, so much so that he attended that city's prestigious High School for the Performing and Visual Arts. But it took an accidental trip to the school library for him to make a deep connection with live performance.


"I was auditioning for Shakespeare's The Tempest," Garrett, 30, said. "I loved the language of Shakespeare, but something wasn't hitting home for me. I went to the library where there were a bunch of old vinyl LPs. I picked out the one titled Ma Rainey's Black Bottom. I thought it was a jazz album, but it turned out to be the cast recording of August Wilson's play.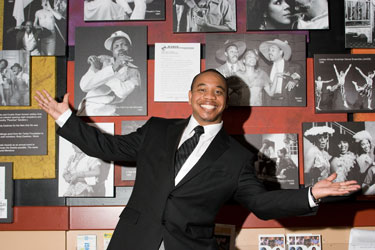 "I heard people who sounded like me," he continued. "And it wasn't silly or something to be laughed at. I knew that I belonged [in the theater]."
Garrett has been amassing eye-popping national theater credits ever since. He found his calling as a stage director while studying under the esteemed stage artist Gerald Freedman at the North Carolina School of the Arts. He's won awards and grants for playwriting as well as prestigious fellowships for directing, including a year-long stint as director in residence at the Kennedy Center in Washington, D.C. He served as assistant director to Daniel Sullivan on the 2005 Broadway production of Julius Caesar starring Denzel Washington. Garrett has also worked for the Walt Disney Entertainment Group, directing dozens of live shows for theme parks and corporate events around the country.
And now he's settled in Fort Worth to helm Jubilee, whose 30th anniversary, coincidentally, is also this year. Does Garrett feel as if he's going small-time after so much work on the national scene?
"People ask me, 'Why choose Fort Worth after you've worked in New York, Los Angeles, and D.C.?' " he said. "It's simple: As artistic director of Jubilee, I select and shape an entire season. I get to direct what I want. And it's like a homecoming for me. I'm a Texas boy. I have family in Houston, Fort Worth, and Dallas."
Garrett won't direct his first show for Jubilee, the musical Once On This Island, until this summer. But he's happy to discuss the theater's current production, Carlyle Brown's The African Company Presents Richard III. Directed by Phyllis Cicero, it's a drama about a little-known event in American history –– in 1820s New York, a small theater company of free African-Americans and African immigrants performed Shakespeare's royal tragedy. Their show ran simultaneously with another Richard III being produced by a white, well-off company. Needless to say, this didn't sit well with the city establishment, and the authorities intervened –– but not before The African Company had learned a vital lesson about imagination and identity.
"I think a lot of people will be shocked that free people of color were living and thriving as artists in New York City [in the 1820s]," Garrett said. "Every day they played roles as butlers and maids and restaurant workers. They played as if racism didn't matter. And then at night they got on the stage to play kings and queens. This period was a transition into the future for African-Americans –– we had to become creators of our own stories."
Jubilee recently announced its 30th anniversary season. Shows include Topdog/Underdog, Suzan-Lori Parks' Theater of the Absurd-influenced dramedy about two brothers named Lincoln and Booth; Tambourines to Glory, a gospel musical by Langston Hughes; Pretty Fire, Charlayne Woodward's autobiographical one-woman show about her childhood spent in New York and Georgia; Nathan Louis Jackson's Broke-ology, a stark drama about the effects of poverty on one family; and Stephen Sondheim's beloved musical Company, about a bachelor pondering romance and monogamy among his married friends.
With such an ambitious and eclectic first season ahead of him, Garrett stays grounded by one philosophy as a theater artist.
"There's an African word that's pronounced 'kuntu,' " he said. "It's the place where comedy and tragedy collide. I love exploring the idea that even in our pain, there are moments of joy that break through."
The African Company Presents Richard III
8pm Thu-Fri, 3 & 8pm Sat, and 3pm Sun thru Sun,
Apr 24, at Jubilee Theatre,
506 Main St, FW. $15-25. 817-338-4411.