By all rights I should like Tom McCarthy's movies much better than I do. The writer-director of low-budget dramedies The Station Agent and The Visitor has a delightful, low-key sense of humor and handles actors exceptionally well. (The latter is no surprise, since McCarthy is a working actor himself.) These are powerful gifts. Yet watching his latest film, Win Win, just reminded me of all the reasons why I don't care for his work.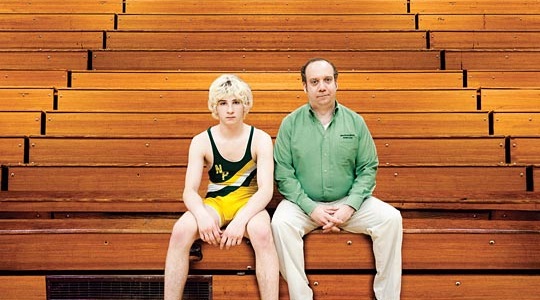 Paul Giamatti stars as Mike Flaherty, a small-town New Jersey lawyer who's struggling mightily to keep his practice from going broke. He finds a not-terribly-ethical way to make extra cash through his new court-appointed client Leo (Burt Young), a wealthy old man who's going senile and apparently has no heirs. Mike volunteers to become Leo's legal guardian, stashes Leo in a nursing home, and pockets the $1,500-a-month stipend for his guardianship. The move nets Mike more than just the money, because one day he goes to Leo's house and finds Kyle (Alex Shaffer), the old man's long-lost 17-year-old grandson, sitting on the doorstep. The slouchy, tattooed, bottle-blond kid tends to speak in monosyllables, but Kyle's apathy gives way to a sharp sense of purpose when Mike starts working him out with the sad-sack high-school wrestling team that he coaches. Soon Mike, a middling former wrestler himself who always dreamed of mentoring a phenom, finds he's got one on his hands and staying in his house.
Whatever its shortcomings, this movie goes down easily. The plotting is intelligent, the storytelling is fluid. Giamatti gives his customary excellent performance and establishes easy rapport with Amy Ryan as Mike's sensible wife and Jeffrey Tambor and Bobby Cannavale as his assistant wrestling coaches. (Cannavale in particular scores big laughs as a rich buddy throwing himself into the sport to distract himself from his recent divorce.) Not many movies are about amateur wrestling, which makes this a film that fans of the sport can call their own. The first-time actor Shaffer is an actual high-school wrestling champ in real life, and you can readily see his expertise in the wrestling scenes.
Yet when Kyle's mother (Melanie Lynskey) finally emerges from rehab and Kyle learns the truth about Mike's relationship with Leo, instead of a big emotional catharsis we get a broadly comic scene in front of the Flahertys' house with Kyle pinning Mike to his lawn. It's rather typical of the way McCarthy's movies tend to resolve themselves, in cozy terms that deem no psychological issue too messy to be tidily swept away. The snappy dialogue papers over the shallow roles — Kyle is good at wrestling and angry at being abandoned by his mom, and that's pretty much all there is to him. Even the complicating touches in Kyle's mom feel dictated by convention instead of arising naturally from the character. These elements, of course, are major reasons why so many people go warm and fuzzy over McCarthy's movies. I just wish Win Win had behaved more like Kyle on the wrestling mat and done more to spring surprises on us.
Win Win
Starring Paul Giamatti and Alex Shaffer. Written and directed by Tom McCarthy. Rated R.