In a small Tuscan village, we see an elderly Frenchman apparently yelling abuse at his wife in the middle of the piazza. But then they shift positions slightly, and we can see that the target of his ire isn't his wife but rather the person on the other end of his phone, which he's screaming into while his wife stands placidly in front of him. This happens in a scene midway through Certified Copy, and it's typical of the way meanings and characters seem to shift in this leisurely paced puzzler of a film.


The film begins with James Miller (William Shimell), a tall, trim, gray-haired British scholar who's in the city of Arezzo to promote his newly published book about art. After his lecture, a Frenchwoman (Juliette Binoche) introduces herself to James and offers to take him on a side trip to a nearby hamlet to see a piece of art before he leaves town that evening. However, their relationship turns out not to be what it appears.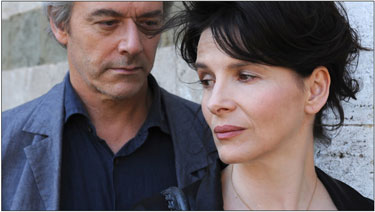 Mysteries within mysteries unfold over the course of the movie, beginning with the woman's appearance at his lecture, when she sits in the front row and holds spirited but inaudible discussions with James' Italian translator (Angelo Barbagallo) and a mop-topped pre-teen boy (Adrian Moore) who's busy texting people. Who is she, and what is she saying to them? Later on, she has a bone to pick with James over the central thesis to his book, but she won't say what it is. When an old innkeeper (Gianna Giachetti) mistakes the two of them for husband and wife, the woman not only fails to correct her but unloads a convoluted backstory describing their 15-year marriage and its current parlous state while James is off talking on his phone. We never even learn the woman's name. The movie is largely taken up with conversations — in English, French, and Italian — between the main characters, which inevitably has sparked comparisons to Richard Linklater's Before Sunrise and Before Sunset. Yet rather than two young strangers falling in love, Certified Copy features two middle-aged characters playing a much more complicated game.
Inviting us to fill in the blanks is a familiar strategy for writer-director Abbas Kiarostami, who became the face of Iranian cinema in the late 1990s after scripting the magical The White Balloon (directed by Jafar Panahi) and then directing his own masterpiece Taste of Cherry. Sadly, the thugs who run the Iranian government are intent on crushing their filmmakers. Panahi is currently in prison on trumped-up charges while Kiarostami now finds it healthier to work outside his homeland. Luckily, the 70-year-old Kiarostami has always been the most cosmopolitan of his country's great directors, and working in a foreign land suits him quite well. The rolling, sun-drenched Tuscan countryside photographed by Luca Bigazzi strongly resembles the Iranian landscapes that play such a large role in Kiarostami's other films. The Roman antiquities and Renaissance art that these characters gravitate toward seem to give the director new energy as well, even if it's the energy of an awestruck tourist.
Typically of Kiarostami's work, this film has lengthy scenes that play out as the characters are driving in cars. More importantly, it also explores the nature of fiction and reality by blurring the lines between them. The instrument of this is James' book and its ideas that copies in the art world have real value and that originality is generally overrated. It's difficult to discuss the story developments without giving too much away, but I think I can safely say that the woman's encounter with James is itself her attempt to make a copy of an original. The events here effectively prove her right and James' book wrong, but the mood is one of gentle, wistful loss rather than triumph.
Compared to the philosophical and religious dilemmas of Taste of Cherry, the complexities here don't amount to much more than a shell game. Yet Certified Copy is undeniably pleasant to look at, and even though the film's structure requires the actors to spend much of their screen time playing close to the vest, the performances by Binoche (who won the acting honors at the Cannes Film Festival for her work here) and Shimell (an opera singer making an impressively assured debut as a film actor) are alive with frustration and tenderness. For moviegoers who have yet to be introduced to the grand banquet that is Kiarostami's body of work, this movie makes a delightful antipasto.
Certified Copy
Starring Juliette Binoche and William Shimell. Written and directed by Abbas Kiarostami. Not rated. Fri-Sun at Modern Art Museum of Fort Worth, 3200 Darnell St, FW. Tickets are $6.50-8.50. Call 817-738-9215.