This is why Chow, Baby shops local: First, Joe at Woody's Car Audio found the perfect stereo to fit the Chowbabymobile's retro-mod looks as well as his near-zero console space. Then, after Chow, Baby's heartwrenching cry of "Where's my lucky charm?," he cheerfully helped search for our No Accidents gris-gris bag, which had disappeared from the dashboard during stereo installation. (Mock voodoo magicks if you like, but in 10 years of peering around for "Restaurant Grand Opening" signs instead of watching the road, we've never been in so much as a fender-bender.) You don't get that kind of eyeroll-free service at Best Buy.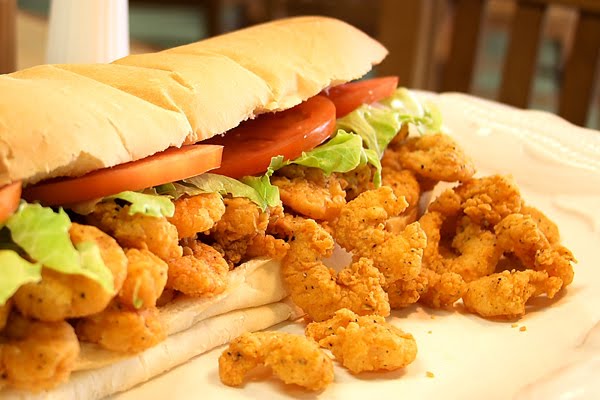 Gris-gris back in place, what we needed was a short road trip to get accustomed to the new controls. In perfect range: Gogo Gumbo (116 W. Rock Island Ave., Boyd; Tue-Sat dinner only, closed May 24-28), which is about 40 minutes from downtown Fort Worth if you take the highway like a boring person. And then, on a Friday or Saturday night, you'll wait another 30 minutes to get in. Well worth it just for the fried shrimp po-boy ($9.50), huge, beautiful shrimp on garlic French bread spread with remoulade and pico de gallo, both made in-house.
Oh, you want more than a po-boy for driving all that way? No prob. Chef/owner Kraig Thome, who left the Houston-chef rat race three years for what looks like a dive bar (it's not, as Boyd is dry, so BYOB), has created Chow, Baby's favorite oxymoron, the gourmet dive. With the freshest ingredients and a talent for roux, Chef Kraig makes coastal comfort food like seafood hushpuppies ($4.95), spicy shrimp creole ($10.95), mild étouffée ($10.95) that lets the crawfish shine, and extraordinary bread pudding ($4.95) with an almost flan-like consistency. The Chow, Baby Best Buy™ is the "TV Dinner" ($11.95), served in a bento box: chicken and sausage gumbo in a rich, toasty roux; house salad of mixed greens, feta, and dried cranberries; a large, perfect crabcake with fresh slaw; and buttery shrimp and grits. Glorious. No matter how long it takes you to get to Gogo Gumbo, it's worth the trip.
All Quiet on the Northern Front
Grateful to a neighbor who finally got her dogs to stop barking day and night, Chow, Baby thought it would be cute to treat her to a thank-you lunch at Donnie's Hot Dog Shop (8020 Matlock Rd., Arlington). Dog, dog, get it? But somehow our schedules never meshed. (Or maybe she didn't get it.) So Chow, Baby went alone, and had a doggone good time.
Donnie's owner Veronica Dotson, whose kitchen is about the size of a Chicago hot dog stand, makes a dog ($3.50) that tastes like it comes straight from a Chicago hot dog stand: Vienna dog, poppyseed bun, bright green relish, sport peppers, the whole shebang. Her Philly steak sandwich ($7) might offend those on the Whiz side of the proper-cheese debate, but Chow, Baby's not arguing with a heap of melted mozzarella and grilled onions over tender, secret-recipe-marinated beef. Veronica also offers a killer meatball sub ($6.50), homemade pies ($4 for a full quarter of the pie), and a "Love you" to every departing customer.
So that dog-dog idea worked out fine. Hmm. Offer to Chow, Baby's other-side neighbor: Get your feline fixed so he stops attacking my cats and spraying inside my house, and there's a Reata calf fries lunch ($10.95) in it for you. Or I'll go alone. Either way works for me.
Contact Chow, Baby at chowbaby@fwweekly.com.