The sprawling suburbs and outlying areas of North Fort Worth haven't been historically known as exciting culinary hubs. The restaurant landscape is dominated by national and regional chains. And all those fast food joints. It's been easy for mom-and-pop standouts to get drowned out in all of that McNothing. However, over the last two or three years, independently owned restaurants have sprung up and done well. Amid the vast stretches of mediocrity, there is reason for optimism.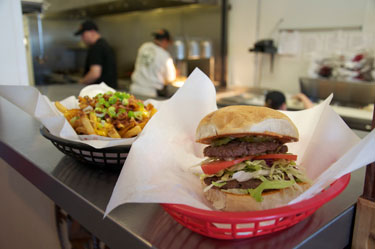 One family-owned little gem, tucked away in a strip mall in the outer reaches of the Fort, is emblematic of the progress. Ted E's Burgers & More has its own flavor profile, a variety of unique burgers, some solid side items, and a little something for the non-carnivores. While Ted E's is far from perfect, the food is the result of a well executed vision, and the place's survival shows a little entrepreneurial chutzpah.
On a recent evening, the dining room was almost empty. The service was prompt and friendly, a rare thing on a dead night at most restaurants –– many employees resent late business and greet you with a groan rather than a smile. The specials were written on a chalkboard by the walk-up counter. The menus were stacked haphazardly on the counter –– were the place busier, that might have been problematic.
The friendly woman at the counter recommended the fried pickles and "fresh-fried cheese" appetizers –– and she was spot on. There is something magical about Ted E's fryer. Samples from both orders were perfectly fried, without any greasiness. The breading was light, crisp, and delicious. The cheese sticks, served with ranch dressing and marinara sauce, were somehow both gooey and airy. The fried pickles were huge and plentiful. The tangy, peppery aioli on the side showed a level of sophistication that most burger joints can't approach.
The sandwiches were just as successful. Ted E's Whiskey Glaze Burger –– two three-ounce patties, hickory-smoked bacon, Swiss cheese, Ted E's sweet mayonnaise, lettuce, pickles, tomato, and onions –– is not for anyone scared of sticky hands. The thin but hearty patties were a little overshadowed by the bacon and sauce, but it was pretty obvious that the meat had never seen a freezer. (Ted E's probably doesn't even own one, based on the rest of the meal.) The equally fresh sweetbread bun, along with the sweet glaze and bacon, gave the burger an almost pork-bun quality.
Mike T's blue cheese bacon burger is another gourmand's dream. Smothered in a zesty, cheesy aioli, the burger was arranged like the Whiskey Glaze: sweetbread bun, two stacked patties, and all of the veggies.
For non-burger eaters, the chicken cordon bleu club is a filling but refined choice. Featuring a lightly fried breast of bird, hickory-smoked bacon, honey ham, Swiss cheese, house-made honey mustard, lettuce, tomato, and onions, the sammy is not doing your waistline any favors but is a delicious alternative for anyone experiencing burger burn-out.
The only miss at Ted E'sis the décor. It was too much like what you'd expect from a strip mall in suburbia or a Texas-themed restaurant in another country. The walls are dotted with sports jerseys, photos, pennants, and signs, and amid all of that team spirit hang those ubiquitous ironwork lone stars. (But no one was complaining about the two hanging flat-screen TVs, tuned to the Rangers game.)
Ted E's has a lot to offer. The rotating lunch specials cost $5.99 and include a drink. The expansive menu features an assortment of salads, options for kids and seniors, and sandwiches and wraps. Everything tastes fresh, and there's enough variety to satisfy most palates. And at reasonable prices to boot.
Ted E's Burgers & More
7420 N Beach St, FW. 817-514-8337.
Sun 10am-5pm, Mon-Sat 11am-9pm.
All major credit cards accepted.
Fried pickles ………………………….. $5.69
Fresh fried cheese ………………… $4.29
Ted E's Whiskey Glaze Burger … $6.49
Mike T's Blue Cheese Burger …… $6.09
Chicken cordon bleu club ……….. $6.29