In a dramatic switch from its madcap version of The Mikado two weeks ago (see: "FWO's Contempo Mikado," May 18), Fort Worth Opera unveiled a striking new production of Verdi's Il Trovatore last weekend. The second entry in the company's festival, Il Trovatore will be repeated this Sunday and also on Fri., Jun. 3, both in Bass Performance Hall.


The plot is convoluted and implausible –– for starters, it asks us to accept that years before the curtain has gone up, the gypsy Azucena, in dazed grief, threw her son on a fire that was consuming her mother instead of a boy of whom she was in charge, the son of the Count, and then ran off to raise his child as her own. Il Trovatore has survived and thrived mostly on its inspired music.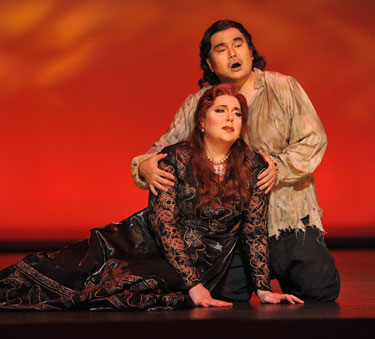 FWO general director Darren Woods put together a quintet of impressive, hefty-voiced singers for the Verdi favorite, headed by tenor Dongwon Shin in the title role of Manrico, the Troubadour, and Marjorie Owens as his lover, Leonora. Both are alumni of the Marguerite McCammon Voice Competition here. The Korean-born Shin has since debuted in major opera houses around the world, most notably singing Radames in Aida and Calaf in Turnandot.
His Calaf in FWO's 2008 Turandot was a knockout, and his voice is much as I remember it: rich and open through the whole range, with glistening top notes. Composed in much the same heroic style, Manrico gave Shin ample opportunities to show his strengths, including a hair-raising "Di quella pira (See the Pyre Burning)," with its sustained high notes. It also showed that he has some difficulties in reining in this power for introspective singing.
Owens, too, has enjoyed success here and abroad since her competition days. She sang Madame Lidoine in Dialogues of the Carmelites for FWO several season ago, and her voice is fuller and more focused now and seems ideally suited to Verdi's dramatic vocal sweep. She was a strong, compelling Leonora, a noble creature who sacrifices herself for her lover. For Owens, as she refines her performance, this may become a signature role.
As the crazed Azucena, mezzo-soprano Victoria Livengood, who also appeared in the Carmelites, had many memorable moments. Her voice seems to be three distinct instruments: a strong lower register of remarkable clarity; a smooth, flexible middle voice; and a bright trumpet of an upper range that cuts through chorus and orchestra with amazing force. Dramatically, she was all over the place, but it was in the final prison scene, in which she sat trance-like and holding a crumpled scarf to her cheek, gently crooning to it as if her heart would break, that Livengood impressed the most.
Baritone Malcolm McKenzie as the Count and baritone Tyler Simpson as one of his officers rounded out the imposing cast, offering solid, sensitive singing that made this production one of the finest musical performances of a large-scale work I've heard from the company. Joe Illick gave great support leading the Fort Worth Symphony in the pit and the massed choruses on stage.
Visually, the production used a neutral backdrop of high, fortress-like walls in various arrangements to frame the singers. To distinguish particular scenes, oversized mobiles in appropriate shapes hung from the fly loft: giant flower boxes full of shrubbery for the garden scene, two huge wheels hanging catawampus over the forge for the Anvil Chorus, and an enormous circular stained glass window and two big crosses for the nunnery. Going a step too far was the gigantic, twisted, rectangular-linked chain hovering over the capture of Azucena. The device looked more cartoonish than atmospheric.
But Il Trovatore is about the singing, no matter what else is going on, and here FWO gave us a vocal feast and a great evening of opera.
Fort Worth Opera Festival
Thru June 5 at Bass Performance Hall, 525 Commerce St, FW, and Sanders Theater (inside the Fort Worth Community Arts Center),1300 Gendy St, FW. $15.40-157.80. 817-731-0726.