If you've been around Fort Worth's film festivals or screenings of local filmmakers' work, you've probably seen James Johnston. The barrel-chested 38-year-old with a shaven head, scraggly beard, and tattoos running the length of both arms cuts a distinctive figure among the young urban hipster artists as well as the older, more genteel crowd that tends to gravitate toward art-house films. Fort Worth Weekly wrote about him five years ago ("Out of the Box," Jan. 18, 2006), when he had just made Deadroom, a feature-length anthology of shorts. Johnston produced the film, and he and three filmmaking friends directed its segments.


Since then, Johnston has gone from neophyte artist to a central figure in the city's filmmaking community, but his ego apparently has not grown along with his role. The biography on his web site reads in its entirety: "I produce and direct films. I was born and raised in Fort Worth TX." There's much more to his story than that.
James Johnston was born in Fort Worth.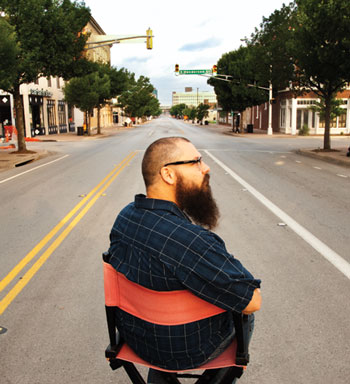 Anyone expecting an incendiary, temperamental, difficult artist will undoubtedly be disappointed upon meeting Johnston. He is a pleasant, open person who speaks softly and articulately about a wide range of issues. Among these are the reasons why he became a vegan ("I felt that if I couldn't kill an animal myself, I shouldn't be eating them"), but he emphasizes that he doesn't want to push that lifestyle on anyone who's not so inclined. Among his colleagues and acquaintances, the same words tend to come up repeatedly to describe him: He's gregarious, even-tempered, chill, laid-back, a people person.
Curtis Glenn Heath, a songwriter for the alt-country band The Theater Fire, has known Johnston for at least 15 years. "In all the time I've known him, I've maybe seen him upset once or twice," Heath said.
Johnston is also known for his sense of humor — a few years ago he posed for a series of photos by his musician-filmmaker friend Nick Prendergast spoofing American Apparel ads. (One of those pictures can be seen on Johnston's now-defunct blog — he's continued the blog on his new site, but the photo's only on the old site.)
Of course, Johnston is a fixture in the Fairmount area due to the highly successful vegan restaurant Spiral Diner, which he co-founded with his wife Amy McNutt. After graduating from Carter-Riverside High School, he spent some years casting about for things to do involving his interests in film and music. (He had a short-lived career as a rapper, calling himself The Dark Side. Sadly — or maybe not — there are no recordings from this part of his life.) He met McNutt through a mutual friend, and they bonded so quickly over their shared interests in veganism and film that they were married within two months.
A native North Texan, McNutt is a graduate of the University of Southern California's prestigious film studies program. "Los Angeles was a culture shock in a good way, and I love it," she said. "I just didn't want to live there. It's too crazy."
The couple started the Spiral Diner in the Fort Worth Rail Market in 2000; it moved to its current location two years later. It was McNutt's project more than Johnston's, but he curtailed his filmmaking projects drastically to help get the restaurant off the ground. He points out, however, that the decision was a practical one. (The restaurant business can be fickle, but it's usually a better financial bet than filmmaking.)
The Spiral has been successful enough to spawn a Dallas location as well and to allow Johnston and McNutt to leave the day-to-day management of both establishments in the hands of trusted managers who operate like franchisees. "I've had offers to expand into Austin," said Johnston. "I think we'd do well there, but we'd have to move down there for six months. We don't want to open another location unless we know everything is being prepared the right way."
Johnston and McNutt don't have just their business in Fairmount. They make their home there as well. Over the years, they've seen the area become a magnet for other restaurants, bars, and businesses. "I'm not too humble to say I think [the Spiral has] helped this neighborhood become what it is," Johnston said.
---
He's a producer …
With his calming presence and interpersonal skills, it's no wonder Johnston has produced films by so many different directors. Tom Huckabee met Johnston as a customer at Spiral and eventually engaged him to produce his debut feature Carried Away. A broad comedy set on a road trip from Texas to California, the film called for a multi-location shoot in several states, yet had a budget of only a few hundred thousand dollars. "It wasn't the sort of film I ordinarily go for as a viewer," admitted Johnston, "but producing it was a challenge I felt I couldn't pass up."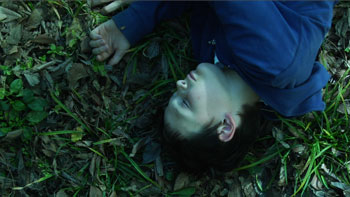 The resulting film looks like a seven-figure production, and Huckabee couldn't have been more pleased. "James is a good businessman. He knows how to stretch a dollar, and he abhors waste," said the director. "He's ambitious artistically. He's not in [filmmaking] for the money, but he has commercial sense. When he produces for someone else, he helps them get their vision on the screen. He's really an ideal producer."
The meditative, lyrical drama of David Patrick Lowery's films are a world removed from Carried Away, and yet Lowery, a Dallas filmmaker, is similarly enthusiastic about Johnston. They met in 1999 when Johnston was the only person to respond to a crew call that Lowery put up on the Texas Film Commission's web site. The two became fast friends, and Lowery has engaged Johnston as a producer on each of his own projects, as well as working alongside him on others. "We're basically the same person," said Lowery. "We have the same tastes. He knows how to keep me on schedule and under budget, and he knows all my idiosyncrasies."
After winning rave reviews at 2009's South by Southwest Film Festival for his feature St. Nick, Lowery encountered even more success with his spellbinding short film Pioneer, which concerns a father (played by Will Oldham) telling his young son a fanciful bedtime story about their family's history. The film played at the Sundance Film Festival in January. Calling the experience "fantastic," Lowery remembered, "we treated [the trip to Park City] like a skiing vacation."
Pioneer went on to win the prize for best narrative short at SXSW in March, which makes the film eligible for consideration for next year's Academy Awards. Johnston is in the process of hiring a Hollywood publicist to promote Pioneer, hoping to launch its Oscar campaign when it plays at the Los Angeles Film Festival next month. Even if the film doesn't take home the famed trophy, simply making the short list of 10 candidates (which are then winnowed down to five nominees) would be a bonanza for the filmmakers' profile. "I feel lucky that we're learning all this on a short," said Johnston, who admits he'd someday like to win an Oscar. "We're going to need this type of knowledge on a feature [film]."
As for Lowery, he said simply, "I can't imagine making a movie without James."
… and a director …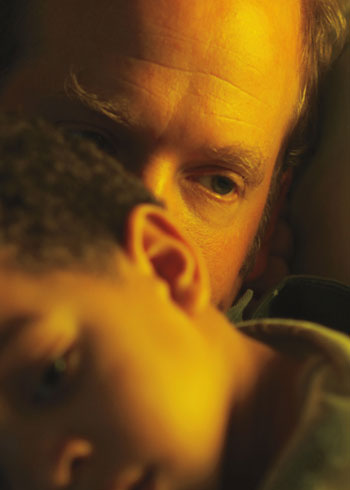 Johnston keeps his producing work separate from his own creative endeavors. "I don't want to produce movies that I want to direct myself," he said. "I want to produce films by voices that I don't have." However, he has always harbored filmmaking ambitions, and he vividly remembered the impression left by Billy Bob Thornton's 1996 drama Sling Blade. "That was a defining one," he said. "It was a Southern movie made by Southerners who loved the area and didn't see the characters as just a bunch of hicks."
Now that Spiral Diner is successful enough that Johnston no longer has to work 16-hour days, he is reveling in his free time to write. Since Deadroom, with its quartet of distinct but similarly themed shorts, he has written and directed three short films. He sees these as occasions for experimenting, and with the exception of Receive Bacon (a two-minute comedy about two people trying to have sex in a public bathroom), his short films are marked by bizarre formalistic choices.
GDMF is about an exotic dancer who makes an unpleasant discovery about a man she has stripped for. The narrative is full of gaps that are filled in later to odd effect, and the director insistently cuts away from the explosive drama to metaphoric shots of flowering plants. Merrily, Merrily, which centers on a 13-year-old observing her parents' difficult marriage, tells its supernatural story by dabbling in techniques like voiceover narration and even a puzzling documentary-style interlude with a staged interview.
By his own admission, Johnston is still casting about for a style, but he recently felt secure enough to make his first full-length feature. Knife had its first public showing at last month's Sarasota Film Festival. Johnston describes it as a Southern Gothic revenge thriller about a man who loses his land to eminent domain. The film was shot in Fort Worth and the town of Annetta in eastern Parker County, where Johnston's family owns land.
"There's a lot of gas drilling out there, so [eminent domain] was on people's minds," said the director. Shooting in 16mm to give it the feel of a movie from the 1970s, Johnston made the film with no dialogue, telling the story purely through master shots, sound, and music.
Charles Baker won the lead role in Knife after Johnston ran across his Facebook page and, without even knowing that Baker was a professional actor, thought he looked appropriate for the role. "We didn't really rehearse much," Baker remembered. "We just talked about what to do in a given scene. James just had to tell me what to feel, whether I was showing too much or not enough." After completing Knife, Baker went on to act in an as-yet-untitled project by Terrence Malick (not to be confused with The Tree of Life, the Malick film set to open in Dallas this week).
He was struck by the two directors' similar approaches when it came to handling actors. "James doesn't want to interrupt the flow of the scene," Baker said. "Some directors can destroy an actor's confidence by giving them too many notes. James really trusts his actors and doesn't overdirect them." Johnston is dedicated to getting the right shots, and he instills an unusual degree of professionalism in his crew for an indie filmmaker, the actor said. "He's very quiet and very smart, and you just can't help but respect him."
Knife was partially funded by Rooftop Films, a nonprofit organization that screens undistributed independent films on the roofs of buildings in New York City, sometimes to audiences of thousands. The organization's founder, Mark Elijah Rosenberg, hailed Johnston's "wholly original and powerful storytelling," saying, "The film embodies a spirit of grandiose drama that will be exciting to screen." The New York screening of Knife is scheduled for August.
---
… and a hired hand.
Coincidentally enough, Johnston wound up on the same Malick project as Baker, though they didn't work together. Johnston was reluctant to disclose more about what he did on that film or how he came to be involved.
"In Fort Worth, I can say what I want. In L.A., people get weird about what you can and can't say," he said. He does call the feted director one of his heroes and talks in reverential terms about Malick's 1973 crime drama Badlands.
He's willing to lend his expertise to more than just internationally renowned filmmakers. Johnston has directed music videos for The Theater Fire and Bosque Brown and is forming a production company called Sailor Bear that will likely focus on music videos. "It's not like a short film," said Johnston of the form. "Music video fans are watching it for the band, so you have to think about the fans."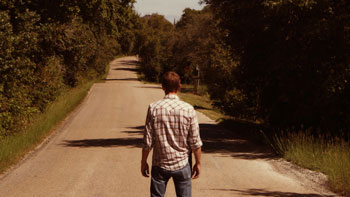 When creating the video for The Theater Fire's bluegrass-inflected song "Razor's Gone," with its banjo and fiddle parts, Johnston imagined a man (played by Curtis Heath) stalked by a group of zombies. "I thought it was a great idea," said Heath, who has also scored several films that Johnston has directed. "I always want to have fun, and he has a similar aesthetic."
Johnston has also been a fixture at both of Fort Worth's major film festivals, though he admits he hasn't spent as much time lately at either Lone Star International Film Festival or Q Cinema as he'd like. When Huckabee was selecting films for the first Lone Star festival in 2007, he brought on Johnston to program a mini-festival within the festival devoted to the micro-budget East Coast DIY film movement tagged as "mumblecore." Some filmmakers in the movement didn't care for the name, which led Johnston to title the series Some Call It Mumblecore. "I felt it was important for Fort Worth audiences to be aware of this," he said. "I knew these films weren't likely to play even in Dallas. Film festivals should educate people about what's going on, not just show advance screenings."
Huckabee has since left the festival, but Johnston has remained involved thanks to festival programming director Alec Jhangiani. "James and I are always seeing films together," said Jhangiani. "I bounce ideas off of James to find program ideas that will … support new visions."
Q Cinema is a personal cause as well as professional involvement: Johnston's brother is gay, as is fellow filmmaker Yen Tan, who collaborated on Deadroom and whose upcoming feature Pit Stop Johnston hopes to produce. For the 10th anniversary of the GLBT film festival, Johnston produced a series of promotional "bumpers" (short promotional segments designed to play before the festival's screenings) interviewing gay moviegoers about films that they found influential. "Having a working filmmaker on board is always invaluable," when it comes to running a film festival, said Q Cinema founder Todd Camp. "[James] is also a film festival attendee, so his heads-up on certain films and his insight … have been extraordinarily helpful."
"What might be a dumb comedy to you and me represents something in their lives," said Johnston. "Gay cinema is seen as a niche, but it's more important than that. I don't believe that movies can change the world, but they can keep an issue afloat in the zeitgeist in ways that nothing else can."
He'd like to be a theater owner.
The project currently taking up most of Johnston's time isn't a new movie but rather a movie theater. He and McNutt have purchased a plot of land on Magnolia Avenue and Fairmount Street for what will be The Citizen Theater, a two-screen art-house venue. They need to find a few more investors before the construction can begin, but the architecture and design elements have all been mapped out. They're hoping to open it in time for Oscar season 2012.
Neighborhood developer Fran McCarthy cited the couple's success with Spiral Diner as a reason to be optimistic. "The Fairmount area has made great strides in recent years, but it's been missing this sort of entertainment option where people can gather in the evenings," he said. "[The Citizen]'s going to be a strong addition to the street."
McNutt cited a number of theaters as a model for The Citizen, including Los Angeles' Arclight Cinemas, Austin's Alamo Drafthouse, and Tucson's The Loft Cinema. However, the biggest point of inspiration is Los Angeles' New Beverly Cinema, which screens independent, foreign, cult, and classic films, switching movies every two or three days and sometimes holding one-time screenings.
Johnston and McNutt want the same eclectic, personal mix of programming at the Citizen (as opposed to the corporate-directed programming at Dallas' Magnolia and Angelika theaters), as well as one other element from the New Beverly. "They don't have commercials," McNutt said. "You go to a theater to get away from commercials. We won't have that either. We want live pre-show entertainment." They envision Fort Worthers sitting down in front of their screens for midweek showings of E.T. or The Big Lebowski or undistributed films. They would like to construct the theater to environmental specifications that would get the building LEED certified, and though they have no intention of turning the theater into a full-service restaurant like the Alamo Drafthouse, Johnston and McNutt want to serve some of the Spiral's vegan desserts there.
Johnston acknowledges that he has no market research to back up his assumptions about what kind of crowds the Citizen might draw. "We're just going with our gut on this," he said. "No one thought vegan food would work in Fort Worth. I just think a city that can support the art museums and theater troupes that we have here can support art films too. You have to give the audience a chance to show up."
In this lull before what they hope will be a busy time with the Citizen Theater, Johnston and McNutt are enjoying the chance to travel to promote Knife and Pioneer. Next month alone, New York and Los Angeles are on their itinerary.
"I had never been outside the city of Fort Worth until I was 16 and had a car," said Johnston. "I never thought I'd get to see places like Vienna."
Overall, Johnston feels blessed by his position, surrounded by creative friends to work with ("enough to keep me busy for a while") and no shortage of worthwhile things to do.
"I just take projects as they come," he said. "You never know when something will come along. I never thought I'd own a restaurant. You do what feels right."