Sometimes when you go out to eat, you don't care what the joint looks like. Other times, the surroundings are part of the joy of the meal — low lighting and a romantic ambiance for date nights, good background music and fun schlock to look at when you're out with kids or buddies. The best are places that give you a sense of history of the building, the city, or the people who are serving up the groceries. And North Texas has plenty of eateries where the décor is almost as inventive as the dishes served.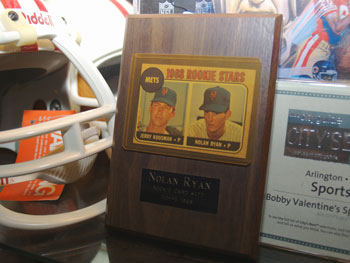 Most chain joints are stacked to the ceiling –– literally –– with kitschy, cutesy crap that, while it may have a vintage look, can usually be bought wholesale on the internet. Much more fun are the local restaurants where the décor is the painstakingly collected product of someone's obsession.
Sports, naturally, are a big part of North Texas, and easily the most extensive collection of sports memorabilia can be found at Bobby V's Sports Gallery Café in Arlington. Much of the stuff is related to owner Bobby Valentine, who played ball for the Dodgers, Angels, Mets, and Mariners and managed the Rangers from 1985 to 1992. About 80 percent of the memorabilia on the walls, according to café manager Brad Foster, is from Valentine's personal stash. Standouts include a Nolan Ryan rookie card (1968) and an autographed University of Texas Longhorn football helmet from Earl Campbell ('77). Photos of Valentine abound, including one of him shaking hands with Yankees legend Mickey Mantle.
The sports memorabilia is a little quirkier at Shula's 347 Grill in the Sheraton Fort Worth Hotel and Spa. Two replicas of the Lombardi Trophy pay homage to namesake owner Don Shula's 1972 and '73 Super Bowl victories with the Miami Dolphins –– the real sterling silver ones apparently live with him. Another stylish touch: The wallpaper may seem like some weird geometric pattern in brown, but if you look closely, you'll notice that it's actually modeled after a close-up view of a pigskin.
In Cowtown, a lot of restaurants naturally play up Western themes. One of the most authentic Western joints isn't in the Stockyards. At Lambert's Steaks, Seafood & Whiskey, the goal of the décor was "to create an environment that gave a nod to Fort Worth's ranching heritage," according to owner/executive chef Lou Lambert. Over the bar, several boar heads hang in the middle of a large neon horseshoe. The design, Lambert said, is representative of a lot of the wall art in the West Texas ranch houses where he grew up. And in the back dining room, the centerpiece is a group of worn saddles hanging from the ceiling as if they were placed on invisible horses. "The saddles are hung the same way we used to hang old saddles in the barn when I was a kid," Lambert said.
Reata Restaurant, perhaps Fort Worth's most popular fancy-ranch cuisine establishment, is almost like a gallery. "Most of the décor is antiques and artifacts, which are appreciating in value," said Reata president Mike Micallef. For example, there's the saddle won during the 1996 national finals by super-looper Roy Cooper, who was a pro cowboy for more than two decades and is in the Texas Cowboy Hall of Fame –– the piece is on loan to the restaurant. The rest of the old-looking stuff around the Sundance Square staple is not just "antiquey" –– it's actually antique. Micallef says his father Al did a lot of the decorating, but movie set decorator Carla Curry "freshened up" the space with some "new" antiques.
There are a lot of places in town to see Mexico's influence on Fort Worth food and décor. At La Familia in the West 7th Street corridor, tchotchkes are sparsely in evidence. In the place that's known to be all about "the family," beautiful sepia-toned photos of vaqueros and farm families are everywhere. Some are members of owner Al Cavasos' family. And vintage photos –– and also Mexican blankets, piñatas, and a wall-sized map of Old Mexico –– dominate Fernandez Café.
Bobby V's Sports Gallery Café
4301 S Bowen Rd, Arlington. 817-467-9922.
Fernandez Café
4220 W Vickery Blvd, FW. 817-377-2652.
La Familia
841 Foch St, FW. 817-870-2002.
Lambert's Steaks, Seafood & Whiskey
2731 White Settlement Rd, FW. 817-882-1161.
Reata Restaurant
310 Houston St, FW. 817-336-1009.
Shula's 347 Grill
1701 Commerce St, FW. 817-870-2700.