Fort Worth native Andrew Kenny has earned critical praise and a national following as lead vocalist and songwriter for both the seminal mid-'90s slowcore outfit American Analog Set and, more recently, the Austin/Brooklyn pop folk entity The Wooden Birds. But nothing quite compares to his recent status as an underground sex symbol: The web-based pop-cult aggregator BuzzFeed recently named him one of 10 hottest guys in indie rock, beating out such well known commodities as Julian Casablancas, Conor Oberst, and Colin Meloy.


"I'm not sure who wrote that, but it's probably someone I know," Kenny said. "With me, I think it was more, like, 'Wink, wink. He's got a good personality.' I mean, I think I'm hot. And my wife thinks I'm moderately hot. But …"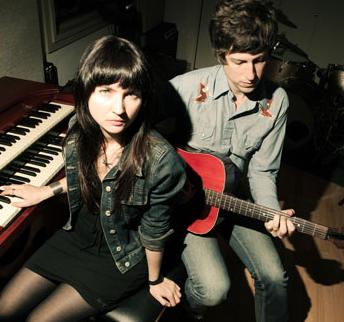 Kenny's casual charm and self-deprecating wit echo throughout The Wooden Birds' recently released album, Two Matchsticks. Out on Seattle's Barsuk Records, the album follows up the band's 2009 debut, Magnolia. Both albums feature contributions from singer-guitarists Leslie Sisson and Matt Pond and drummer Sean Haskins.
The Wooden Birds essay a kind of wry and melancholy but eminently catchy sound, full of lovely flourishes of guitar and gently insistent percussion. Two Matchsticks is more upbeat and fleshed out than Magnolia, marking another evolution in Kenny's introspective songwriting. His indie street cred was founded on the often cryptic, trancelike tuneage of American Analog Set, which formed in Fort Worth in 1995 and then promptly relocated to Austin. AmAnSet, as the band is commonly referred to, released its last studio album in 2005 but not before Kenny moved to Brooklyn, where he met Sisson and Pond. He eventually released some solo material and performed as a guest artist on the tours of Canadian band Broken Social Scene and Austin's Ola Podrida. AmAnSet has not officially disbanded, but its members' various musical projects make performing together tricky.
Kenny's skills as a songwriter have developed after working with so many different musicians — but not through imitation of anyone else's sound. "I hope I'm better at writing Andrew Kenny songs, whatever those are," he said. "There are a lot of long instrumental passages in [AmAnSet tunes] because I didn't have a lot to sing about back then. Working [as a sideman] with Broken Social Scene and Ola Podrida reminded me how much I like writing lyrics."
Kenny's record collection is filled with albums by sensitive singer-songwriter types, but he was determined not to turn The Wooden Birds into just a backup band. To that end, Two Matchsticks features heavy involvement by pals Sisson and Pond, including vocal harmonies and duets that provide some of the highlights of the recording. When I remarked that the duets between him and Sisson sound like twang-less versions of classic collaborations by Porter Wagoner and Dolly Parton or Conway Twitty and Loretta Lynn, Kenny laughed in recognition. He said that when The Wooden Birds perform the duet-heavy songs in live settings, Sisson often finishes with a little curtsy a la Dolly Parton back in her Grand Ole Opry days. "We started out wanting to sound like Emmylou [Harris] and Gram [Parsons]," joked Kenny, "but we ended up being more Conway and Loretta. You gotta work with the colors in your palette."
The Wooden Birds are currently preparing to shoot a music video in Austin for the song "Criminals Win" off the new album. Then Kenny and company will begin the East Coast half of their current tour supporting Two Matchsticks. After that, Kenny will again tour as a guest artist in the band Matt PA, Pond's singer-songwriter vehicle. And then he expects The Wooden Birds to pick up more gigs later in the year. No matter where Kenny strays, he and his wife have a home base in Texas. They moved to Austin from Brooklyn four years ago practically on a whim.
"One day my wife put her hand on the brick above the sink and said, 'I want a window right here and a dog and a tree on the other side of that window.' We were having a good time in Brooklyn with no reason to leave, but we wanted something different. Now we've been in Texas for four summers, and she hasn't once complained about the heat."