WED ? 13
Despite its cringe-inducing name, Tequila for Ta-Tas is nevertheless in service of a worthy cause. The Susan G. Komen-inspired event features music by Poo Live Crew, The Boobles (how appropriate), and DJ Christopher to raise funds for breast cancer research. The event begins at 6pm at Magnolia Motor Lounge, 3005 Morton St, FW. Admission is $5. Call 817-332-3344.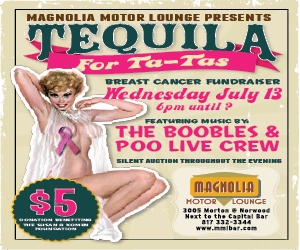 THU ▪ 14
A minority within a minority, transgender people often seem to be an afterthought in the great struggle for sexual equality. Seeking to redress the balance is the new Fort Worth chapter of the national organization Trans-cendence, which is holding a fund-raiser this evening with a three-band touring show called the Hardly Boys Tour. The event is at 7pm at 4615 California Pkwy, FW. Tickets are $12-15.
FRI ▪ 15
The comedian and movie star Steve Martin is in certain circles known more as a novelist and extremely knowledgeable art collector. Those latter qualities moved to the fore in The Object of Beauty, a novel that he published last fall to mixed reviews. This evening's Artful Readings Book Discussion Group will have interesting fodder when it takes up that book. The talk is at 7pm at the Kimbell Art Museum, 3333 Camp Bowie Blvd, FW. Admission is free. Call 817-332-8451.
SAT ▪ 16
There are two events going on this morning called Christmas in July, and they're both worthy charity events. The one at Hope Center is an arts and crafts expo to benefit autism research, while the one at The Score Sports Bar is a music-oriented event to benefit the Tarrant/Dallas MHMR Toy Run. Bring your checkbook and your Santa hat. Check Calendar for times and locations. Admission to both events is free.
SUN ▪ 17
The same weekend as a book discussion on Steve Martin (see Friday blurb), there's also a play based on one of his movies. Dirty Rotten Scoundrels is the stage musical version of the 1988 farce starring Martin and Michael Caine. The play features some tremendously diverting songs by David Yazbek. The show runs thru Jul 31 at Runway Theatre, 216 N Dooley St, Grapevine. Tickets are $12-15. Call 817-488-4842.
MON ▪ 18
How can city planners and architects use design to bring people together? That's the topic under discussion at The Architecture of Community, two lectures by author Dhiru Thadani and architect Anne Ricker being presented by CNU North Texas and the Dallas Architecture Forum. The talk is at 1pm at Dallas Center for Architecture, 1900 Woodall Rodgers Fwy, Dallas. Registration is $75. Call 214-746-2406.
TUE ▪ 19
Some of the best meals Night & Day has ever eaten were of the tapas variety, and this evening you can experience that at three neighboring restaurants during the Tapas Stroll at Forest Park. The evening starts at Sapristi! and then continues at Ruffino's and Grady's, with the chefs at each establishment serving you bite-sized portions of delicious food paired with wine. The event starts at 7pm at Sapristi, 2418 Forest Park Blvd, FW. Tickets are $42. Call 817-923-0522.