Written as a 60th birthday present for a member of the board of directors at Seattle's ACT Theatre, Becky's New Car has had a successful life among regional theater companies since its premiere in 2008. Inspired by a groundswell of talented actresses in their 40s, playwright Steven Dietz (whose Inventing Van Gogh played here recently) wrote up this ensemble comedy anchored by a middle-aged woman who finds a chance to be someone else when she's invited to a party thrown by an eccentric customer at the auto dealership where she works. Circle Theatre now brings this well-received play to Fort Worth.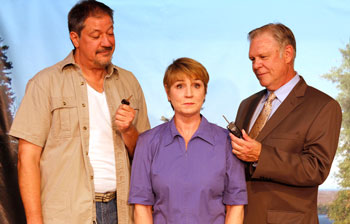 However, that's not the only play this week to showcase a woman of a certain age. Pantagleize Theatre Co.'s production of The Darling is a stage adaptation of a short story by Anton Chekhov, a sharply etched portrait of a woman with no personality of her own, whose only identity comes through the two husbands and one lover that she acquires over the course of her life. This mordant cautionary tale runs for one weekend only at Pantagleize, so be sure to make room on your schedule.
Becky's New Car runs Jul 28-Aug 27 at 230 W 4th St, FW. Tickets are $20-30. Call 817-877-3040.
The Darling runs 8pm Thu-Sat at 1115 W Rio Grande St, FW. Tickets are $10-15. Call 817-472-0032.