WED ? 3
Lots of residents hereabouts think a number of public figures should be in jail, so we're gratified to see Fort Worth Nite Court put them there, even if it's only pretend. The event is a fund-raiser in which local business and political leaders agree to be put on mock trial, with "court costs" benefitting Muscular Dystrophy Association. The event starts at 3pm at Eddie V's Steakhouse, 3100 W 7th St, FW. Admission is free. Call 817-338-1024.
THU ▪ 4
Fort Worth Museum of Science and History is combatting the summer heat by featuring cryoscience all this week. As part of that effort, Yale engineering professor Ainissa Ramirez lectures on Strange Stuff: From Smart Materials to Nanotechnology, including a liquid metal of her own invention that can be shaped and manipulated into place with a magnetic field. The talk is 7pm at 1600 Gendy St, FW. Tickets are $5-10. Call 817-255-9300.
FRI ▪ 5
Starr Perry's abstract digital paintings, Dan Darr's acrylic renderings of old photographs, and David Maxwell's watercolors of classic cars (which look like oil or acryling paintings) are some of the pieces on display at Arlington Museum of Art's new show, Points of View. The exhibit runs Aug 3-Sep 30 at 201 W Main St, Arlington. Admission is free. Call 817-275-4600.
SAT ▪ 6
The World Football Challenge pits Club América against the world's best soccer team, FC Barcelona. Even though Barça will be resting Lionel Messi and their other South American players, they'll still have the spine of Spain's World Cup-winning team, including classy central defenders Carles Puyol and Gerard Piqué, the playmaking duo of Xavi and Andrés Iniesta, and scoring machine David Villa. The game kicks off at 3pm at Cowboys Stadium, 1 Legends Way, Arlington. Tickets are $35-200. Call 800-745-3000.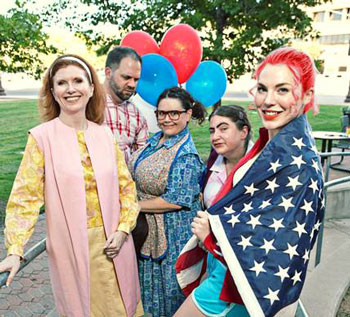 SUN ▪ 7
It's a bit late for the Fourth of July, which is when Beth Henley's play The Miss Firecracker Contest is set. However, this comedy, about a woman who's the underdog in a beauty pageant in a small Southern town, is always welcome no matter the season. Theatre Arlington's production runs Aug 5-21 at 305 W Main St, Arlington. Tickets are $19. Call 817-275-7661.
MON ▪ 8
Night&Day hasn't been able to see Hello Dolly in the same light since the show's music was used in the Pixar film WALL-E. Regardless, Artisan Center Theatre's production of this musical about a matchmaker with expansive songs by Jerry Herman is your best bet on this Monday evening. The show runs Aug 5-Sep 3 at Belaire Theater, 420 E Pipeline Rd, Hurst. Tickets are $9-16. Call 817-284-1200.
TUE ▪ 9
If you're a newcomer to the world of wine, you can get an introduction this week from one of Fort Worth's finest chefs in Wine 101 With Chef Jon Bonnell. The two-part seminar covers the basics of wine tasting and pairing with food, with white wines today and reds next Thursday. Space is limited, so hurry. The event starts at 6pm at Bonnell's Fine Texas Cuisine, 4259 Bryant Irvin Rd, FW. Registration is $120. Call 817-738-5489.