There are some talented-ass mother-hunchers in this town. I don't need to enumerate them here –– if you read me often enough, you know their names. And maybe the best part is that if you make the scene often enough, you might actually catch one or more of them onstage at bargain-basement prices. Or for free. Or maybe there was a cover two Tuesdays ago at Lola's Saloon (2736 W 6th St, 817-877-0666), and I, uh, forgot to pay it. In any case, the crowd was scandalously small for easily one of the most memorable performances I've ever seen (and I've been seeing performances in this town for nearly 10 years and elsewhere for decades). Granted, the bill was put together at the last minute, but for a solo acoustic show by Brandin Lea and Telegraph Canyon's Chris Johnson, two local giants, there should have been more than nine people there (not including the bartender).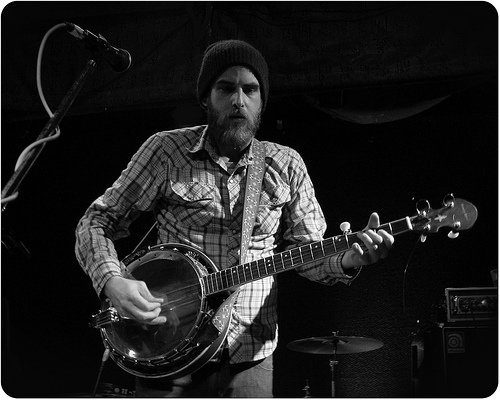 Both performers worked their butts off, rocking acoustic guitars and harmonicas and playing several songs apiece –– at one point, Johnson sat atop the bar counter and serenaded us, encouraging us to clap along to a skipping, flamenco-style rhythm that he introduced. Both guys are charismatic, powerful artists, virtually personifying melody, mood, and tempo. Watching these guys (and similar guys and guyettes), you may not even realize they're playing any instruments, so seamlessly do the disparate elements involved (voice, guitars, microphones, hands, sound, vision) come together to form the singular phenomenon that is Music. Lola's began regularly hosting shows on Tuesdays about a month ago. This past Tuesday, Joey Gorman from Nashville played with a couple of special guests. Now, our paper had already been put to bed by the time the show started, so I didn't get to report back to you, but if folks who saw Lea and Johnson went, well, I bet poor Gorman had his work cut out for him. Johnson and his Telegraph bandmates are wrapping up their sophomore album (third recording overall), and Lea says he has a secret project in the works, one that involves some major local players. Stay tuned.
Speaking of musical badasses, Alan frontman Chris Hardee is hard at work on the follow-up to The Universal Answer is Both, Alan's 16-track orchestral-rock opus released in January ("The Universal Answer is Both," July 27). He hopes to release the new album in November.
Nearly two years ago, The Migrant, a.k.a. traveling Danish singer-songwriter Bjarke Bendtsen, laid down some tracks in Fort Worth at the home studio of The Theater Fire's James Talambas ("Calhoun, Dove Hunter Recording," Feb 17, 2010). The fruit of those sessions, Amerika (co-produced by Talambas), will finally be released, on Oct. 25. The Migrant's only other recording is 2010's Travels in Lowland. Though mostly acoustic-based, The Migrant's music manages to achieve a deep, richly textured sonority that's almost spiritual in its subtle elegance. Sidenote: As my alter-ego Anthony Mariani Tweeted back in March, The Theater Fire will soon be releasing a new album, the long-awaited follow up to 2008's Matter and Light.
Contact HearSay at hearsay@fwweekly.com.