Phillip Williamson studies ticks, especially those that carry diseases. His research at the University of North Texas Health and Science Center has helped establish the existence in Texas of Lyme disease, a painful, debilitating ailment that the medical community here has denied for years.


Williamson has testified at legislative hearings over the years, as a growing number of Texans pushed for better diagnosis and treatment. Now those efforts are paying off.
More than a decade of work by activists prompted the Texas Legislature this year to pass a law intended to help doctors learn more about Lyme disease and allow them to treat patients without fear of losing their medical licenses. The law takes effect Sept. 1.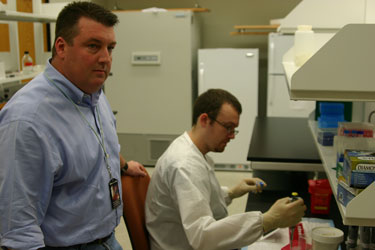 Williamson, the forensic and investigative genetics and research director of UNT's Tick-Borne Disease Research Laboratory, oversees the lab that does testing for the Texas Department of State Health Services. He spends a lot of time looking at the annoying and sometimes dangerous little bugs through a microscope to determine what pathogens they carry.
A tick is no bigger than a freckle, but its bite leaves gigantic problems for many thousands of people each year. Lyme disease is exacerbated by a medical system that can't agree on the symptoms, the treatments, or even whether ticks in the Southwest can transmit the disease.
Williamson knows the problem well.
"Lyme does exist in Texas; it's not at the infective rate as you would see on the East Coast where it's endemic, but it's here," he said.
The Infectious Disease Society of America (IDSA) estimates 20,000 people a year are infected with Lyme, but critics accuse that organization of downplaying the disease and prompting state medical boards to attack doctors who try to treat patients. The Texas Medical Board has threatened to suspend the licenses of doctors who choose to treat patients with long-term antibiotics, even though desperate patients are clamoring for them.
Lyme disease was first diagnosed in 1975 after residents of a community near Lyme, Conn., began experiencing flu-like symptoms and arthritic conditions. Over the years, reports of Lyme disease spread across the country. But IDSA maintains that Lyme is mostly confined to the coastal New England and the Mid-Atlantic states. It recommends short-term antibiotic treatments.
The Texas Medical Board follows IDSA guidelines and discourages doctors from prescribing long-term antibiotics. Patients such as Arlington resident Dawn Irons say those outlawed treatments have proven vital for her ("Hard Bitten," Feb. 4, 2009). She previously visited an Austin doctor for treatments, but the medical board threatened to suspend the doctor's license, and the physician moved her practice to San Francisco. Irons then began seeing a Louisiana doctor. The road trips took a financial and physical toll, but the treatments helped.
"I have officially been in remission since 2009," she said. "I've not been on any form of treatment since then. Shortly after being declared in remission, I returned to graduate school and got my master's degree in counseling. I practice in Bedford and have special interest in people who are struggling with chronic illness and the effects it has on the whole family system."
After years of battling the medical system, Irons is skeptical but optimistic about the new legislation's impact.
"If a doctor was truly able to treat with long-term antibiotics and not be bound to IDSA guidelines, nor be professionally outcast by his peers and labeled a quack — thereby committing professional suicide and ruining his career — I would definitely see a local doctor," she said. "But … you can't legislate what the vast majority of the medical field does not believe to exist."
Lyme can be successfully treated with short-term antibiotics if the disease's symptoms are quickly identified. But IDSA's downplaying of the disease has an impact, particularly in this part of the country.
"If you have flu-like symptoms, they're not going to think about Lyme disease," Williamson said. "A lot of people are slipping through the cracks."
Among those pushing for legislative action was marketing executive Dave Claunch, who serves as mayor of West Lake Hills near Austin. Four years ago, his wife, Susan, developed problems with extreme foot pain, migraines, and general fatigue. She spent nine months visiting doctors in Austin and Dallas without being diagnosed. So she scoured the internet.
"She started to see that the symptoms she was having were connected to Lyme disease," Claunch said. "To this day we still don't know how she got it. We've learned that less than half the people affected by this disease recall ever seeing a tick, and only about 30 percent of them ever get the bull's-eye rash."
Susan visited numerous doctors but her self-diagnosis met with skepticism.
"Every single one of them said, 'No, there's no Lyme disease in Texas.' They wouldn't even order the tests," Claunch said.
The couple finally found an Austin doctor willing to prescribe lab tests, which detected Lyme infection. The next problem was finding a doctor willing to prescribe treatment despite possible repercussions. They ended up going out of state.
"That's when we realized it was a bigger problem than we thought," Claunch said. "There is a huge debate in the medical community — a debate, a schism, a war, however you want to define it — about how to treat Lyme disease. The few doctors in Texas willing to treat with high-dose antibiotics have been reluctant to promote their services publicly. They're worried they'll show up on the medical board's radar."
The couple found themselves dealing with a complicated disease, inexact science, and insurance companies that resist paying for long-term treatments.
"Lyme is like an onion, and every layer you peel off is rotten," Claunch said.
Doctors in San Francisco, Washington, D.C., and Springfield, Mo., have since treated Susan. Travel expenses add immensely to the costs, but the results have been beneficial.
"She has improved greatly on this intravenous high-dose antibiotic therapy," Claunch said. "It's saved her life."
Claunch met other Texans dealing with Lyme disease, and they began getting together and comparing notes.
"We combined our forces and leveraged our connections with various members of the legislature to get an interim study of the issue done between this most recent session and the session before that," he said.
Sen. Chris Harris of Arlington, a longtime sufferer of Lyme disease, introduced a bill this session to encourage the board to educate doctors on the disease. The bill also created a process for the medical board to use in reviewing and approving a list of continuing medical education courses on Lyme. Medical practitioners can use this training as a defense if they are later investigated by the board for treating Lyme with long-term antibiotics, Claunch said.
Both houses of the legislature unanimously approved the new law, which instructs the medical board to put together a list of training courses by late 2012.
"We think this bill is a great step forward," Claunch said. "Over the next year we'll be working with the medical board to create that list of approved classes that will give Texas doctors access to a wide range of information about this disease."