Does sushi have to be served in a fabulous, fancy, downtown restaurant to be good? Midori Sushi's second location, this one near DFW International Airport (the original is in Irving), can be described as utilitarian. At best. On the up side, the restaurant is not in a hip part of town, which means that parking is plentiful. The interior is an odd mix of traditional Japanese flourishes and modern bar-like touches. To further muddle things, the countrified boogie-woogie of Fort Worth's Tejas Brothers was piping through the overhead speakers on a recent visit.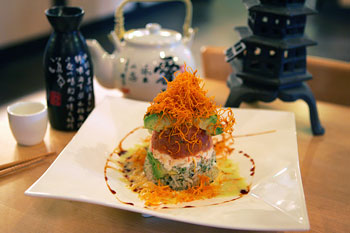 For company, I'd taken along with me Christy Goldfinch, a.k.a. "The Columnist Formerly Known as Chow, Baby," who proved to be more than a little helpful. To wit: We started the meal with an appetizer order of the shrimp shumai, a serving of five plump dumplings. I thought they were tasty, but Christy pronounced them as tragically similar to the ones she normally buys "frozen from the Asia Times Square Market." Which trumps my perspective –– I'd never had shrimp shumai before.
Midori's happy hour runs 5:30 to 7:30 p.m. nightly but is happy only in relation to 18 varieties of rolls (for dine-in only), not libations. Oh, well. Regardless, the albacore tuna sushi ($2.50 during happy hour) was tasty but fairly standard. The fish was fresh and the rice was pleasantly sticky, but the roll tasted, well, cooked –– how'd it get so warm? Up next was the masago roll, whose slightly unpleasant seawater-drenched flavor wasn't even worth the bargain-basement price tag of $2.10.
Still, by offering such delicacies as cooked octopus, raw squid, and even bean curd, Midori's happy hour encourages experimentation. Thankfully, we were game and ended up with the best roll of the afternoon. Luscious, with a creamy, slightly sweet sauce, the cooked sea eel was a marvel of sublime textures and dense flavors, definitely a steal at $4.50.
Midori's chef's specials include elaborate cooked and raw rolls, none of which tops $12. Briefly we considered the Jewish Roll (salmon, asparagus, cream cheese, and onion) but were more entranced with the idea of the spicy tuna tower. Every sushi joint offers a version of the tower, and all seem to include spicy tuna, faux crab, and rice, in an obligatory puddle of spicy and/or salty sauces. Midori's tower ups the ante a little. The rice came mixed with flecks of seaweed, and it provided a bit of slightly crunchy, vaguely spicy kick.
But the killer dish of the evening was the odd sushi pizza. If you're a sushi purist, you might roll your eyes at the thought of salmon and white fish baked in a creamy sauce over rice and crispy seaweed, a crust of sorts. But the soft fish and velvety sauce were lovely and surprisingly filling. A fork is definitely needed to consume this messy but plate-licking delicious entrée.
Anyone who's read any of Christy's columns over the past decade knows that the woman can put away some sushi. I am no slouch in the consumption department myself, but I pondered this as I looked at the bill. An appetizer, three rolls, and two chef's specials, plus my glass of wine, for under $40? And most of it was good, bordering on great? What a deal.
As we were leaving, we noticed what we thought was an umbrella stand, all fancy and bamboo. Turns out the thing holds golf clubs for the miniature putting green that occupies most of the restaurant's backyard. And we thought the pizza was odd.
Midori Sushi
14113 Trinity Blvd, Ste 201, FW. 817-868-1414.
Closed Sun, 11am-2pm Mon-Fri, 12-2:30pm Sat, 5:30-10pm Mon-Sat. All major credit cards accepted.
Shrimp shumai ……………. $4.99
Albacore tuna sushi ……. $4.50
Sea eel sushi …………….. $4.50
Sushi pizza ……………….. $7.99
Spicy tuna tower ……….. $9.50