The Japanese restaurant and sushi bar Café Hana in South Arlington occupies a strip-mall space but is still a classy, atmospheric setting for a fine-dining experience. Dimly but effectively lit, with tables, booths, partitions, and sushi bar of blond wood, the interior gives you a sense of intimacy and an escape from the South Cooper Street traffic. The space also may nicely prepare you for some terrific Japanese food.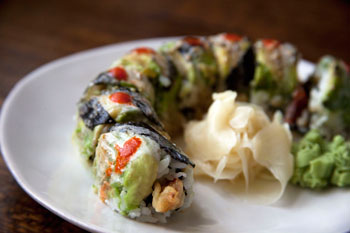 The appetizer, an avocado bomb, looked impressive and tasted even better. It was a large, ripe avocado quartered and arranged on a bed of iceberg lettuce and shreds of carrot and red cabbage, drizzled with a sweet-hot wasabi mustard. The avocado had been deep fried 'til its exterior was crisp, but the insides were still creamy and flavorful. Resting in the hollow of each piece was a scoop of minced tuna and crabmeat with an intense, fresh seafood flavor. The dish was marvelous, even decadent.
The noodles with chicken, shrimp, and veggies were also outstanding. The menu offers a choice between udon (thick) and soba (thin) noodles. We went with the udon — ropes of wheat-flour pasta that made for a terrific comfort meal. The whole thing had been stir-fried in soy sauce, infusing the plump mid-sized shrimp, the chunks of lean white-meat chicken, the cabbage pieces, and the crisp slices of carrot and zucchini with a salty smokiness.
Also stellar was the beef teriyaki: cubes of lean, tender red meat (perhaps sirloin, though we can't say for sure) stir-fried with sesame seeds, crisp and fresh broccoli florets, thick slices of crunchy carrot, zucchini, and zesty white-onion pieces, served with a mound of pleasantly sticky rice. The teriyaki sauce wasn't too sweet and had a fruity taste that worked wonderfully with the beef.
If the meal had anything close to a letdown, it was Café Hana's signature Arlington roll, one of many specialty rolls. The large roll was fresh, to be sure, and sliced into eight hearty pieces that had a core of dense, smooth cream cheese that almost cancelled out the accompanying small amounts of salmon, tuna, and avocado. Plus, the thing was deep fried 'til the rice was puffy, an off-putting quality. Fried sushi rolls became popular years ago, so you can't blame Café Hana for offering sushi lovers what they seem to want nowadays. Regardless, the restaurant's non-sushi Japanese items met some high expectations.
Café Hana
3610 S Cooper St, Arlington. 817-375-0714.
11:30am-9:30pm Sun, 11am-2:30pm and 5-10pm Mon-Fri, 11:30am-10:30pm Sat. All major credit cards accepted.
Arlington roll ………………….. $10.95
Avocado Bomb ……………….. $7.95
Beef teriyaki ………………….. $13.95
Yaki udon noodle combo …… $9.95