Last week, the Kimbell Art Museum announced to great fanfare its $24 million acquisition of Nicolas Poussin's "The Sacrament of Ordination." In gratifyingly speedy fashion, the work goes on display this week.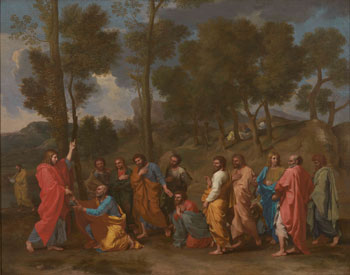 Painted in 1636-40, the painting depicts Christ handing the keys to heaven to St. Peter. In sharp contrast to the theatrical Baroque style of his day, the French artist trafficked in cool intellectualism and emphasis on line and definition rather than color. Still, the painter's austerity didn't keep him from embedding a few eccentricities into the work. Classical philosophers are represented in the biblical painting, indicating the artist's belief in a continuous thread between Christian and non-Christian thought. Also, if you turn your head 90 degrees while looking at the painting, you'll notice that the hills in the background are shaped like the profile of a human face. That face is the artist's, and Christ's hand is gesturing toward a clump of tree trunks that are shaped like the letter "N," for Poussin's first name.
Sold to the Duke of Rutland in the 18th century, the painting has a fascinating history. The Kimbell secretly negotiated to buy the work after it failed to sell at Christie's last December. The British government tried to keep the painting in the United Kingdom but couldn't find a local buyer. Proceeds from the sale will finance renovation of Belvoir Castle, the ancestral home of the duke's descendants. Even the painting's frame is distinguished — it was designed by Sir Joshua Reynolds. Art lovers should drop by the museum and greet this new arrival.
"The Sacrament of Ordination" is on display starting Wed at Kimbell Art Museum, 3333 Camp Bowie Blvd, FW. Admission is free. Call 817-332-8451.