So back in June, I happened upon a bar on Hwy. 377 called Last Call, adjoining a defunct bar called J-Z's R&B.


At the time, I guessed that a bar advertising rhythm and blues would be responsible for the cheesy Stevie Ray Vaughan mural that covered one of the outside walls, but when I drove past Last Call last Sunday, I noticed Stevie's guitar-soloing o-face had been painted over; with what I couldn't tell, because it was already dark outside, and I was more interested in a different adornment: The bar once again sported an open sign. J-Z's R&B recently reopened as Randi's 2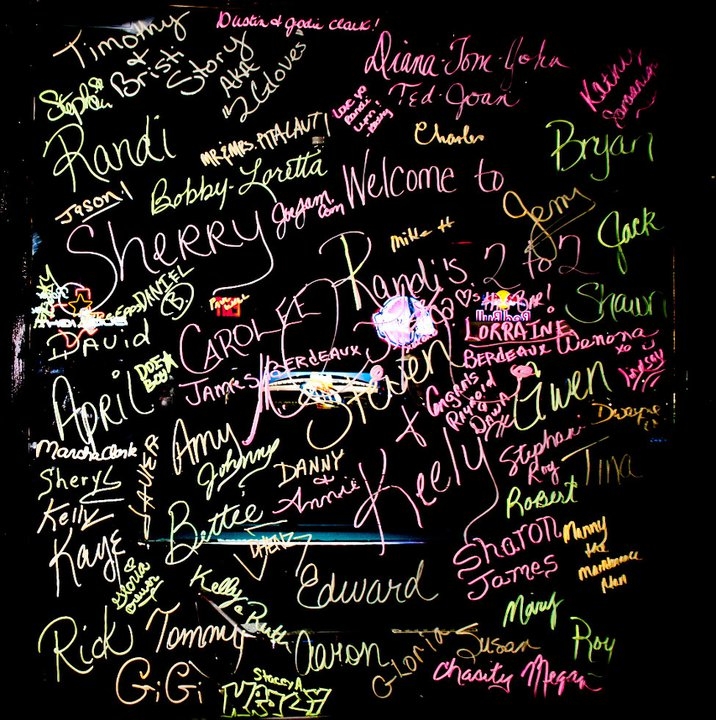 to 2.
Now granted, J-Z's R&B had already shuttered its doors by the time I ran into it, so I don't know what its original incarnation was like. Apparently, Randi's has made some cosmetic improvements and adjusted the prices — being Sunday, it was happy hour all day. The $2 domestics and wells had drawn a small crowd to the bar stools, whether old customers coming back or new ones drawn by the low prices, I couldn't tell. Overall, Randi's 2 to 2 (because it's open from 2 to 2, get it?) is a comfortable dive with a couple of pool tables, some dartboards, and, throughout the week, live music: Blues bands play on Fridays and Saturdays, while Wednesdays feature an open jam similar to the ones at Keys Lounge and the Poop Deck. The back bar's mirrors and wood give way to a red brick facade (one of the recent cosmetic renovations) as the counter ends and the tables begin. Two walls bear mirrors covered in graffiti, and before my date and I left, Sherrie the bartender handed us a yellow paint-pen to make our marks.
I didn't exactly wander around looking for the choicest spot on the mirrors to tag, but I did notice there wasn't a whole lot of real estate. Sherrie told me the bar opened on Aug. 17, and if the graffiti was any indication, Randi's has enjoyed considerable popularity in its first month. I walked out in a glow of balmy optimism. You can argue that "balmy optimism" is a nice way of saying I had gotten into some whiskey, but I contend that my case of the warm buzzies was inspired at least as much by entrepreneurial triumph as it was Jack Daniels. That the SRV mural has disappeared too was an added bonus. –– Steve Steward
King of …
Yeah, yeah, I know. Around these parts, ripping on Stevie Ray Vaughan is tantamount to sacrilege (see also: ripping on Dimebag), but I'm entitled to my opinion. I think Stevie is the second-corniest blues player in the history of the idiom, second only to Jonny Lang. I'll concede that "Pride and Joy" isn't the worst tune in the world, but that's only because "Rack 'em Up" exists. I mean, don't get me wrong — the guy was a good player, but there is nothing in his oeuvre that would ever make me want to pick up a guitar.
Still, I grit my teeth and bear it, because I like dives, and escaping SRV in these kinds of bars is just about impossible — fact of the matter is, the dude left an impact, as evidenced by the blooze hammerers at every weeknight blues jam ever. I guess what dismays me about the man's legacy is that every person who has learned SRV's licks more or less note for note is probably capable of a whole lot more, yet most of these dudes (and some chicks) remain mired in the same tired paeans to a player (R.I.P.) who's got nothing on Tony Iommi. This is why I'm on the hunt for Fort Worth's best blues jam, one where the musos transcend hokey bar-band tropes and shoot for greatness. If you have a suggestion, e-mail lastcall@fwweekly.com and tell me who, where, and when. –– S.S.
Contact Last Call at lastcall@fwweekly.com.