Take a look at the cover of this, our biggest issue of the year. It was done by two students from the Art Institute of Fort Worth, each working separately on half of a portrait, neither able to see what the other was doing. The result is vibrant, beautiful, and strange. And, you could say, a pretty decent metaphor for what's happening in Fort Worth these days.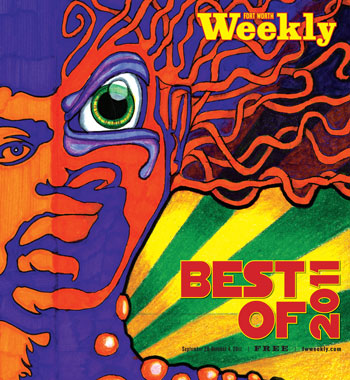 There's no doubt that this city is undergoing deep change. Think about this: How long has it been since it was really accurate to refer to this city of 740,000-plus people as "Cowtown"? (And that "plus" is serious — Fort Worth is the fastest-growing city in Texas.) Sadly, how many folks even know of the heritage that the nickname refers to, beyond a quaint cattle "drive" through the Stockyards on most days? (Those longhorns could probably take turns driving the cowboys, they know the route so well.)
That's history, valued or not. The future is being written in places like the urban villages of the West 7th Street development and the Near South Side, along Hemphill Street and Race Street, among Hispanic and Asian and majority-black communities, and in Eastside neighborhoods that continue to fight for their equal share of the city's protection and attention. And it's in the music in our clubs, the art being produced by folks like our cover artists Donald Rice and Ryan Davis, the thinkers and creators here who are continually finding ways to meld old and new, rebellion and reaction, grit and glory, to come up with new visions.
But it's also being written in far North Forth Worth, in the huge suburban-sprawl developments like the Walsh Ranch, and in places like Denton and Dallas that are outpacing Fort Worth in mass transit development and reaping the rewards for it. And, more ominously, underground and in the air, where gas drilling and its related activities are changing this city and the whole region in ways we don't even know yet — but many of the ways we know about are bad.
That's where the picture splits again: Citizens who are bearing the brunt of those environmental effects are getting little help from the people they've elected. Our hats are off to the individuals and organizations who have sounded the alarm, have educated themselves, and are doing everything they can to protect North Texas from the almost-unbridled excesses of the drilling industry. And to the groups — from community gardens to organic food purveyors to sustainable development projects to the folks represented at the East Side's Prairie Fest every spring — that are working to establish some new Cowtown traditions that could help Fort Worth grow into a just, welcoming, and green place that we all want to live in.
While all that is going on, the cultural life of this city continues to bloom like a big garden, maybe in fits and starts and with the occasional drought, but also with a life of its own, to some extent independent of what the official economy is doing. This is a far more interesting place in which to eat, drink, appreciate art, and listen to music — not to mention a better place to make music, films, and art — than it was even a few years ago. It's also a more awake and aware city, a place where folks fight back, hang tough, and take their accomplishments — knowledge, warnings, great movies and music, creative food — beyond the borders of Tarrant County and Texas.
As always, this "Bests" issue, like Fort Worth itself, is a community effort. Thanks to our journalists, both on staff and freelance, writers and photographers, who helped put together this issue; thanks to the ad salesfolk, our production staff, our ballot counters, and the thousands of you who voted, online or on paper. (Also as usual, we did not declare "reader" winners in some categories, where there was no clear, qualified favorite.)
In addition to the cover, our section openers were done by Art Institute students. They were asked to submit designs, and a prestigious panel of judges selected the winners. We thank all of them for their hard work and wonderful ideas.