If the Lone Star International Film Festival is like Fort Worth's version of Sundance, Christopher Kelly's Modern Cinema: Great Movies You Haven't Heard of … Yet is like our version of Toronto's film festival, an advance look at prestigious Oscar contenders rather than unknown talent. The annual fest put together by the Fort Worth Star-Telegram film critic opens with 50/50 (see: review on page 146), but there's much more to be seen this weekend at the Modern.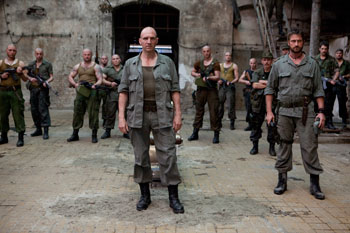 The country of Romania has given us a string of magnificent realist masterpieces, so fans of the Romanian New Wave will be psyched to see Bogdan George Apetri's Outbound, about a woman on a one-day release from prison to attend her mother's funeral. From a nearby part of the world comes The Forgiveness of Blood, a study of Albanian family feuds by Joshua Marston, the American indie filmmaker best known for Maria Full of Grace.
Shakespeare fans will flock to Coriolanus, a political thriller adapted from one of the Bard's lesser-known works by star Ralph Fiennes, making his directing debut. Foodies won't want to miss El Bulli: Cooking in Progress, Gereon Wetzel's documentary about renowned chef Ferran Adrià and his creative process. The weekend closes with Like Crazy, a festival-circuit favorite from Drake Doremus (whose Spooner played at the first Lone Star Festival). Judging by previous Modern Cinema fests, we should be hearing more about a few of these films in December, when people are making their lists of the year's best movies.
Modern Cinema: Great Movies You Haven't Heard of … Yet runs Fri-Sun at Modern Art Museum of Fort Worth, 3200 Darnell St, FW. Tickets are $7-10. Call 817-738-9215.