Sarah Jaffe, The Way Sound Leaves a Room. For her third release, Sarah Jaffe has issued an EP containing five demos, an alternate version of her most identifiable song, and two covers. The Way Sound Leaves a Room also contains a concert DVD, bookending footage of a performance at Dallas' Wyly Theatre with two music videos. On the one hand, the raw cuts –– not too far removed even from the full-band effort that was her debut album, Suburban Nature — include previously unreleased staples from her live repertoire that are worthwhile.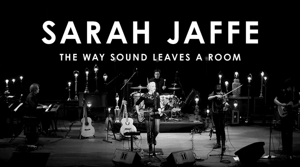 On the other, most early-career musicians post demos online and leave it at that. Indeed, her alternate take of "Clementine," a version in which strings and percussion are replaced by simple but brooding piano work and some backing vocals, first appeared on the web site of Teen Vogue. (That might give pause to any elitist fans who prefer Jaffe to Feist only because the former isn't as "commercial" as the latter.) Consequently, The Way Sound Leaves a Room is something of a curious assemblage. After all, the EP opens with the Dentonite darling covering Drake and The-Dream's crazy "Shut It Down."
Still, from the tracks to the sequencing, the CD works. Most of the songs feature multi-tracked, ethereal vocal harmonies, and Jaffe performed everything other than the covers almost entirely by herself. The swirl of vocals on "When You Rest" is almost taunting, but if the overall effect is one of detachment, that's by design. The lyrics, as in the other tracks, are vague. For some listeners, Jaffe's songwriting might come across as underdeveloped, but these are, admittedly, demos. And the lyrics enjoy a fittingly impressionistic soundscape, unusually fleshed out and creative for demos. Likewise, her poppy take on the Cold War Kids' "Louder Than Ever," easily an improvement over the source material, sounds so indelibly like a Jaffe original that it transitions well into "Clementine."
Ultimately, The Way Sound Leaves a Room is superfluous, a small bone thrown to some of Jaffe's more adoring fans but unlikely to win her any new ones. Again, most of the songs aren't new here, and in fact, she's said that much of her debut had been written years before it was recorded. With that in mind, Jaffe is right to put this material out (and behind her) as she prepares her second long-player.
A-Roy, Commencement
In just under a year, Fort Worth rapper A-Roy has released both an EP, Rough Draft, and an album, his debut Commencement. The full-length's title is fitting given A-Roy's backstory. This spring Alan Royal earned his master's degree in education at TCU, where as an undergraduate he became a hip-hophead and learned to juggle his career and musical ambitions ("A-Roy's Not Rough," April 13, 2011). He has expressed some ambivalence about his conditioning to the American dream — "going to college and getting a regular career," as he told us — but that doesn't come through as much on this album. University life plays a big role here, whether A-Roy's outlining his musical education or boasting of superior prospects.
If the title also bears an unfortunate resemblance to, well, any of Kanye West's first three albums (and A-Roy does make the reference, particularly to The College Dropout, explicit), Commencement is not as flashy, lyrically or musically, as a West production. Instead, A-Roy's album more strongly follows the line of something like De La Soul's 2004 record, The Grind Date. For starters, A-Roy has an almost plainspoken delivery not unlike De La's Posdnuos. Moreover, the two albums cover much of the same thematic territory: advancement at the personal and community levels. Where hip-hop's elder statesmen were looking back on a genre they helped create — and providing insightful criticism of contemporary rap (and the larger culture) — A-Roy takes a more confessional approach, focusing much of the scrutiny inward. Often he's too earnest, whether he's rhyming about personal failings ("I guess I lacked a strong focus on religion / Indulgin' these women did have me trippin' ") or taking a stab at rap's braggadocio ("I could never be less than an MC … At age 12 I gave a speech to my whole school"). Lacking a certain pop to his delivery, A-Roy can't always land such lines. Admittedly, he's no spitter, but his flow is competent and his wordplay occasionally quite dexterous. On tracks like "Bandwagon," his critique of rap's misguided tendency toward fads, he manages a fine balance between swagger and humor. (On his hip-hop cred: "I been listening since I learned to take a piss.")
Likewise, while the production from Eye Jay gets the job done, the joints never bounce. That would be fine — this is an album that demands close listening — but the beats and arrangements could be more creative. A deeply candid song like "An Hour with Jesus," in which A-Roy lays out his conflicted spirituality, isn't served by the criminally repetitious, unmoving music. Eye Jay does better with tracks like the catchy "Paper Motivates" and the more contemplative "Ties that Bind."
A-Roy has crafted an introspective, inspirational, and fairly accessible album with Commencement. But while his style is far more sincere than a lot of what goes on in underground hip-hop these days, too often it treads familiar territory without pushing in new directions.