Gov. Rick Perry, the guy who routinely tells Washington to shove it, refuses federal money out of principle, fantasizes about seceding from the union, and never met a death row inmate he didn't want to help into the hereafter, just isn't conservative enough for some Texas A&M students.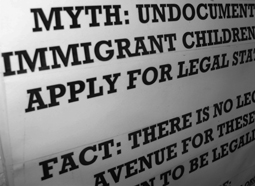 They are blasting him for being soft on immigration. Perry signed into law the Texas DREAM Act (Development, Relief, and Education of Alien Minors), which grants conditional residency to undocumented students and young adults who were "brought to the United States before age 16, demonstrate good moral character, and graduate from high school." These students are given a six-year period in which to complete at least two years of study and/or two years of military service in exchange for permanent residency.
Last month, Texas A&M student Maria Cabello was honored during Hispanic Heritage Month for her efforts to advocate for DREAM. She is receiving in-state tuition under that law even though she is here illegally. That's a slap in the face to the campus group Texas Aggie Conservatives. They started a petition asking Perry to call a special legislative session to end in-state tuition for such immigrants. Static urges you to sign it. And then go to a park and poison some squirrels. And then slap a baby.
Veterans Day (Sort Of)
The two most tenured writers at Fort Worth Weekly are being recognized for stories that take a stand for underdogs. So, pour a shot of tequila-laced Metamucil and raise a toast to Betty Brink and Jeff Prince, both of whom maintain that journalistic fire in their bellies despite snow on their rooftops.
Brink is receiving the Laurence "Lanny" Priddy Pursuit of Justice Award from the Tarrant County Trial Lawyers Association for "demonstrating a courageous pursuit of justice" for her body of work in 2011.
"I don't know how courageous I am, just dogged," Brink said.
Prince's articles on guardianship abuses and questionable tactics in a Tarrant County probate court earned him an award from Guardianship Reform Advocates for the Disabled and Elderly (GRADE). The group described Prince's articles as "giving a voice to the unseen and unheard."
"When the unseen and unheard need a voice, who better to supply it than the unholy and unwashed?" Prince said — speaking of himself only, of course. To which description Static might add, unregenerate, unrepentant, and, always, unbowed.