Chow, Baby has noticed a dangerous trend: Bakeries and specialty pastry shops are popping up everywhere. And of course, responsible gourmand (read: glutton) that I am, I had to try some of them out — followed, of course, by new visits to some old favorites for comparison. It was a dangerous game I played, like whack-a-cake, with diabetes and shame as the prizes, but with so much delicious evil along the way.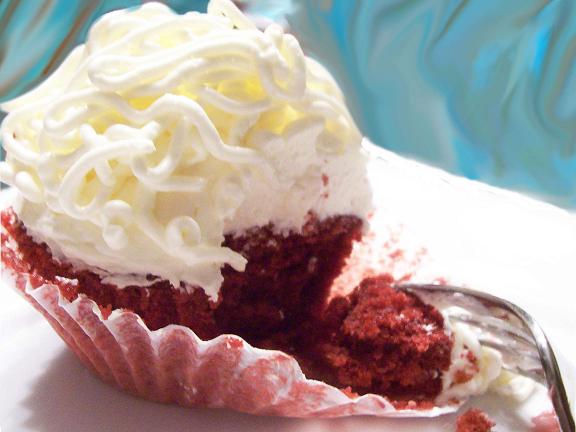 The first stop on my road to ruin was Nothing Bundt Cakes (4603 Camp Bowie Blvd.), which loses points for its groaner of a name. True to which, the entire menu is comprised of flavored bundt cakes, all with frosting petals cascading down the sides. I opted for a bundtlet ($3.99), a personal-sized cake, but was torn between the cinnamon and chocolate chocolate [sic] chip. I opted for cinnamon, thinking double chocolate might not be a wise first move (I was planning for the long haul). The cake was moist and zesty, and the icing was thick, buttery, and cream-cheesy. Those lil' bundtlets are bigger than they look too.
Next I stopped at The Cupcake Cottage (5015 El Campo Ave.). I had been to the Cottage before, and I remembered that you have to get there early — it sells out pretty much every day, and then it closes. The bakery opened in 2006 and described itself then as Fort Worth's first cupcake shop. Feeling a little exotic, I went for one almond poppyseed and one cookies-and-cream ($2.95 each). The bakers make everything from scratch, add no artificial flavors, and use butter cream frosting, as opposed to the much heavier cream cheese. Both of my choices were creamy, light, and not overly sweet, but it was the almond poppyseed version that won my heart. They say that when you become addicted to heroin, you're always looking to replicate that first high. That's kind of how I felt: I'm ruined now for other cupcakes.
I had shown some remarkable restraint in the early part of my binge, but the next stop on my treats train turned out to be my tipping point. I remember going to the venerable Blue Bonnet Bakery (4705 Camp Bowie Blvd.) as a kid, at its previous location a few blocks farther east on the bricks. The new location is in a former church, which I find appropriate, because I've always viewed Blue Bonnet as a sweets sanctuary. I had a creamy, light-as-air éclair ($2.25), two buttery, fresh M&M cookies (45 cents each), and a slice of sticky pecan pie ($3.29). I was feeling what I imagine William S. Burroughs was feeling when he wrote, "I am getting so far out, one day I won't come back at all." Yeah, pastry stoned.
I needed more junk, but I was also seeking comfort. I dove, rotted-enamel-first, into a single slice of The Swiss Pastry Shop's (3936 W. Vickery Blvd.) famous black forest cake ($2.71). This is not a traditional chocolate and cherry cake. It's more like a deconstructed meringue cream pie, with layers of meringue separated by cookie-like dividers of airy, crunchy, crushed almonds and garnished with shaved chocolate and sweet whipped cream. If my childhood tasted like something, it would be a cross between this and Big League Chew
Needless to say, I was on a high that not even Charlie Sheen at his worst could have rivaled. And then there was the crash. What was it Einstein said about an opposite and equal reaction? It was worth it, though — even if I have to spend the next week eating nothing but carrots and tofu.
Contact Chow, Baby at chowbaby@fwweekly.com