At first glance, you'd never suspect that Mochi Kitchen in Haltom City offers some of the best Japanese food, including sushi and sashimi, in Tarrant County. The front door has a sign humbly declaring that the place serves "Asian Home Cook'n." Inside, it's a small, dimly lit space with half a dozen tables and a sound system that pipes in '80s hits from Culture Club, Kajagoogoo, and Duran Duran. But a recent afternoon visit proved that Mochi Kitchen's menu can go head to head with all of the bigger and more popular Japanese establishments in North Texas.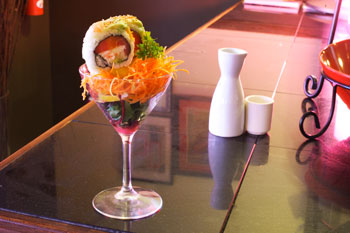 The house appetizer known as Firecracker might also have been called "Japanese crazy nachos": four large, light, crisp wonton chips beneath a pile of succulent raw tuna, shredded crab meat, and velvety pieces of avocado, then sprinkled with sesame seeds and crunchy red smelt roe (tiny fish eggs) and generously drizzled with spicy mayo and the bottled Thai hot sauce known as Sriracha. Each meaty, crunchy, spicy bite was a decadent mouthful.
The "blazing" noodles with chicken were also top-notch. Large, soft, flat noodles had been stir-fried with generous portions of crisp cabbage, thick and crunchy carrot slices, fresh broccoli florets, and large chunks of tender white meat. The sauce was a house combination of traditional Chinese oyster sauce and a couple of different hot sauces that the chef wouldn't reveal even after repeated requests. Regardless, his secret recipe brought the noodles, poultry, and veggies together masterfully.
The specialty sushi rolls at Mochi Kitchen were equally impressive. By design, they're fairly standard Westernized rolls using ingredients like cream cheese, spicy mayo, tempura shrimp, jalapeños, and even seared steak and barbecue sauce. The Haltom City Roll and Fort Worth Roll were both marvelous. Not only was each tight and fresh, but the ingredients in each were plentiful. The Haltom City was stuffed with large plugs of raw tuna, crab meat, and avocado, topped with a thick, silky layer of flavorful sesame seed-studded raw salmon. The Fort Worth was another hearty marvel of tuna, crab, and avocado, this time wrapped in rice paper and topped with pink, delicate, raw red snapper. Decorations of paper-thin lemon slices gave the whole thing a delightful citrus zing.
Asian food lovers have flocked to Haltom City for years now to sample its quiet treasure trove of pan-Asian culinary delights. Mochi Kitchen deserves to be a top destination on those tours.
Mochi Kitchen
4613 Denton Hwy, Ste 45, Haltom City. 817-656-7028. Sun 5-9pm, Mon-Wed 11am-2:30pm & 4:30-9pm, Thu-Fri 11am-2:30pm & 4:30-11pm, Sat 5-11pm. All major credit cards accepted.
Blazing noodles w/chicken …… $7.95
Firecracker ………………………… $7.95
Fort Worth Roll ………………….. $11.95
Haltom City Roll …………………. $11.95