The singer-songwriters were battling it out onstage. At stake was the chance to play a big show at 8.0 Restaurant & Bar downtown. Fort Worth's Scott Copeland got up and launched right into "Lighthouse Keeper," a song popularized by the famous Red Dirt band Cross Canadian Ragweed and spun regularly on 95.9-FM The Ranch.


Whoah, whoah, whoah, interjected the judges, from The Ranch, and the other contestants. You can't play cover songs, only originals.
"But I wrote that song," Copeland calmly protested. "Go look at the fuckin' CD."
After some quick deliberation, the judges realized that not only was "Lighthouse Keeper" a Copeland original but that several other songs also played on the downtown-based station were his handiwork.
Copeland went on to win the contest.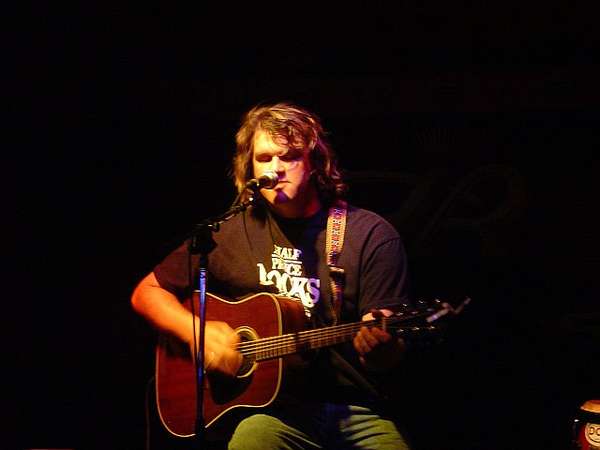 For the past 15 years, Scott Copeland has been purveying his brand of wry Texasified country across the region, mostly in Tarrant County, to little or no fanfare, releasing CDs steadily and regularly playing shows at venues such as The White Elephant Saloon, Lola's Saloon, and Magnolia Motor Lounge. Though well respected, the Haltom City native and Haltom High School graduate has been largely an unknown musical commodity in these parts. But that all may change soon.
The story starts with Crazy Heart, the 2009 Oscar-nominated movie in which a fading C&W star is portrayed by Jeff Bridges, who won his first Oscar for the role. Three songs in the film were written by Austinite Ryan Bingham, a rough-and-tumble, lo-fi countrified singer-songwriter who often performed with only one accompanist, native Fort Worth drummer Matthew Smith. Bingham won an Oscar, a Grammy, and a Golden Globe for his filmic work and began crisscrossing the globe as part of a huge publicity push, leaving Smith with some free time. Wanting to be productive and creative, Smith asked his brother, Grayland Smith, if he knew of any hardworking singer-songwriters in need of a producer. The first name to pop out of Grayland's mouth: Scott Copeland.
Smith knew Copeland, one of Grayland's longtime friends, and had seen him perform several times. Smith reached out to the singer-songwriter, who quickly cut a demo of about 25 songs –– all solo-acoustic, some already recorded and released –– at a friend's home studio. After receiving the disc, Smith spent about a week selecting tracks. Killer session players, including Bingham's guitarist Cory Shaub, were called in, and with Copeland they spent about a week in Grayland's sprawling Westside house fine-tuning the material. In late February of '09, they recorded Copeland's recently released eponymous, 11-track CD at January Sound in Dallas in about three days.
With co-production work by engineer Grant Jackson Wilborn, Bingham's soundman, Scott Copeland is a smart, often witty, precisely performed collection of songs that skew more toward Robert Earl Keen and John Prine than what's played on commercial country stations. With colorful wordplay and simple yet catchy riffs, Copeland muses on life, love, death, the blues, and occasionally society, channeling the homespun grandeur of late Dylan and early Springsteen. But for all of the album's mature grace, there's a steady stream of good-timin' songs that manage to be as lyrically accomplished as they are rowdy. "Well, Jesus," he sings on the waltz "Water to Wine," "won't you please just turn this water into wine / I got a room / Filled with tears / From the floods / Of my cryin'."
Booze is prevalent "as it should be," Copeland said with a laugh, lazing on the front porch of a friend's cozy Northside house recently. "Where are the drinking songs in country? That used to be one of the only things you could write about. Now nobody writes about it."
Copeland, who doesn't trust anyone who won't sit down and have a drink with him, has booze to thank for his current ambulatory situation: He had to surrender his driver's license for five years after getting his second DUI. (He'd gotten his first about 10 years earlier.) "I just think that country music and drinking go together," he said.
Copeland wrote the album's ninth track, "Seventh Floor Window," while in Tarrant County Jail, "one of the times I was in jail," he said, sheepishly adding that he's been in cuffs multiple times ("over double digits") for crimes as varied as possession of pot and bar fights.
The album has its share of heartbreak. Copeland, a father of two, has been divorced for several years. "True as You," a powerful and sweet love song, is about Copeland's 15-year-old daughter, Madison. "I know I never found a love so deep and gentle," he sings over softly plucked acoustic guitar. "I know I never found a love that could sweep me off of my feet / I know I never found a love so pure and simple / I know I never found a love so perfectly complete."
Copeland had always written lyrics but began writing in earnest in the early '90s after graduating with a biology degree from Oklahoma State University, where he played tight end for the OSU Cowboys. At the time, he was working as a golf pro at a course in Stillwater. One day, he bought a guitar, taught himself how to play, and crafted some original songs. Not long afterward, he played a couple of the tunes for a course regular, singer-songwriter Mike McClure, who would later go on to record eight songs penned by Copeland.
Copeland eventually found his way back to Fort Worth and was staying at a friend's house in Euless when he had a breakdown that was something of an epiphany. "For several days, I was walking around in a circle in my friend's backyard," Copeland recalled, "with a golf club –– it was my staff. He went out of town, and when he came back, I was still out there."
Copeland, "completely drug-free," had been writing a song or more a day –– obsessively. "Everything was a song," he remembered. "I couldn't function, and then I just went nuts."
Copeland's family took him to a hospital, where he stayed for about a week. "That's when I said one [song] a month," he said. "That's a pretty good pace. You don't have to go crazy on this shit. You can work on it.
"I think every good writer has got to go a little crazy one time to be really good," he continued. "There's a time in your life you have to lose it and still come out and make your art."
Copeland had to wait nearly a year and a half for his CD to be released –– drummer/producer Smith had to tour for several months with Bingham. In addition to gigging around Fort Worth and the rest of the state, Copeland intends to go back into January Sound soon and begin work on a second album with Smith and company.
Onstage Copeland will be accompanied by his longtime bandmates: drummer Bruce Alford, keyboardist Scott Boland, harmonica player Gary Grammer, bassist Denver Greene, and guitarist Roby Scott. Copeland has begun a Wednesday night residency at Magnolia Motor Lounge, the site of his CD release party this Saturday. He's hoping Smith's connections might lead to some increased exposure. "The curse of all musicians," Copeland said, "is that they think they're going to be the Rolling Stones. … I just wanted to make a good record. … I'm hoping it's a stepping-stone. I mean, I'm 41 years old. I'm not going to do anything else, so I'd like to take a step up and be national."
Scott Copeland
CD release party w/Rachel Stacy Sat at Magnolia Motor Lounge, 3005 Morton St, FW. $15 (includes copy of the CD). 817-332-3344.