Any documentary about basketball has to contend with the long shadow cast by Hoop Dreams. The new film Elevate isn't in that league, yet it is a smooth piece of work (as you'd expect from something produced under the ESPN Films label), and its focus on a particular corner of West Africa helps hold your interest.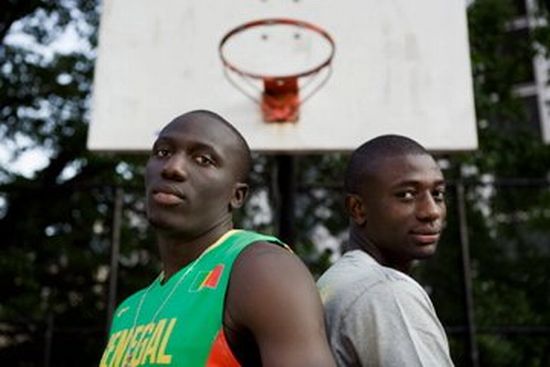 The film begins at the SEEDS Academy in Dakar, Senegal, which trains the best teenage basketball players in this Muslim nation that's slightly smaller than South Dakota, with a population roughly that of Illinois. The players are scouted by elite American private schools, a scholarship to one of which would be the first step toward the NBA. The best prospects are two seven-footers who earn coveted scholarships: Assane Sène, a finesse player at South Kent School (Conn.) who battles to compensate for his lack of strength, and Aziz N'Diaye, a physical force at both ends of the court for Lake Forest Academy (Ill.). In addition to the usual hurdles faced by immigrants, Aziz goes down with a knee injury after a promising start to his season, while Assane sees the coach who brought him to Connecticut suddenly leave the team for a job at Nike. (In fairness, with South Kent mired in an eight-game losing streak, the coach may have jumped before he was pushed.) Through it all, they work to make friends, maintain their grades, improve their English, keep halal, and win games.
This is the first film by Anne Buford, whose brother is San Antonio Spurs' general manager R.C. Buford. She found the story through her NBA connections (one of them former Dallas Mavericks scout Amadou Gallo Fall, who shows up briefly in the film), so it isn't surprising that she doesn't take a hard-hitting approach. Not that there's necessarily anything to hit; Senegal hasn't had the bloodshed or crushing poverty of some other nations in its region. Even so, we get no sense of what it is about the teens' lives that makes them anxious to get to America. The interviews with the players (in English, French, and Wolof) all present them as courteous, hard-working, grateful young men who want to give back to their native land. The only exception is some brief footage of combo guard Byago Diouf firing up his team in the locker room at halftime; we want more stuff like this. Buford doesn't even give a sense of why Senegal has embraced basketball and turned out NBA-caliber talent while other neighboring African countries haven't.
If this movie fails on the macro level, it still gives you numerous rewards on the micro level. When Assane first arrives at his Connecticut dorm room, he inspects the wooden bed and the chest of drawers with the wonder of someone who's never seen these things before. The movie does come across a memorable subject in Byago's mother. A former basketball player herself who's been impaired by a stroke, she's nevertheless a formidable presence, in a brightly colored kaftan, exercising considerable authority over her family and counseling her son on his jump shot. ("Relax your wrists," she tells him.) You may have heard the story of Elevate before, but it's the particulars like these that make it stand out.
Elevate
Starring Byago Diouf, Aziz N'Diaye, and Assane Sène. Directed by Anne Buford. Rated PG.