My afternoon had already taken me to a carpet bar on 28th Street, where the aura was interesting enough that I thought the place deserved more research than just an after-lunch stop. After settling into my post-Halloween hair of the dog, I hit the road on Tuesday, thinking I might as well enjoy myself before I had to start paying bills. See, the 31st was payday, and I knew I had a brief window of profligacy before my account balance dipped into the funds allotted for my personal overhead.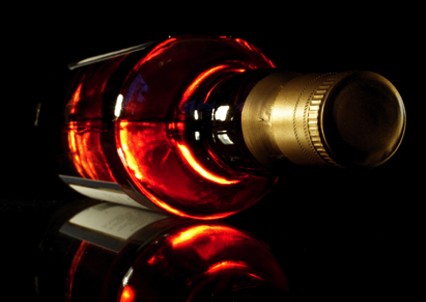 I took an ambling route through Haltom City, eventually heading west on Belknap Street. As I passed under I-35, my mind wandered around downtown, trying to find a joint that would be open before 2 p.m. that didn't involve enchiladas or chicken tenders. That's when I remembered I'd never been to the Whiskey & Rye at the Omni Hotel.
Given that all my checks had cleared, I could practically hear Billy Gibbons in my ears as I walked into the downtown hotel's bar. I'd just gotten paid, and the pocketful of change I had was burning a hole in, well, my pocket. After starting out with a Jack on the rocks, I asked for a menu — I wanted to drink something nice.
The bartender, a Wesleyan law student named Jason, handed me a thickly bound booklet, whose first page advertised a weekly whiskey, in this case a bourbon, specifically Blanton's Single Barrel. So, you know, if you're used to a happy-hour or drink special at a place like VIP's or A Great Notion (two wonderful spots), the special at Whiskey & Rye isn't going to make you happy — the whiskey of the week will still set you back $8. But if you give a shit about high-end liquor or are trying to develop a palate to accommodate same, then Whiskey & Rye is a place you should get to know.
I guess I fall into the latter category. I blame it on the bottle of Jack Daniel's Single Barrel that my little brother gave me back in June, which made me feel deliciously exclusive. According to the card in the menu, Blanton's is the original single-barrel bourbon, and it has been served to foreign diplomats, dignitaries, and possibly Tony Stark and Warren Worthington III. The stuff I sipped apparently comes from one of a few carefully selected barrels housed in some magic, central area of the distillery's warehouse, where it's cared for by Victoria's Secret models and guarded by the Terminator.
That's obviously an exaggeration –– you'd probably need four Terminators to protect it sufficiently –– but the brand's claim to a distilling technique that's as hallowed and studied as a Byzantine christening is reflected in the taste. Did I notice all of the notes and smell all the roses listed on its menu card? Maybe. Like I said, I'm still working on my palate, and I was eating a basket of chips and salsa at the same time.
Drinking Blanton's neat versus my Jack on ice didn't really make for an objective comparison, though I can tell you that anyone wanting to do a round of Blanton shots is probably an asshole, because Blanton is definitely made to be savored, and I'll be there on Wednesday when Whiskey & Rye showcases a new spirit. If you have a little cash to spare, cut out a Christmas present or two and treat yourself to the weekly Whiskey at the Whiskey & Rye. –– Steve Steward
Spencer's Says Aloha
Spencer's Corner, the my-girl-likes-to-party-all-the-time-party-all-the-time Westside wildhouse known for its crazy-cheap drinks, wheels-off theme nights (bikini nights, wet t-shirt nights, chicks-getting-trashed-and-sort-of-naked nights), and generous payouts for bands, shut its doors on Tuesday. You probably heard about this already, since the bi-level bar's Facebook page made the announcement on Tuesday afternoon. Owner Spencer Taylor Jr. told me a few weeks ago he and his cohorts were looking into a new space, possibly even in the wilds of North Dallas, but apparently the now-former sports bar/rock club plans on relocating to some mysterious closer-to-home location. News to follow on Spencer's Facebook page. –– S.S.
Whiskey & Rye
1300 Houston St, FW. 817-535-6664.
Contact Last Call at lastcall@fwweekly.com.