Five high school bandmates graduate, grow apart, marry, have children, divorce, hop jobs, bounce around mostly dead-end musical projects, and, on the eve of their 30s, get back together with a Venezuelan transplant in a windowless Near Southside garage to give music their most earnest go yet.


With the name Gonzo City, the guys hope to convey their strangely functional creative chaos. The band has no frontman. No designated vocalist. No single writer. Nor do its members adhere to any style or influence, making their repertoire as varied as the members' individual stories since parting ways more than 10 years ago. The end result: a band that eludes easy definition, which is exactly how its members like it.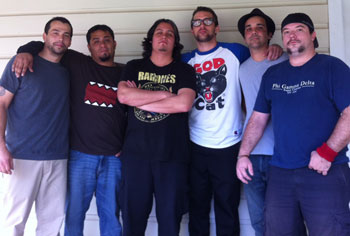 Crammed into bassist Joe Haasch's smoky garage-cum-studio one recent afternoon, Gonzo City charged through a set that spanned a good portion of the musical spectrum. On one end: the Sublime-esque ska-reggae fusion of "Pretty and Violent." On the other: a forlorn Tom Waits-style folk song, "Alley Man," featuring the gravel-road vocals of lead guitarist Michael Figueroa.
Then there's the "Winter of '83," possibly the most somber item on the day's playlist. Featuring the quiet vocals of tattoo-artist-by-day Haasch, the song explores the theme of growing up and growing apart. "What happened to the house we're livin' in?" he sings. "What happened to the life? / Good friends had and lost along the way? / Good riddance to those, it just goes to show / I never thought you'd be the one."
The guys seemed hesitant when asked to summarize their style. Finally, keyboardist David Penny spoke up. "It's slackers," he ventured, shooting glimpses at his bandmates for validation. "Hard-rocking slackers."
Not surprisingly, their influences run the gamut, from emotive indie to screamo metal to the quirk of groups like the Old 97's.
Talking to the Gonzo City guys, you might get the sense that they're one wild hair short of premature mid-life crises. They talk about approaching their fourth decade and feel uneasy about it. All six have sought music careers, though to different degrees, and are all generally fatigued after too many years of too many scuttled projects. The six collectively represent a boneyard of failed bands they freely admit you've never heard of: Sin-C, The Murals, The Brokers, Skate Around Chippy, The Browns, Paraquat.
Whatever defeat the six have encountered over the last decade, however, disappears when they talk about Gonzo City. Instead of the stale stench of washout, they exude optimism, even giddiness, though they didn't play their first gig until August.
The theme of rebirth largely defines the band, dating to its formation about two years ago, when Haasch reconnected with guitarist Adrian Valdez. The duo used to jam together while students at Weatherford High School during the late '90s but went their separate ways after graduation. Then, in late 2009, both fresh divorcés in search of emotional outlets, Haasch and "Val" got back together for casual jam sessions.
Those early sessions snowballed as other familiar high school faces joined the fold throughout 2010. The core of the nameless group was rounded out about a year ago by Figueroa, drummer Ryan Ross (a former death metalist who speaks of the genre now like a former smoker might speak of cigarettes), and Jesus Garcia, who went to high school in his native Venezuela before coming to the United States years later and meeting the band.
The project gained enough traction that the group started writing songs in its distinctly concerted way, each member writing his own songs and presenting them to the group for scrutiny, refinement, and tweaking. The resulting singles would often be nearly unrecognizable from their original concepts. These songs, according to the band, are wholly collaborative works. To date, Gonzo City has inked roughly 20 songs, with more on the way, especially since the arrival of Penny, another Weatherford High grad, a few months ago.
"Being in a band is the best way to stay sane as an adult in this world," Penny said. "Being able to come and play music and being a part of a group that makes music is the greatest feeling on earth."
Over the past six weeks, the Gonzo City guys have been hammering out a set list for their first show as a sextet, at Lola's Saloon on Friday, Nov. 25. They plan to release their first album within the next six months.
The guys are optimistic about their prospects, but they also know their project has a way to go before it proves itself. Audience exposure so far remains small, and feedback has come only from those who might have a bias, like friends, family, and other musicians.
But the Gonzo City guys expressed no doubts about the group's interpersonal dynamics. All six said they're in it first and foremost to have fun, to vent, to do as adults what they enjoyed doing together as adolescents.
"We're just a bunch of guys that like to play music," Garcia said from his perch behind his bongo drums. "That's what's up." l