If you're like me, you spend your nights before bed wringing your hands over all of the stupid things said/done to and by you throughout the day. On occasion, though, you might be able to look back and think, "Well, that was a genuinely pleasant experience" and really mean it. In the local musicverse, you encounter a lot of nice people. A lot. But you might sometimes feel as if, well, they're nice to you simply because they have to be, because, like most everyone else on the scene, you're just one of a million other political pawns to be massaged/attacked for reasons that are myriad and probably totally unnecessary.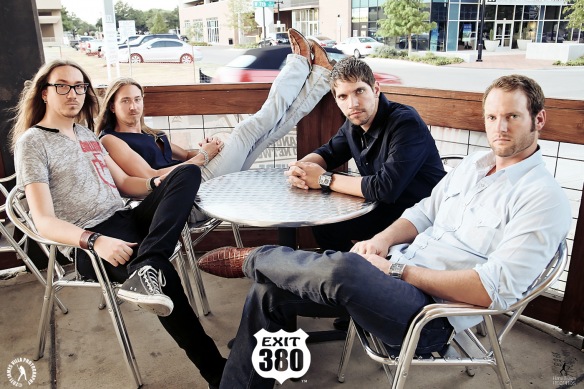 Now, I'm not friends with the guys in Exit 380, but I thoroughly enjoy their company, however rarely the pleasure occurs, and after encounters I always feel as if I've been treated as a person rather than a pawn, specifically by the two remaining founders: frontman/co-songwriter Dustin Blocker and guitarist/co-songwriter Aaron Borden. To be honest, their brand of radio-friendly mod-rock never really wowed me. Flickerstick, they were not. (Not that the Exit 380 dudes were trying to be Flick, but when you talk about radio-friendly mod-rock, especially in North Texas, Flickerstick is the stick by which all other mod-rockers are measured.) However, I have to say: I've heard some of Exit 380's forthcoming album, Townies, and … wow. My fascination is not due to the obvious factor: the shelving of the hard, driving guitars for a semi-folky approach. No, the material –– the ins and outs of the songs themselves –– is what has floored me. With Townies, Exit 380 has conjured up a thick batch of hyper-melodic and mostly melancholic acoustic-rock numbers, some theoretically appropriate for drive-time airplay on both indie-partial KXT and the mod-rock-loving Edge. How does the music make me feel? Like I'm back in college when MTV Unplugged blew up (circa Stone Temple Pilots and Alice in Chains). But that doesn't tell you much. All you need to know is that the songs are moody but catchy, slow-burning but not melodramatic. Take a listen for yourself on Friday, when Exit 380 celebrates the release of Townies by headlining a show at Lola's Saloon (2736 W 6th St, 817-877-0666) with openers Secret Ghost Champion and Igneous Grimm, two killer psychedelic Fort Worth outfits. Cover is $6-8.
To help raise money to mitigate the high medical costs associated with Bugs Henderson's illness, several North Texas blues purveyors, including The Stratoblasters, Dave Millsap, Bill Ham, Jay Boy Adams, Junior & The Journeymen, Danny Sanchez, and Buddy Whittington, will gather at 8pm on Friday at McDavid Studio (301 E 5th St, 817-212-4280) to perform. Tickets are $49.50 apiece.
Contact HearSay at hearsay@fwweekly.com.