By his own admission, singer-songwriter Tim Platt, 25, is an introverted guy –– soft-spoken, modest, and not inclined to draw attention to himself. So when a bartender friend at Esoterica Salon & Lounge in the West 7th corridor asked him to host an open-mic show for musicians on Sunday nights, he agreed a bit reluctantly. His job would be to make a few comments, play a couple of opening numbers on his guitar, and then introduce the other performers who'd signed up for the night. Despite his misgivings, Platt was keen on creating a supportive hangout for local musicians to test their skills and ideas in front of other artists.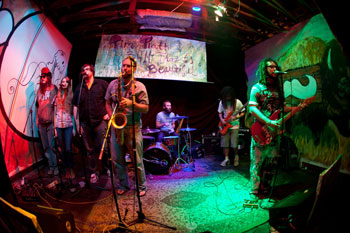 "I'm definitely out of my comfort zone when I'm a public speaker," he said. "Singing and guitar come more naturally to me. But [the open-mic shows] have been a magical thing. Just friends inviting other friends to play and offering suggestions. I've seen people grow as musicians, including me."
Apparently, his skills as an MC aren't too shabby: Esoterica's open-mic Sundays have been running for a year now, and Platt has also hosted a Monday night open-mic show at Embargo since July. But it's his singular talents as a vocalist and a musician that have attracted a bunch of notable Fort Worth musos to perform with him. Some of them have played in his All That Is Beautiful band, which has a regular gig every other Wednesday at Esoterica. The current core members of ATIB are drummer Josh Jones (My Wooden Leg), bassist Riyad Elmasri, saxophonist and flutist David Wade (Luke Wade & No Civilians), and harmony singers Christina Roberson, Nicholas Duvall, and Rick Warden. Members of The Orbans, Josh Weathers & The True+Endeavors, Quaker City Night Hawks, and Dazey Chain have also played with Platt, whose introspective indie-rock songs are melancholy, full of wry humor, and at times achingly lovely.
His dad, who played in cover bands when Platt was a kid, was his earliest guitar teacher. Then Platt started performing regularly with friends in seventh grade and translated the skills he'd developed as a singer in the church choir to lead vocalist gigs. Musically, he's very much a child of the '90s –– Eddie Vedder and Our Lady Peace's Raine Maida are among his favorite singers, while Fiona Apple and Counting Crows' Adam Duritz have inspired him greatly as songwriters. On original songs like "Happy Endings" and "Chinatown," Platt's gift is to convey a fumbling sincerity with eloquence and soul and without sounding too self-aware.
"I try not to make my songwriting too personal," he said. "I'll take an experience I've had and distance myself from it. It has to be interesting to me if I'm going to sing it a hundred times, but other people have to relate to it too."
All That Is Beautiful has been around in various incarnations since 2007, but the band's debut EP, Back to Reality, will finally be released early next year. The five-track CD, engineered by outstanding local musician/producer Nick Choate, has been three years in the making, with 10 musical contributors. The newest ATIB lineup has also recorded a pair of two-song CDs, one engineered by singer Roberson and recorded live at University of Texas at Arlington and the other helmed by Tanner Landry at Fort Worth Sound. Those will be released simultaneously with Back to Reality. Right now Platt wants to focus on creating merchandise to promote All That Is Beautiful among Fort Worth audiences and, eventually, make a full-time living via music. The variety of musicians he's performed with has provided him an always-fresh wellspring of inspiration.
"Being able to get up there and learn from other people's music has helped me figure out new ways to work with my own songs," he said. "One of the best things about music is, as long you keep playing, there's no end to how good you can be."
Tim Platt & All That Is Beautiful
9pm Wed, Dec 21, at Esoterica Salon & Lounge, 941 Foch St, FW. 817-924-1500.