Started by brothers Jeevan and Mathew Antony, Madràs –– everything about it –– was created out of a series of seeming disconnects, fitting for a couple of transnational transients who have found their way to Fort Worth. From the refracted origins of the band to the way the two brothers develop and redevelop their repertoire, the music bears the sound of displacement. Somehow, the pieces all add up, like the best art, to many different meanings.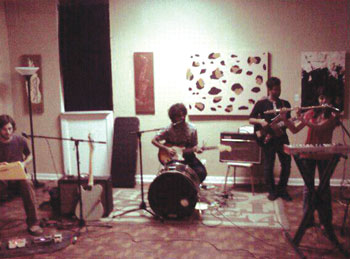 Though Jeevan and Mathew are best known for their work in the trio Fou, with drummer Houston Holtman, the brothers are constantly writing together and had developed material that wasn't quite Fou-ish but demanded to be realized. With drummer Ben Hance, frontman for Secret Ghost Champion, the brothers have been able to get Madràs off the ground. While they've played only three shows so far, they've managed to produce a steady stream of recordings, available via http://madras.bandcamp.com/album/madras.
The writing process is wholly collaborative. From his apartment near Texas Christian University, singer-guitarist Jeevan records his pieces and then e-mails them to his younger brother in his dorm room around the corner on campus. (Jeevan graduated in May. Mathew is in his sophomore year.) On bass and keyboards, Mathew tinkers with the files, makes contributions, and provides feedback, and eventually the songs end up in Hance's hands and then into the digital public sphere.
The nine fairly solid home recordings that are up now won't change, but the live arrangements of those songs will. For starters, the earlier tracks were recorded without Hance. Some, such as "dreamdippedsincerity," are sparse numbers with simple acoustic-guitar strumming. Other tracks have a lot going on, from computer-generated sounds to audio collages, but lack that special something when performed live. "We want them more fleshed out," Mathew said.
The new arrangements give the songs a feel somewhere between post-rock (without extended noise solos) and the alternately melancholic and warm dream-pop of the early '90s. (Think: a pop version of Explosions in the Sky or a more experimental Mazzy Star.) Indeed, newer songs such as "kookaburra" look back to the '80s and yet sound at home with some of today's digital-heavy indie music.
Jeevan and Mathew agree there's a fair amount of nostalgia at play in their music. But it's not for dream-pop. "We're both big fans of A.R. Rahman," Jeevan said. "If you listen to the percussion and the rhythm, we get that from him."
Rahman is the most famous and arguably the greatest living Indian film composer, best known here, of course, for his Oscar-winning work on Slumdog Millionaire. His soundtracks on films from the different Indian film industries are unique, even in the subcontinent, because they draw upon classical and folk traditions from northern and southern India, popular music, and various international styles.
Which is to say it's a little hard to hear Rahman in Madràs. But, after all, the Antony brothers decided to give their group the former name of their hometown. The two grew up in Dubai, part of the large South Asian diaspora there, but are from Chennai, which dropped its colonial name, Madras, in 1996. The brothers are Indian citizens and as children visited every year. "But we're still foreign to it," Jeevan said. "That's why we use the foreign name."
From the band name to subtler influences like Rahman, the music of Madràs comes out of "nostalgia for our childhood," Jeevan said. The two have been playing together since they were teens in Dubai and had –– wait for it –– a metal band. ("People knew we were in a band but wouldn't have guessed we played metal," Jeevan admitted.) Jeevan assembled the group from his friends but couldn't find a bassist. Finally, his father intervened with the offer to purchase a bass guitar on the condition that Mathew get to play it and join the band.
The two have been making music ever since. Jeevan arrived at TCU to obtain his undergraduate degree in 2007, followed by sister Sneha and Mathew. Each came with a scholarship, and it just felt right to their parents, halfway around the world, to have the three siblings in the same place. But the dominant elements of TCU culture –– football and Greek life –– were a bit of a shock to the immigrants. A business major, Jeevan felt out of place among his classmates, at least until he discovered the anthropology department. Fort Worth became more inviting once he tapped into the music scene via Fou.
And the scene has responded. To raise money for bicycles for international refugee families living here, the three Antonys held a fund-raiser a couple of weeks ago –– every band Jeevan asked, including big-timers like Quaker City Night Hawks and Skeleton Coast, agreed to perform. Nearly $1,800 was raised. "Including volunteer staff, we had around 200 people in attendance," Mathew said. "We were expecting 20."
Madràs is working on a proper full-length to be released over the next few months. l