The town of White Settlement might still be living down its 2009 opportunity to change its name to something less racially charged. However, the little west-o'-Fort Worth ville is still a homey place. A culinary mecca? Hardly, but its main barbecue joint, Soda Springs Bar-B-Q, has several things to recommend it.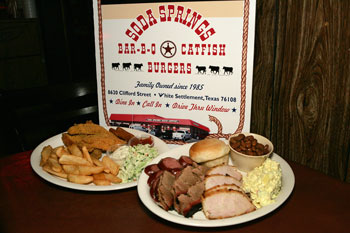 Walking into Soda Springs, I hung a right and a quick left into a wood-walled, channel-like cafeteria line, craning my neck to read the menu board above the trays and soda dispenser. I saw ribs, but I also saw that the special was a two-meat combo plate. A lover of multiple meats on the same plate, I went with hot links and sliced brisket, served from a window to the kitchen. Sauce and sides were self-serve, so I scooped some potato salad onto my plate and paid. Once you get out of the queue, the restaurant kind of opens up — while it's spacious, the joint is divided into three separate dining rooms, walled in cozy faux-wood paneling and hung with vintage knickknacks, taxidermy, and lots of Coca-Cola memorabilia. The most interesting things on the wall were a blown-up black-and-white landscape photo of downtown Fort Worth circa 1969 and a lacquered poster of Clint Eastwood in The Outlaw Josey Wales.
Under Clint's vigilant squint, I started with the brisket: moist and tender but not very interesting, lacking in bold flavor. I added some sauce. Though a little light in the spice department, it did the job.
The hot links fared better sans sauce: Spicy without making me sweat, they had a tangy aftertaste that made me wish I'd gotten a double order.
I came back for lunch again a week later, intending to try the ribs, but it turns out Soda Springs serves ribs only Thursdays through Saturdays, leaving me to opt for the chopped beef sandwich instead. Unfortunately, while the brisket had a little bit of juiciness, the chopped beef was pretty dry, and this time, the sauce didn't save the day — finding the perfect chopped-beef niche between sawdust and soggy is tough, but erring on the side of savory is usually better than dry. On the other hand, at least the sides were good. The potato salad was creamy enough, and I didn't need to dump a bunch of pepper on it to notice its flavor.
What struck me most, apart from a dusty rattlesnake trophy forever coiled to strike diners from atop a stained-glass Coca-Cola lampshade, was how friendly the staffers were. Halfway through my meal, the lady at the register came by with a basket of rolls and asked me if I'd like an extra one. For a place with cafeteria-style service, that was a nice touch. And given the number of big tables, I imagine the joint gets pretty full on weekends. As I watched ESPN on a big flat-screen one window north of Clint, I figured Soda Springs would be a great place to get a pitcher of beer and watch football games with your buds or your kids.
Except! Soda Springs Bar-B-Q doesn't serve any alcohol. In any case, a lack of suds does not a restaurant destroy. I'd be happy to eat more of their hot links, but I didn't feel like the beef was worth the trip. Still, the place offers more than just barbecue — its hand-battered chicken-fried steak is a top-selling item, and the fried catfish has won lofty raves.
Bottom line: Soda Springs Bar-B-Q probably isn't a good enough reason to drive to White Settlement if you're not already there. But if you find yourself in the vicinity, it's a pretty decent place to stop for a bite.
Soda Springs Bar-B-Q
8620 Clifford St, White Settlement. 817-246-4644.
Closed Sun, 11am-2pm Mon-Sat, 4-8pm Thu, 11am-8:30pm Fri, 11am-8pm Sat.
All major credit cards accepted.
Two-meat lunch combo ……………………. $7.99
Chopped beef sandwich lunch plate …. $6.99
Hand-battered chicken-fried steak …….. $7.99-$9.99