Every time my grandmother bites into a good piece of beef, she uses the same line: "This cow must have been in love." Everybody laughs except my grandfather, who's heard it way too many times, and me, because it makes me think of cute little calves making big brown eyes at one another. And really, who needs that image right before you slice into a steak? Not that it's ever stopped me. I wonder sometimes whether all the FFA kids who raise those award-winning animals for the stock show have the same problem, but I'd guess not.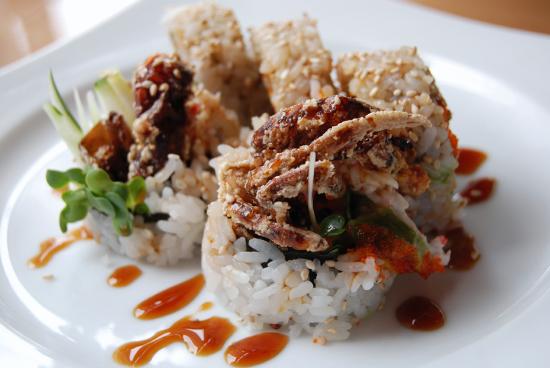 Still, I don't understand out-of-towners who come to Fort Worth for the stock show and eat only at steakhouses, Angelo's Bar-B-Cue (2533 White Settlement Rd.), or Mexican food joints. So I thought I'd offer a few suggestions about some of my other favorite dining spots and off-the-beaten-path restaurants. After all, you're not in Ponder or Cut and Shoot anymore. Fort Worth is a real city, so be brave and order a few things you may not be able to get at the local truck stop.
I know it's customary for cow-people to enjoy the North Side, but try heading south this year. There, you'll find Chadra Mezza & Grill (1622 Park Place Ave.), a Mediterranean restaurant that specializes in Lebanese and Italian cuisine. Highlights include the ablama ($10.95), a yellow squash stuffed with ground sirloin, topped with a light tomato sauce, and served with rice. It has all the beef you crave, with a touch of spices from the Mediterranean — a little cinnamon, cloves, and garlic. The stuffed salmon ($18.95) is bursting with shrimp, spinach, feta, and ricotta cheese. It's tricky business not to cook the oil out of the fish, but the Chadra kitchen strikes the balance.
Here's a crazy recommendation: Saddle up to a sushi bar. The Fort has some great ones, and the prices aren't too outrageous. The best bang for your buck has to be the venerable Tokyo Café (5121 Pershing Ave.), located just west of the stock show festivities, right off Camp Bowie Boulevard. It's best to just get the sushi platter ($40) and let the chef decide what goes on it. On a recent visit, Chow, Baby was treated to delicate, buttery Japanese snapper and salmon roe on the same plate — as if the chef knew exactly what I'd been fantasizing about all day. If you're determined to get beefy, the spicy beef bowl ($7) will start your tear ducts going while enthralling your taste buds. It's a little counter-intuitive to keep shoveling the fire into your mouth, but it's worth a few tears.
Or for an outrageously anti-beef meal, cowboy up to Spiral Diner (1314 West Magnolia Ave.). I dare you … unless of course, you're chicken — in which case you're not allowed at the vegan restaurant. Try the shpadoinkle ($8.95), a potato with veggie taco "meat," broccoli, black olives, peas, carrots, and ranch dressing. It might be outside of your comfort zone, but I have a feeling you'll gain an appreciation for vegan cuisine — even if you're not converted.
If you're determined to have a steak, get one that's a little fancy in the pantsy. Local cowboys and cowgirls (and Chow, Baby) love the brown-sugar-crusted rib-eye ($26) at Lambert's Steak, Seafood & Whiskey (2731 White Settlement Rd., FW). The 14-oz. cut is served with a chimichurri sauce and your choice of side (you'll have lived an empty life if you don't try the green chile grits at least once). The rib-eye's caramelized crust pushes the dish into the realm of decadence.
Going out of town and eating the same things you order at home is a little like going to a foreign country and ordering McDonald's. It's time you broaden your horizons. You're on vacation. Live a little.
Contact Chow, Baby at chowbaby@fwweekly.com.