On a cool Saturday night last November, pianist and composer Joe Rogers played an intimate, sold-out set at the Southside arts center Arts Fifth Avenue. At 58, the bearded, curly-headed Rogers still looked impishly youthful. At the time he didn't think of it as a retrospective on his 40-year Fort Worth career in jazz and musical theater, but now that he looks back, it kinda was. He was surrounded by old friends from every stage of his musical journey.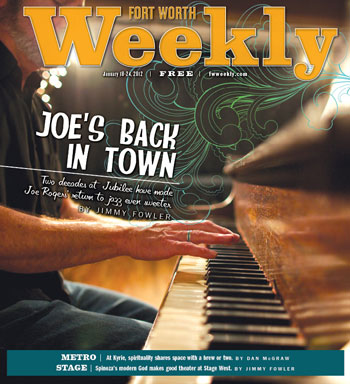 The evening was called Old & New and featured compositions written new for the set along with handpicked oldies performed by a full jazz band of longtime collaborators. One of the featured vocalists was singer and actor Sheran Goodspeed Keyton, with whom Rogers had worked many, many times over his nearly two decades as musical director and in-house composer at Jubilee Theatre. Sitting in the audience was Nick Kithas, longtime Fort Worth club owner and restaurateur who'd given Joe's 1970s jazz ensemble Master Cylinder its first professional gigs. And Rogers had collaborated many times on musical theater and live jazz shows with Gracey Tune, Arts Fifth Avenue's founder and artistic director.
Although it wasn't advertised as such, the Old & New show was something of an artistic re-emergence of Joe Rogers the jazz composer and performer. Fort Worth audiences have known him primarily in the '90s and '00s for his work with Jubilee. Except for a small cult of die-hard fans, many have forgotten his powerful skills as a pure jazz performer.
"When I booked the date with Gracey at Arts Fifth Avenue, I thought it would be fun to revisit some of my music from the '70s," said Rogers. "But I also gave myself two months to write 12 new jazz pieces for the show. For once in my life I was treating jazz composing the way I did theater composing [at Jubilee] — I gave myself serious deadlines."
Tune has known Rogers for almost 25 years, starting out when she was a choreographer at Jubilee. She doesn't hold back on her praise for the man's abilities as both a pianist and a composer. She's happy to help reintroduce him as a jazz performer with gigs like Old & New at Arts Fifth Avenue.
"Joe knows how to bring out the best in every musician and singer he works with," she said. "He has that easy way of playing jazz and that easy personality. You can hear qualities in his music that date back to Harold Arlen and Count Basie."
Nothing describes Joe Rogers as well as the lyrics from Arlen's 1943 tune "Happiness Is Just a Thing Called Joe," she said, reciting: "It seems like happiness is just a thing called Joe/He's got a smile that makes the lilacs want to grow/He's got a way that makes the angels heave a sigh/When they know little Joe's passing by."
Joe Rogers is passing this way again, as a reinvigorated jazz man with newfound discipline and hard-earned experience from his Jubilee Theatre days.
********
Rogers, a Fort Worth native, wasn't surrounded by jazz music as a kid. He calls his upbringing a "straight, plain ol' middle-class life" –– his mom was a schoolteacher and later a bank clerk, and his dad was a lumber salesman. As a young child Rogers listened to the Top 40 tunes they played in the car, and that was about it. Then the Beatles came to America in 1964, and his friends began playing guitar in bands. Rogers learned the guitar and joined his first band when he was 11.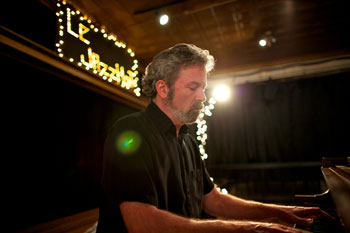 As a teenager, Rogers cut his teeth on songs by The Doors, Cream, and Jimi Hendrix. He thinks the long guitar solos improvised by Hendrix and others first attracted him to the freewheeling side of jazz. He became a good enough guitarist to play not just garages and living rooms, but weddings, parties, and public events.
In the late '60s and early '70s, "I was drawn to Frank Zappa and the British group Soft Machine," he said. "Zappa did everything from orchestral music to raunchy blues. And he did some jazz-oriented stuff too."
Then Rogers' parents got divorced. His mom remarried in 1970, and her new husband had a huge vinyl collection that contained a lot of jazz, including albums by Miles Davis, John Coltrane, and Bill Evans. Evans in particular was Rogers' first real taste of jazz piano, and he fell hard for it. He'd already taught himself a few keyboard parts on his sister's piano. He weaned himself from the guitar gradually and became a full-time keyboard player. First Zappa, and then Davis and Evans, taught him an affinity for complicated harmonies, rhythms, and time changes.
In 1971 he followed a girlfriend to Denton and what was then called North Texas State University. He didn't intend to major in music, but he started taking more and more jazz classes and eventually went heavily into music theory and composition. The atmosphere was intoxicating and experimental.
"In that environment, you get exposed to all the latest stuff," he recalled. "We used to stay up all night thinking of crazy ways to write music. It was right after the Moog synthesizer was invented. NTSU had a music lab that had one of those modular Moog computers. European musicians had pioneered electronic music and the whole idea of using tape and recording it and mixing it and splicing it. We were all pushing our own envelopes."
Rogers, a self-taught rock 'n' roll guy, was suddenly deep into writing and performing elaborate instrumental jazz pieces. In 1972 he formed a band called Master Cylinder that had a revolving lineup of musicians — mostly friends and fellow students — playing his original compositions. The band, including strings, woodwinds, and brass, performed in clubs around North Texas, mostly for beer and tips. Rogers said there were a lot more jazz nightspots in Fort Worth then, including Pepper's at University Drive and West 7th Street; House of Pizza or The H.O.P., in the space near TCU where Aardvark's is now; and especially Daddio's, site of Master Cylinder's first gig.
Nick Kithas currently operates Jazz Café. He was the owner of Daddio's and other clubs. Rogers calls Kithas his "jazz uncle" because Kithas was one of the first to hire the young musician.
"Even then, Joe didn't know how good a musician he was, which is one of the charming things about him," said Kithas. "He's always been the most congenial guy in the world. He didn't start off as a street musician, of course. He was more of an educated guy. When I first met him, he was listening to Weather Report and Chick Corea and just learning from them but also putting his own creativity into the mix. He could play blues on a Moog synthesizer and just take it to the moon."
The lighting at Daddio's wasn't the best, as Kithas recalled. One of his earliest memories of Joe is of the young musician bringing a couple of floor lamps from his parents' house and setting them around the musicians so the audience could see better. "It was like we were suddenly sitting in Joe's living room. That's always how it is. When you listen to Joe, you feel like he's inviting you into his home."
Rogers graduated from NTSU with a bachelor's degree in music composition and began mowing lawns and unloading vegetable trucks at the Ben E. Keith food distributorship in downtown Fort Worth to support his jazz habit. Although Master Cylinder played a little in San Francisco, New York, and Austin, the band mostly stuck to North Texas gigs. They did get a two-album contract with a small New York label called Inner City Records, but it went bankrupt in 1980 before the second album was released. By that point Rogers had burned out on playing in a jazz band.
"I became a sideman," he said. "I was in a reggae band, another jazz band, and a country band. We used to go out to little towns and play in these country bars." Although the pay was a little better than lawn work, the indignities were memorable: He vividly recalls performing as a hired pianist in a jazz band for a corporate gig at Billy Bob's Texas. They all stood onstage dressed in fake cowboy attire. It was not his finest hour as a musician.
One of those seemingly random side gigs would open up a whole new musical world for Rogers.
********
---
In 1982, a friend, who was serving as musical director for a Stage West production of the revue
Jaques Brel is Alive and Well and Living in Paris
, asked Rogers to play bass in the show's four-piece band. It was an inauspicious debut, and although Rogers enjoyed the gig, it didn't particularly change his mind about musical theater. "It always seemed weird to me for an actor to burst into song in the middle of a scene," he admitted.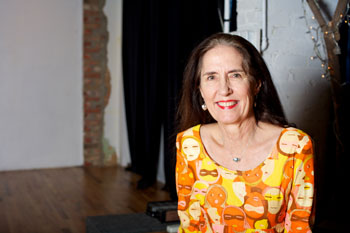 Rogers became more intrigued with musical theater when he did a few shows at Hip Pocket Theatre in the mid-'80s. The theater company that really changed his life, though, was Jubilee, founded by the late Rudy Eastman. Rogers filled in at a show there in 1987 when the regular Jubilee pianist got sick, and he quickly felt at home despite the fact that he was one of the few Anglos associated with the troupe. He was already very familiar with the African-American musical styles that Eastman loved and that Jubilee specialized in — rhythm and blues, soul, gospel, and doo-wop.
As Rogers did more shows at Jubilee, he and Eastman developed such a chemistry as collaborators and friends that Eastman asked him to join the theater as its musical director in 1992. That meant he would not only play live during shows, but also write incidental music for the dramas and comedies and, more importantly, pen music and lyrics for the company's original musicals. During his almost 20 years in that post, he wrote the music and lyrics to 20 original musicals that became huge audience favorites, including Travelin' Shoes, The Book of Job, Coop De Ville: Time Travelin' Negro, and Alice Wonder.
The adjustment from writing instrumental jazz pieces to musical theater scores was daunting at first. He explains the challenge this way: "Jazz music tends to be piece by piece. You write one piece, then move on. But a typical play might have 13 to as many as 20 songs. The songs have to be short enough to keep the show moving, and they all have to be different but still be tied together with a common theme."
Rogers was also intrigued by the challenge of writing lyrics — Master Cylinder never used vocalists. Instrumental jazz, he said, is all about colors and melodies and moods and can be interpreted in many different ways. But lyrics have to state ideas clearly to the audience and help the singers enhance their characters onstage.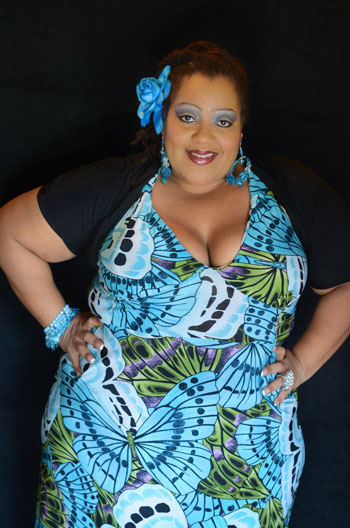 Sheran Goodspeed Keyton, the singer-actor-director who worked for two decades with Jubilee Theatre, first met Rogers in 1992 when she was 17. She worked with him on her first professional show, Jubilee's God's Trombones. At the beginning, Keyton said, Rogers trod very lightly in the mostly African-American troupe.
"He didn't make a big impression on me at first, except that his ego was non-existent," she said. "He was never bossy or crazy like some of the musicians I'd worked with. He stayed mostly in the background."
But as time went on, Rogers began to assert himself more, and the different management styles of Joe the musical director and Rudy the artistic director emerged. It affected how the artists worked with them, Keyton recalled with humor.
"There were cultural differences in their approaches," she said. "If you wanted to be really sweet and get something over on somebody, you'd know to go talk to Joe because he was 'sweet white daddy.' But if somebody was getting on your nerves and you wanted to get them in trouble, you went to 'mean black mama,' who was Rudy."
Though the Eastman-Rogers musical collaborations kept producing box office hits for Jubilee, Rogers was exhausted by the mid-'00s. He told Eastman that he wanted to gradually lessen his involvement with the theater. At about the same time he started working at Jubilee, Rogers had taken a full-time position in computer systems at a Grand Prairie paper supply company — the first 9-to-5 office job he'd ever held.
In the 1980s, the musicians' lifestyle — the drinking and late nights at clubs — had put a lot of stress on his marriage. He took the office gig in part to have evenings free to see his kids. He and his first wife divorced in 1997. Two years later, he married again, and the combined responsibilities of his day job and moonlighting with Jubilee were weighing heavily on him.
Then in 2005, Eastman died unexpectedly in his sleep, shaking Jubilee to its core. Rogers was devastated both personally and professionally.
"For me, it was like losing a big brother," he said. "It was the first time somebody close to me had died. My father had already died at that point, but we weren't close. Rudy was everything at the theater: the founder, leader, writer, director, set painter, and costume designer. But we tried to go on without missing a beat."
Although the workload was often stressful, Rogers has nothing but fond memories about his two decades as musical director at Jubilee. And he thinks the fact that the theater is evolving and attracting new artists is a good thing.
"After Rudy, Ed Smith was there [as artistic director] for a few years, and now Tre [Garrett] is there, bringing in new ideas and styles," he said. "Everything changes, as it should. That theater shouldn't just be a museum to Rudy Eastman."
In the seven years since Eastman's death, Rogers has indeed gradually decreased his role at Jubilee Theatre, writing and performing less material each season. He'd mostly put his original instrumental jazz compositions on the back burner while serving as musical director there, scribbling ideas down and stowing them away in the piano bench for later. But with more time away from Jubilee, he started writing jazz piano originals again, even renting a small place at Eagle Mountain Lake where he could find the solitude on weekends to compose.
"I've done some of my best composing [in my head] while in the car," he said. "I'll take long drives out on country roads, then pull over and scribble down chords and lyrics. And I spend a lot of time at the Fort Worth Nature Center. I'm trying to develop some of the ideas I've had over the years into new songs."
Gracey Tune has noticed Joe's newfound discipline as both a composer and a bandleader in recent shows at Arts Fifth Avenue. She credits Jubilee with whipping him into shape.
"He can write a chart [for any musical part] in a heartbeat, and I doubt he could've done that earlier in his career," she said. "Working with all those Jubilee musicians meant he had to make his musical ideas clear to artists who weren't necessarily jazz musicians. He couldn't just assume they knew what he was talking about. And I think playing more musical theater has given him the direction to help singers. It has expanded him as a musical director."
********
---
Rogers recorded the
Old & New
show at Arts Fifth Avenue and sent out a live CD to North Texas club owners in the hopes of booking more gigs as a jazz pianist. Ideally, he'd like to land a once- or twice-a-month regular gig at some venue. (Kithas, for one, said he'd happily give Rogers one night a week at his Jazz Café.) He's currently composing more tunes for another set at Arts Fifth Avenue in March. He's also tentatively slated to write music for a Hip Pocket show this summer.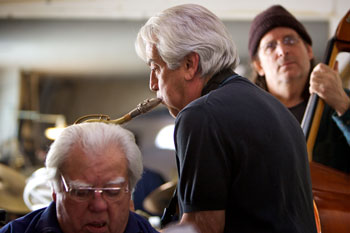 More than anything, he wants to find a saner balance between his music, his day job at the Grand Prairie paper company, and his personal life. In addition to two grown daughters by his first wife, Rogers has two sons — one in middle school and one in elementary school — with his present wife.
Sheran Goodspeed Keyton performed three songs at Rogers's Old & New concert and was struck by how he'd affected her as an artist and, conversely, how she and other Jubilee artists had influenced his music.
"I started out as a belter, a gospel singer," she said. "I've always been able to clear a stage with my voice. But my years with working with him have helped me to develop a variety of styles. Now I can go to a fund-raiser and sing 'These Boots Are Made for Walking' or 'Let's Give Them Something to Talk About.' That was his gift to me."
Similarly, the newly composed songs that Keyton sang at the Old & New show seemed to her to be filtered through a Jubilee aesthetic. "They were straight jazz songs, but they also had a theatrical, character-driven flair to them. You could hear all those years that Joe spent in the theater. That's how we influenced him, I think."
Rogers sounds utterly content as he looks back on his life as a composer and performer working almost exclusively in North Texas. There was a time when he wanted to move to New York City and try making it there as a musician, but he figures he wouldn't have had his family or the artistic experiences he has shared with so many great people if he'd moved up North. As it is, he visits New York City a couple of times a year to hit the jazz clubs.
Right now, he thoroughly enjoys his life as a kind of musical elder statesman on the North Texas scene. And he's eager to see where his return to composing pure jazz will take him. As he approaches 60 with no pressure to make a living from his music, he'd like to loosen up, experiment, and maybe even expand the jazz he's loved so much since those early '70s days jamming through the late-night hours in Denton and Fort Worth spaces. He can afford to be ambitious again.
"I've been thinking a lot that in some ways jazz has not changed too much since the '60s," he said. "The mainstream of jazz that went through Louis Armstrong and Duke Ellington froze in time. I've been trying to figure out some way for jazz to evolve. I'm not sure I'm the one to do it, but that's what I'm looking at."