Killa MC and about a half-dozen other Fort Worth rappers huddled around a table at a local coffee shop about a year and a half ago and staged a plan to jumpstart their hometown's anemic hip-hop scene.


They were weary of its thuggish reputation (established courtesy of Twisted Black, Six2, Immortal Soldierz, and others) and sought to assert themselves as a distinctive group whose members openly shunned the gangsta pretense.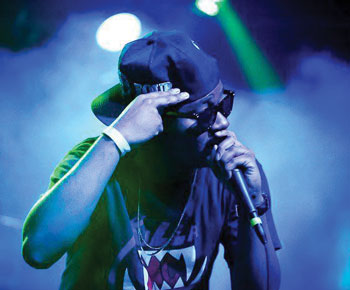 Despite their efforts, Killa now says, he and his counterparts still have their work cut out for them. "Fort Worth is just a hard city to get anything going on," said the 23-year-old University of North Texas student recently at a bar just off Denton's town square. He explained that, while Fort Worth's indie-rock scene has stepped out of Dallas' shadow and come into its own, the Fort's hip-hop struggles to find the spotlight.
That's part of the reason you'll have a hard time finding Killa playing a show in the town he's lived in since early elementary school. Instead you'll find Donovan Payne, as Killa's parents know him, taking stages in and around Dallas and Denton. His growing Fort Worth following comes only from his successful last album, Laptops & Voicemails (one of HearSay's top five local albums of 2011).
The album –– his second, released online for free in November –– includes one song, "Boy Stop," in which Killa teamed up with popular Cowtown rappers Dru B Shinin' and Lou Charle$, both of whom met with him at the coffee shop all those months ago. The trio's formidable chops rival those from any head-bobbing compilation of any of rap's titans. Killa said Laptops & Voicemails is just a glimpse into the relatively unknown stockpile of talent hiding in Fort Worth.
The follow-up to Young, Black, and Reckless, Killa's debut, Laptops & Voicemails ranges from the fast-paced lyrical gymnastics of "Boy Stop" to the sentimental, reflective odes that round out the 20-song album's second half, most of them alluding to Killa's recent breakup with a girl he'd been with for the better part of four years.
Killa's style of rhyming has much in common with pioneers LL Cool J and the guys in A Tribe Called Quest and Run-DMC (whose name helped inspire Killa's own moniker). He freely acknowledges that his is throwback rap, only transplanted to the age of social media. A self-described technophile, Killa spits, sometimes at length, about things like Facebook Like buttons, tweets, and YouTube page views. Hence the album's title.
Killa's mid-'90s influences were his bread and butter growing up. His parents — yes, he pointed out, he comes from a two-parent household in the far South Fort Worth suburbs — frowned upon most of the era's rap but compromised with their son by allowing him to listen to some of the genre's tamer acts.
During the recent interview in Denton, Killa's side of the bar table was empty. He doesn't drink. He also doesn't smoke, weed or tobacco. He cusses occasionally in his music but infrequently in person. He said he tries to make music that his mother would, well, maybe not enjoy but at least tolerate. He's articulate and, in person, soft-spoken. Killa, in other words, doesn't exude the larger-than-life egomania of many rap artists, although a hint of it does sneak through his music.
On his web site, Killa has embedded the half-dozen or so music videos that he has completed with the help of Phillip Thompson, an aspiring Dallas filmmaker and buddy. Several show Killa hanging out with friends, at home or at the mall. No fancy cars and spinning rims. No stacks of cash. Just Killa, in his trademark adjustable baseball cap, hanging out. "That's what I do every day, you know," he said. "We hang out at the mall. We hang out in the studio. We hang out with the chicks and the homies. When you meet me as K.MC, that's what I'm doing. I'm not rolling around in cars with 24s and pit bulls and scantily clad women. That's just not real life — for me, anyway."
He paused behind an impish grin: "I wouldn't mind it occasionally here and there, but on a daily basis, don't come expecting that."
Killa traces his relatively clean approach to music to a stage of life he and his cohorts refer to as their "Negro enlightenment."
Around the time he started rapping, about halfway through high school, Killa boasted a stereotypical rapper persona to his inner-city friends. "I kind of went through this period to prove to them that I was just as 'black' as they were," Killa said. "At the end of the day, it just wasn't who I am as a person. The Negro enlightenment is when I realized I don't have to be ignorant to associate myself with 'black.' "
He eventually toned down the hyperbole and joined The Brain Gang, a group of like-minded MCs who had come to the same conclusion. Killa described the clique as a North Texas version of the Wu-Tang Clan. A trio of producers in The Brain Gang provides Killa with most of his beats, often for free. K.MC files these beats on his computer by tone and pulls them up when the mood strikes him, usually late at night and almost always with a music video concept in mind. Then he pens his lyrics.
He then records on his laptop via a microphone in his soundproofed closet. He admits it's all pretty DIY, but his albums still sound crisp: big-time sound on a shoestring budget.
Killa MC
Sat, Feb 11, at Hat Tricks, 101 E Corporate Dr, Lewisville. 972-315-8406.