There's no question the West 7th Street corridor is booming. The growth of the mixed-use entertainment-and-residential district has been a major factor in Fort Worth's inner-city redevelopment over the past decade, since city planners and urban developers first saw potential in all of the vacant warehouses and office buildings there. Stroll through the pedestrian-friendly streets any weekend to see crowds pulsing through the bars, restaurants, and shops, everything within reasonable walking distance.


"It is the hot spot. It is the place to be," said Jennifer Purselley, director at Transwestern, a national commercial real estate company with offices in several major Texas cities, including Fort Worth.
But as West 7th business continues to boom, one thing isn't growing, and it's creating problems: parking. "It is an issue," Purselley said.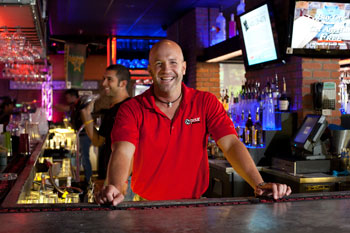 Two weeks ago, Fort Worth Weekly broke the news of a towing sting during the weekend of Jan. 13 that netted 50 illegally parked vehicles in Montgomery Plaza ("Wreckers Haul Away Dozens in Montgomery Plaza," Blotch, Jan. 16, 2012). The 100-plus parking spaces in the West 7th anchor development have been used during the evenings by patrons of other area establishments for years without repercussions. After two Weekly stories and subsequent pieces by local TV news programs, the sprawling plaza seemingly overnight became public enemy No. 1 to area nightflies. The coverage led plaza officials to fire their towing company –– and in the process underlined the need to do something about a problem that is only getting worse.
Fort Worth Police Officer Ken Jacobs is spearheading an effort to ameliorate the situation. The neighborhood police officer for West 7th and the nearby Cultural District has arranged a meeting for Wednesday afternoon with representatives of many of the businesses and groups affected, including members of the 7th Street Business Association and Cultural District Alliance.
"It's not my responsibility, but it's a public safety issue," Jacobs said. "If I didn't have to write a ticket, if I didn't have to tow a car, I'd be just fine with that."
Jacobs has already met with officials of the Fort Worth school district, owner of Farrington Field, in hopes of getting the district to allow the massive parking lot there to be used as a remote parking area for West 7th. The lots are empty for most of the year, and Jacobs envisions a shuttle service from there to the entertainment area. School district officials are worried about liability, Jacobs said. He intends to meet with them again, after the Wednesday session with the West 7th players.
Jacobs also has sent a message to Chesapeake Energy, the natural gas company that owns the large tract of undeveloped land just east of Montgomery Plaza, to see if there is any way the property could be used for parking.
Though West 7th parking problems have only recently blown up, they've been simmering for years. Part of the problem may lie with Fort Worth's zoning ordinances. Except in downtown, businesses within 250 feet of single-family properties must provide at least a certain number of parking spaces for customers. In areas away from single-family neighborhoods, including most of the West 7th corridor, there are no such requirements. Provision of adequate parking either on-site or off-site is a "private business decision," wrote Dana Burghdoff, deputy director of the city's Planning and Development Department, in a recent e-mail.
Eric Tschetter, owner of The Pour House, a bar and restaurant in the heart of the West 7th corridor, long ago decided to offer paid ($5) valet parking on weekends. The Pour House's lot has only about 40 spaces, and the maximum occupancy of his 12,000-square-foot building is nearly 600. "I knew I opened with not enough parking," said Tschetter, a 7th Street Business Association board member. Valet parking on weekends seemed the only option to him, he said, "because of the lack of parking in the area."
But not all West 7th business owners see valet parking as the answer. "The main problem is where to valet the cars to," said Jimmy Moore, owner of 7th Haven, a bar-bar with only a handful of parking spaces.
Montgomery Plaza didn't invent towing in the West 7th corridor. For years, stealthy spotters in the campus-like development known simply as West 7th have been spying on parkers, especially in the development's various parking garages. If you park there and walk into a non-West 7th development establishment –– say, Fred's, Magnolia Motor Lounge, or The Pour House –– you can pretty much guarantee your car is going to be towed.
There are signs, however, that the company that owns the West 7th development has come to realize how unworkable the situation is. Dallas-based Cypress Equities recently installed gates in some of its parking garages for validated parking.
Kirk Williams, Cypress' senior vice president of development, said in a statement, "As a mixed-use development, we can only plan for enough parking for our customers, tenants, residents, and employees. Our plan does not account for patrons outside of our development. In order to maintain a free and easy environment regarding parking for those who legally occupy the spaces within our development, we are implementing a validated parking program. This program will be deployed in a staged and strategic manner. … At this time, we are not announcing a date for the full implementation of the validated parking program."
Dustan Goodell, president and CEO of Somerset Association Management, the Dallas-based company that runs Montgomery Plaza, said he plans to introduce the validated-parking concept to the board and owners at their February meeting. "It's certainly something that [Montgomery Plaza] retail owners and homeowners can look at," he said. "I'm not exactly sure how [validated parking] can be done, but I'm sure it's not that difficult."
Jerie Hewitt, a physical education aide at Saginaw Elementary School, didn't see the no-parking signs at Montgomery Plaza when she parked her Suburban there two weekends ago. When she came back to find that her truck had been hauled off, she "freaked," she said.
She wasn't the only one upset. The outrage directed at Montgomery Plaza came not only from violators but from owners of nearby bars and restaurants and from locals who hadn't been towed. What particularly pissed off the general public were photos taken by the Haven's Moore and published on the Weekly's web site of a tow-truck driver using a Slim Jim to break into an illegally parked vehicle to release the parking brake to allow for easier towing.
Some bar owners believe towing in Montgomery Plaza at night is intrinsically unfair, since only one Montgomery Plaza business, BoomerJack's Grill & Bar, is open at night, when business in West 7th begins picking up. Some bar owners also claim they were not fairly warned, especially since their customers had been illegally parking in the plaza spots for years.
Goodell and Officer Jacobs counter that they warned bar owners weeks beforehand that towing enforcement was about to begin in Montgomery Plaza's lot –– 24 hours a day.
Regardless, Montgomery Plaza was in the midst of a P.R. nightmare. After Somerset fired the towing company, Tarrant County Abandoned Vehicle Removal, and hired the new one, Lone Star Towing, a softer touch followed. Though no cars have been towed since the sting, several people who illegally parked their cars in Montgomery Plaza's lot over the past two weekends received warnings from Lone Star spotters — and parked there anyway.
"I'm pretty confident," Jacobs said, "that some people are trying to set up the tow company and get their 15 minutes of fame, post a video on YouTube or something."
Tschetter thinks that the near future of the West 7th corridor will involve the end of free off-street parking. "You're going to have to pay to park when you come down here," he said. "That's just the bottom line."