My introduction to all things German was at Edelweiss German Restaurant (3801 Southwest Blvd.) when I was a kid. My memory of the place was that of a German theme park, with an oompah band decked out in lederhosen and dirndls and a chef/owner/lord of the chicken dance who played the accordion and sang. I recall that the portions were huge, and the cabbage flowed like German lager.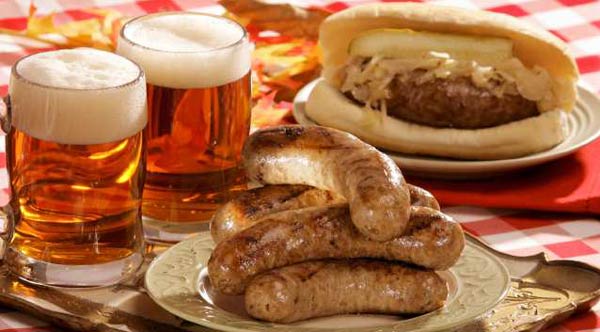 When I went to Germany years later, I half expected all the servers to be similarly attired, which is like expecting every waiter in Texas to dress in chaps and Stetsons. Before I left on my trip, some friends warned me about the food. The Germans have a word, schadenfreude, which means getting pleasure out of someone else's pain. And my foodie friends towel-whipped the German culinary landscape like it was eighth-grade gym class. It's true that Deutschland doesn't have a tradition of culinary transcendence to live up to, but Germans know how to go for broke gastronomically, and I'm happy to follow them every meaty, fatty step of the way.
As it turns out, the food in Germany is vastly underrated. And to my surprise, not everyone talks like Dieter from Sprockets. Not long ago, waxing a little nostalgic for that language, I set out to relive my German adventure — and sate my red-cabbage lust — without crossing the county line.
I started in the place it all began for me: Edelweiss. It still has that theme park air, but both the décor and menu looked worn. I went for the popular sausage plate ($14.95), because I'm a sucker for a good bratwurst, but this one was pretty underwhelming. The crowded plate also featured bland knackwurst sausage, the red cabbage I so craved, sauerkraut, and delicious crispy German fried potatoes. The bland food notwithstanding, the place was packed, and the atmosphere was as loud as any German beer garden this side of the Rhine.
The food at Little Germany (703 N. Henderson St.) gives a sense of place, with German staples and traditions in the foreground but also with room for improvisation. The jaeger schnitzel ($8.99), breaded pork with mushroom sauce, was tender and juicy. The sauce was actually nuanced and brothy (a lot of German style sauces could pass for motor oil), with a tang that lingered on the tongue. The mushrooms tasted fresh, and the accompanying mashed potatoes and red cabbage were made in-house. I'm not accusing the Little Germany's chef of pushing the culinary envelope, but if you're looking for the classics done right, this place is a good bet.
I've been to Greenwood's German Restaurant (3522 Bluebonnet Circle) a few times and always liked it. The atmosphere is bright and clean, and the joint was hopping on a recent Thursday evening. The highlight of the meal was the kraut-spatzle mit schinken, zweibeln und kaese gratiniert ($13.40) — German noodles, tangy sauerkraut, onions, cheese, and au gratin potatoes. It was a tasty classic, even if it struck only a single flavor note: Imagine German-style mac & cheese. The biggest problem was the service. Yes, it was a busy night, but our server forgot to bring our drinks and flatware and then managed to avoid coming back to the table until the food arrived. Every time he refilled our water, it looked like Lake Bodensee on our table.
The local German restaurants aren't on a path to make cabbage and breaded meats the "it" food of the decade. Think of them as volks-restaurants — diners for the people. Overall, the fare might be lacking a sense of adventure, but it's decent comfort food that reminded me why I liked it so much in the first place. I'm sure the Germans have a word for that.
Contact Chow, Baby at chowbaby@fwweekly.com.