Supposedly, Mark Twain once said, "Whiskey is for drinking. Water is for fighting over."
Well, at least two Fort Worth City Council members expressed concerns Tuesday that restricting residents' lawn-watering habits will cow-tip Cowtown down a slippery slope of government overreach. Today, it's your water. Tomorrow — it's your whiskey!
Just kidding, your booze is safe, but council members Zim Zimmerman and Danny Scarth are worried that permanent water restrictions will set sail for more government controls, from monitoring your home thermostat to native plant requirements.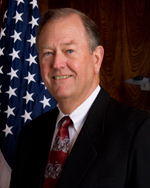 "That's coming," Scarth said of requiring homeowners to grow drought-tolerant plants. "We may not be here, but it's coming… I think people in general feel that government is encroaching on people's lives. This is one of those areas."
Zimmerman echoed those sentiments: "Where does it stop? Where do you stop?"
Mayor Betsy Price and council members Jungus Jordan and Dennis Shingleton came out in support of permanent restrictions, but the rest of the council was content to stay silent.
The comments came after a presentation by Jim Oliver, general manager of the Tarrant Regional Water District. He said the restrictions, which would limit only automatic sprinklers and hose-end sprinklers, successfully curbed water use during the drought (voluntary restrictions didn't, by the way). Out of the drought, the restrictions will conserve water so that the next dry spell takes a smaller toll on residents and resources.
Making the restrictions permanent could save reduce consumption by 4 percent, he said.
"We are water hogs. That term is out there," Oliver said. "We do waste a lot of water."
The Dallas City Council approved the same restrictions last year, while Arlington's council tabled the measure last week after several residents complained.
Fort Worth will likely put off a public hearing on the issue until June or July, city spokesman Jason Lamers said.