A swimming pool, cabana, and guest house followed. They kept buying land, eventually putting together about 1,200 acres, to which they gave the grand moniker of Colonial Acres. Others affectionately referred to it as Baghdad on the Prairie — back when Baghdad denoted exoticism, not an unpopular war.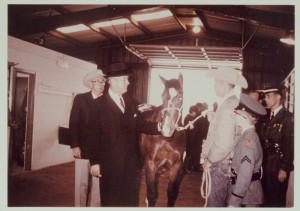 Food and drink for the champagne buffets and other parties were flown in by helicopter from the Dallas Sheraton Hotel. Decorations were courtesy of Neiman Marcus, where Margaret had a $350,000 charge account. A few years later, in her ghost-written vanity press autobiography, Margaret would describe herself as "the fashion arbiter of North Texas." Neiman staffers routinely piled stacks of clothes into the backs of limousines and drove them to Muenster, where Margaret would pick the garments and accessories she wanted and send the rest back.
Entertainers included Guy Lombardo and His Royal Canadians, Ike and Tina Turner, and The Beach Boys. The attire was black ties and evening gowns. In addition to never-ending buffets, open bars were a given. No expense was spared.
Guest lists for the legendary parties included the likes of President Lyndon Johnson and Gov. John Connally, drawn no doubt by the couple's generous campaign contributions. Psychic Jeane Dixon attended, along with swells from the society pages of Dallas and Fort Worth and a handful of Muenster citizens deemed worthy. Invitations were highly coveted, and those who didn't receive them were left with hard feelings.
In Dallas, the Medderses purchased a house across the street from the exclusive Hockaday girls school as a residence for their daughters while they were enrolled there. For one New Year's Eve party, the couple rented a seven-coach train to ferry their daughters' friends to Gainesville and then bused them the rest of the way to Muenster.
Back at the ranch, Margaret took swimming lessons, and they built a cabana to go with the pool, although its purpose had to be explained to the contractor.
"They had been the poorest of poor people," recalled Betty Henscheid, whose husband was one of those who did construction work for the Medders family. "But they came down here, and they tried to live the rich good life. … It was fur coats and satin nights. All their parties were black tie. And I guarantee you, she didn't know what a black tie was before she got here. It was just unreal."
 ********
Before she got here, hospital whites were more in Margaret Medders' line than furs and fashion.
In the 1950s, Margaret was married to a man named Riggs, mother to four children, and working at St. Joseph's Hospital in Memphis, Tenn. — the same hospital where the Rev. Dr. Martin Luther King Jr. would be brought in 1968 after he was felled by a sniper's bullet. The hospital was run by the ironically named Poor Sisters of Saint Francis Seraph of the Perpetual Adoration, Inc. of Mishawaka, Ind. According to the nuns' website, the order was formed in 1875 when their "foundress," Mother Maria Theresia Bonzel, traveled to the Fort Wayne area. The website includes no mention of any Medders or Muenster or Spindletop money.
"We serve the Church through Perpetual Adoration, education, healthcare and other ecclesial apostolates," reads their mission statement. "Our mission, like that of St. Francis and Mother Maria Theresia, is to pray as Jesus prayed — intensely, personally, communally — to become a living prayer."
After her divorce from Riggs, Margaret fell so far into poverty that she resorted to putting her kids up for adoption. A newspaper report tells how she placed the children at St. Joseph's so she could be near them while she worked, but that could not be confirmed.
Ernest was a retired mechanic for Gulf Oil. He sold fruits and vegetables out of his station wagon on Tennessee roadsides to make ends meet, so his marriage to Margaret didn't do much for their finances. Despite having had to give up her older children, Margaret proceeded to have four more children with Ernest.
But in 1961, the Medderses' life changed forever. According to later court testimony, that year Ernest had a fateful encounter with W.T. Weir, an attorney from Philadelphia, Miss., who oddly had made it his life's work to investigate the history of the Spindletop oil fortune and its heirs.
Ernest met Weir after responding to an advertisement in a Tuscaloosa, Ala., newspaper seeking heirs of Ruben Medders, Ernest's great-uncle. Ruben Medders was the brother-in-law of William Pelham Humphries who, in 1835 — prior to Texas' war of independence from Mexico — had been granted a parcel of land near Beaumont by the Mexican government.
More than 60 years later, Anthony F. Lucas hit the billion-dollar gusher in East Texas that would become known as Spindletop. Humphries' continued ownership of Spindletop land was greatly disputed, but Weir told Ernest that, as an heir of Ruben Medders, he had a claim to some portion of $16 billion. The couple picked up everything, including the children who'd been put up for adoption, and moved to Texas.