A swimming pool, cabana, and guest house followed. They kept buying land, eventually putting together about 1,200 acres, to which they gave the grand moniker of Colonial Acres. Others affectionately referred to it as Baghdad on the Prairie — back when Baghdad denoted exoticism, not an unpopular war.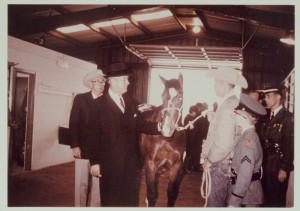 Food and drink for the champagne buffets and other parties were flown in by helicopter from the Dallas Sheraton Hotel. Decorations were courtesy of Neiman Marcus, where Margaret had a $350,000 charge account. A few years later, in her ghost-written vanity press autobiography, Margaret would describe herself as "the fashion arbiter of North Texas." Neiman staffers routinely piled stacks of clothes into the backs of limousines and drove them to Muenster, where Margaret would pick the garments and accessories she wanted and send the rest back.
Entertainers included Guy Lombardo and His Royal Canadians, Ike and Tina Turner, and The Beach Boys. The attire was black ties and evening gowns. In addition to never-ending buffets, open bars were a given. No expense was spared.