Disheartening news comes from the Riverside neighborhood's Race Street renovation project, which Fort Worth Weekly lauded in a recent cover story ("Revival In Riverside," July 3, 2012).
Thieves stole 10 large community garden beds that volunteers had spent weeks building and painting. The theft is believed to have occurred on Friday night.
The garden beds were going to be installed behind a building at 2814 Race Street as part of a renovation project spearheaded by local residents, business owners, and Better Block advocates.
The beds, made of donated lumber worth several hundred dollars, were four-by-eight feet and custom painted by local residents and families in recent weeks. The beds were being stored on a slab beside the building while waiting to be installed.
"We were just waiting for the land to be prepped so the beds could be lowered into place," said volunteer Terri McIlraith.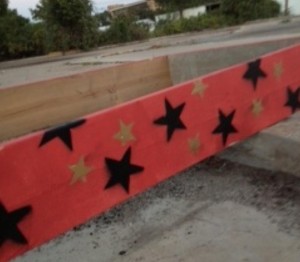 The theft hasn't stopped forward progress.
The volunteers are already soliciting new donations of lumber and are preparing to rebuild the garden beds before the "embRACE the STREET" celebration on Sept. 8 and 9. The event will transform Race Street into a walkable district with "a community garden, outdoor market for local artists and artisans, food trucks, dog park, redesigned streetscape with bicycle lanes, street performers, public art, music, and art activities."
Better Block volunteer Debby Stein feels confident that the beds will be rebuilt in time for embRACE the STREET.
"We want to the get the garden in — we'll secure it this time," she said. "It will be a continuing element of the [Race Street renovation] project."