It's hard to analyze a game while overseeing a garage sale, so this week's edition of "Off Asides" won't be as insightful and astute as you've come to expect.
I think the Cowboys lost. But I'm not sure.
The game was gloomy every time I stole a few seconds to glance at the TV, in between selling junk to people and listening to their fascinating stories.
"How much?" a man asked, holding up a piece of plywood that had been rather crudely cut into a circle.
"Uh…a dollar?" I said.
"I'm an inventor," he said, reaching into his wallet for a bill. "I can use this piece of wood for the project I'm working on."
"What are you working on?" I asked.
From his wallet he pulled a picture of a helicopter and handed it to me proudly.
"You invented the helicopter?" I said.
"No I'm building one like it, but better."
This guy's helicopter is going to take off and land on water and do all kinds of cool and innovative things.
I was thrilled — by selling that piece of plywood to the gentleman, I had played a significant role in what could become the biggest advancement in modern transportation since the discovery of the wheel.
You're welcome, America.
During a brief lull of shoppers, I watched the Cowboys drop passes and get penalties. I didn't see the score but I assumed they were losing based on the team's body language.
About then a woman inquired about a book shelf marked $5.
"What's the lowest you'll take?" she said.
"How about a dollar," I said, since it was Sunday and we were slashing prices.
"I'll give you a quarter."
"OK."
She paused to gave the shelf another good looking over.
"Let me think about it," she said and began browsing through other treasure piles.
An elderly man stood directly in front of the TV. He'd found some trinket that reminded him of when he was growing up. So he told the story of his life in chronological order. If he could have just moved a little to the side, I could have watched the game and enjoyed his verbal autobiography. But there's no good way to tell a nostalgic old man in mid-reverie to move two steps to the side.
"Ah, the memories," he finally said in what seemed to be his curtain call.
I wasn't sure what to say. So I said, "Well, nostalgia is a good thing, I suppose."
The man grew excited by my brilliant utterance.
"Yes, yes, nostalgia is nice — I remember my mother used to make me the best goulash…," he said, and he was off and running on another fascinating story, this one involving a family recipe and lots of butter and macaroni.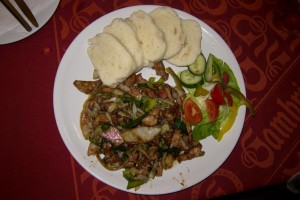 After he finished, I barely got a chance to see a Tampa Bay defender drill his helmet into Tony Romo's face when the bookshelf woman returned.
"Will you take a dime?" she said.
"Sure," I said.
But — surprise! — she had to think about it some more.
My Uncle Leroy, who was helping with the sale and watching this interaction with bemusement, decided to take over the negotiation.
"You can have the shelf for free," he said. "But we won't pay you to take it."
She accepted the offer and that was that.
Man, ol' Leroy knows how to seal a deal.
Apparently, so do the Cowboys. As it turns out, they won the game.
Woo hoo! What a victory! Super Bowl here we come!