Gay or Lesbian Bar
Readers' choice: Rainbow Lounge, 651 S Jennings Av, FW
Critic's choice: Rainbow Lounge
Though immortalized in this year's documentary Raid of the Rainbow Lounge as the site of a nationally notorious 2009 police raid, the dance club has transcended that dubious distinction and found its footing as a traditional urban gay hot spot: loud, crowded, youth-oriented, and full of bawdy energy. Veteran drag MCs like Whitney Paige, Kelexis Davenport, and Krystal Summers keep the weekly contests and theme nights humming along with expert skill.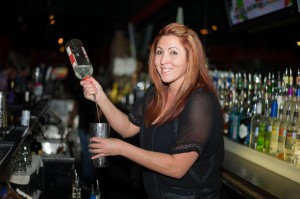 Expensive Beer
Critic's choice: The Live Oak Music Hall & Lounge, 1311 Lipscomb St, FW
Hop-tastic brews and great bands in an intimate space? You must be talking about The Live Oak. With a beer menu that easily competes with The Flying Saucer's or The Ginger Man's, this new Near Southside venue/restaurant/bar offers few poor choices and even a couple of rarities. Among the best are the mind-blowing potions from Austin newcomer Jester King Brewery. Try The Noble King on draught or The Wytchmaker in a bottle.
Bar Décor
Critic's choice: Embargo, 210 E 8th St, FW
So many bars look like they were decorated from IKEA. Not Embargo. The entire downtown hot spot is so refulgent with Cubano flava, it's like stepping into Havana. The homage to '50s lowriders above the entrance draws you inside, but the curvy, naked señora painted above the bar keeps patrons coming back –– often to the bar counter featuring lacquered Cuban cigar boxes.
Bar Games
Critic's choice: Barcadia, 816 Matisse Dr, FW
This So7 bar/restaurant features more than two walls' worth of vintage video arcade games: Donkey Kong, Tempest, Spy Hunter, Burgertime, not to mention skee-ball and pinball machines. Better yet, they're all free on Tuesdays. Keeping them all in working order seems to be a bit of a challenge for this place. Still, it kinda makes your neighborhood bar's Golden Tee machine look weak, doesn't it?
Party Patio
Readers' choice: The Live Oak Music Hall & Lounge
Critic's choice: Shaw's Patio Bar & Grill, 1051 W Magnolia Av, FW
We're partial to the eastside patio at this friendly joint, because that's where on any evening you can watch the world go by on two streets and on Friday and Saturday nights listen to some excellent music. Along with great specials, the owners, veterans of the Fort Worth bar and restaurant scene, have put together creative food and drink menus. In hot weather, you'll be a big fan of the big fans. Starting at 5pm on Wednesdays, even pooches are welcome. Woof.
Rooftop Patio
Critic's choice: The Live Oak Music Hall & Lounge
While The Live Oak is still ironing out some kinks as a concert space, the newish Near Southside music venue and restaurant has had no trouble establishing itself as a great place for hanging out. Its spacious rooftop patio, which sometimes features live music, draws sizable crowds nightly. With views to the west of Magnolia's bustling nightlife and to the north of the Fort Worth skyline, Live Oak's elevated escape might provide the best place in town for catching the sunset.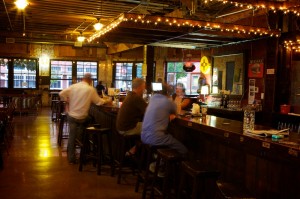 Bar Bathroom
Critic's choice: The Usual
It's clean. Has toilet paper. Soap. A plentiful stack of paper towels. Oh, and locks that work. That's really enough, isn't it? Now get out of the bathroom and back to the bar.
Bouncer
Readers' choice: Antonio "Big T" Eiland, Magnolia Motor Lounge
Critic's choice: Big T
Built like a mountain and quick to deal with any unruly, buzz-killing aggrophile who struts into this West 7th staple, T simply wants everyone to have a good, safe time. His imposing frame and friendly nighttime diplomacy go a long way in keeping drunks from ruining the party. And when palliative words don't work, T is willing and able to toss unpleasant a-holes out on their puny asses.
Country Music Bar
Readers' choice: Billy Bob's Texas, 2520 Rodeo Plaza, FW
Critic's choice: The Thirsty Armadillo, 120 W Exchange Av, FW
Young guns such as Randy Rogers and the Eli Young Band honed their musical chops in the early 2000s at a little Stockyards dive known as The Thirsty Armadillo. The bar closed in 2003 but resurfaced last year in its current location and has re-established itself as a great place to hear country music by mostly local artists.
Nontraditional Music Venue
Critic's choice: Hip Pocket Theatre, 1950 Silver Creek Rd, White Settlement
Last year's critic's choice, Hip Pocket takes the crown once again. Performances by some of the city's best old-timey musicians and hilarious –– and thoroughly unconventional –– theater in a charming outdoor space make this local institution one of a kind. Before and after each evening's production (many of which draw inspiration from the state's history), local musicians, including guitar virtuoso Darrin Kobetich and Southern Gothic singer-songwriter Clint Niosi, perform in The Backyard.
Open-Mic Night (Music)
Critic's choice: Jody Jones' Songwriters Showcase, The Grotto, 517 University Dr, FW
This isn't your typical open-mic night. Instead of letting any hairy-legged dude with a guitar amble up on the stage and bore the life out of everybody, Fort Worth Americana singer-songwriter Jones invites only special guests to perform at his Monday night showcases. The result: an open-mic night that won't make listeners want to puncture their eardrums with rusty forks. Jones is an excellent performer himself and has no trouble attracting contributors.
Open-Mic (Comedy)
Critic's choice: Q Live at Best Friends Club, 2620 E Lancaster Av, FW
Over the past year, Q Live's open-mic comedy night has been like the proverbial baby in a basket, left at the doorstep of several different venues. But Q Cinema's live theater arm has finally found a permanent comedic home. At 11pm each Wednesday, Q Live transforms Best Friends into one of the most talent-rich open-mics in town. Comics from all around North Texas come armed with their best new material, in hopes of walking away with the $100 prize for the best set. Now that audience members know where to find the show, its popularity is increasing.
Karaoke
Readers' choice: Sarah's Place, 5223 Camp Bowie Blvd, FW
Critic's choice: Sarah's Place
You wouldn't think a little joint like Sarah's would offer much in the way of a karaoke setup, but, lo and behold, this Westside staple has a booming PA system –– and a friendly karaoke guy. The icing on the proverbial cake: The bartenders are super-sharp and friendly, and the booze is cheap. Really cheap. Like, cheap enough to make the average warbler think his rendition of "Rocket Man" ain't half bad. (It's horrible.)
Band Name
Critic's choice: Nightschool Ninjas
This Fort Worth rap-metal-funk outfit might not end up on the cover of Rolling Stone anytime soon (or, heck, even the Weekly), but we do love how the alliterative name conjures up the funny image of stealthy assassins attending a Community-like place of higher learning.