Paranormal Activity 4 (R) The series finally runs out of gas. The story picks up five years after the events of the second movie, with a teenage girl in Nevada (Kathryn Newton) recording the mysterious events around her after a new neighbor (Katie Featherston) and her son (Brady Allen) move in across the street. Directors Henry Joost and Ariel Schulman remain from the third installment, and they make creative use of an Xbox Kinect to detect invisible spirits. Yet the scares here are ham-fisted and obvious in ways that they weren't in the last three films, and the characters are stupid in ways that are convenient for the plot. This series needs to come to a point and end. Also with Matt Shively, Stephen Dunham, Alexondra Lee, Brian Boland, Aiden Lovekamp, and Sprague Grayden.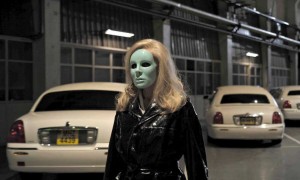 The Perks of Being a Wallflower (PG-13) Stephen Chbosky turns his beloved 1999 teen novel into a movie, and it's well worth the 13-year wait. Logan Lerman portrays a kid navigating his freshman year of high school after a stint in a mental institution. The film is exceptionally well-cast, with Lerman doing magnificent work as a mentally fragile kid and Ezra Miller and Emma Watson forming a killer duo as a pair of senior stepsiblings who respond to the kid's shyness and take him in. The sharpness of Chbosky's comic dialogue keeps the movie's pathos from overwhelming everything else, and as a director he captures the exhilarating feeling of teenage years to create some great lyrical moments, like Watson standing up in her pickup truck while it's driven through a tunnel. This is one of the great teen movies of the last decade. Also with Mae Whitman, Dylan McDermott, Kate Walsh, Johnny Simmons, Nina Dobrev, Melanie Lynskey, Paul Rudd, and Joan Cusack.
Pitch Perfect (PG-13) A total blast. Anna Kendrick stars in this musical comedy as a college freshman who joins an all-female a cappella singing group at her school and sets about dethroning the national champions, an obnoxious all-male group that's also at her school. Kay Cannon's script is full of quotable lines, and the punchlines come from all corners, including Hana Mae Lee as a chorister who can't speak above a whisper and Elizabeth Banks and John Michael Higgins as a pair of cranky TV commentators. Kendrick's singing makes up for her sluggish performance, as she leads the group in a rousing cover of "No Diggity" and does a YouTube-inspired solo on "Cups (You're Gonna Miss Me)," while Rebel Wilson steals all manner of laughs and takes lead on "Turn the Beat Around." It's all enough to send you out of the theater singing. Also with Anna Camp, Brittany Snow, Skylar Astin, Adam DeVine, Alexis Knapp, Ester Dean, Joe Lo Truglio, Donald Faison, Har Mar Superstar, John Benjamin Hickey, and Christopher Mintz-Plasse.
The Sessions (R) John Hawkes' distinguished lead performance outstrips this wan dramedy based on the life of a poet and journalist crippled by polio who sought to lose his virginity at age 36. Writer-director Ben Lewin doesn't bring much wit, imagination, or visual flair to this story. The scenes between the hero and his sexual surrogate (Helen Hunt) are skillfully played, yet the filmmaker seems unsure exactly what to make of their relationship. Hawkes does best in depicting his character's psychological hang-ups, which go beyond his body image issues. Whatever staying power this movie has, it owes to him. Also with William H. Macy, Moon Bloodgood, Annika Marks, Adam Arkin, W. Earl Brown, Robin Weigert, and Rhea Perlman.
Seven Psychopaths (R) The second blood-soaked comedy by Martin McDonagh (In Bruges) doesn't come to much, but its characters are fun to be around for a couple of hours. Colin Farrell plays an alcoholic Irish screenwriter in Hollywood whose actor buddy (Sam Rockwell) drags him into a bloody caper after they kidnap a dog belonging to a vicious mob boss (Woody Harrelson). The action slows down radically in the second half as the main characters hide out in the desert, but McDonagh's discursive writing style yields comic treasures (Gandhi's "an eye for an eye leaves the whole world blind" gets deconstructed here) that are well-delivered, especially by Rockwell and Christopher Walken as his partner in crime. Also with Abbie Cornish, Olga Kurylenko, Tom Waits, Linda Bright Clay, Long Nguyen, Christina Marzano, Michael Pitt, Michael Stuhlbarg, Harry Dean Stanton, and Gabourey Sidibe.
Silent Hill: Revelation (R) Based on what was a pretty scary series of video games, this drearily uninventive sequel to the 2006 film stars Adelaide Clemens as a girl who must enter a horrific ghost town in another dimension to find her disappeared father (Sean Bean) and uncover the secrets to her childhood. Some of the faceless creatures she encounters are nicely conceived, but writer-director Michael J. Bassett doesn't film them in any distinctive way. Australian newcomer Clemens may look like Carey Mulligan, but her American accent comes out all mushmouthed. Play the video games if you want a scare. Also with Kit Harington, Carrie-Anne Moss, Malcolm McDowell, Martin Donovan, Deborah Kara Unger, and an uncredited Radha Mitchell.
Sinister (R) Silly plot contrivances and gloomy atmosphere blunt the scares in Scott Derrickson's horror film. Ethan Hawke plays a true-crime novelist whose lust for his lost fame leads him to move his family into a house where a series of murders took place. The writer's personal demons are fairly compelling, but the movie stumbles once it introduces a soul-eating Babylonian deity who gets to people by appearing in home videos that they watch. Despite that, the film makes for a watchable horror flick. Also with Vincent D'Onofrio, Juliet Rylance, Michael Hall D'Addario, James Ransone, Clare Daley, and Fred Dalton Thompson. — Steve Steward
Skyfall (PG-13) The most interesting Bond girl turns out to be M (Judi Dench) in this bracing return to form for the James Bond series. 007 (Daniel Craig) comes out of a self-imposed sabbatical after a shadowy villain starts to target his boss. Director Sam Mendes can stage a gunfight as well as anyone, but he's just as interested in seeing Bond interact with an officious political flack (Ralph Fiennes), the new Q (Ben Whishaw), and a sexy fellow agent (Naomie Harris, who sets the screen alight). It all sets up an Oedipal confrontation with one of M's former agents (Javier Bardem), and the emphasis on M allows Dench to finally stretch her acting muscles in this series. For an agent who has been in the field for 50 years, Bond is looking pretty spry right now. Also with Bérénice Lim Marlohe, Ola Rapace, Rory Kinnear, and Albert Finney.
Taken 2 (PG-13) Liam Neeson kills more of them dirty, swarthy, godless foreigners in this sequel that's even more paranoid, xenophobic, and all-encompassingly stupid than the 2010 original. This time, Neeson's retired CIA agent and his family are vacationing in Istanbul — you'd think that family would avoid international travel for a while — when they're targeted by the relatives of the men killed in the first movie. The agent makes all manner of mistakes that would result in death in the real world, but that's OK, because the gangsters he's up against are idiots who let the hero make a lengthy cell phone call while they have him at gunpoint and forget to check to see if he has another phone stashed in his sock. Even the racist, overprotective dads to whom this movie is pitched will be offended by this. Also with Famke Janssen, Maggie Grace, Leland Orser, Jon Gries, D.B. Sweeney, and Rade Serbedzija.
The Twilight Saga: Breaking Dawn — Part II (PG-13) The good news is that The Twilight Saga is finally over. The bad news is that even though this final installment is probably the best of the series, it's still a sloppy, choppy, woodenly acted slog. After saving Bella (Kristen Stewart) from death by turning her into a vampire, Edward (Robert Pattinson) and about 20 other sparkly vampires band together with Jacob (Taylor Lautner) and his werewolf kin to protect her half-human/half-vampire daughter from the murderous intentions of the Volturi, the vampire coven at odds with Edward's. Occasionally, moments like Bella's testing out her new vampire powers and a lengthy, climactic fight scene rife with bloodless bloodsucker decapitations are entertaining, but the combination of Kristin Stewart's two-speed acting technique (mopey and mopier), horrible pacing (whooshing, high-speed vampire action interspersed with looong, talky pieces), and the preponderance of brownish red contact lenses makes watching this a real drag. The cast's timing is terrible, and Bill Condon's amateurish direction wouldn't even cut it in a tampon commercial. For fans of the series only. Also with Peter Facinelli, Elizabeth Reaser, Ashley Greene, Kellan Lutz, Jackson Rathbone, Nikki Reed, Chaske Spencer, Maggie Grace, Jamie Campbell Bower, Lee Pace, Dakota Fanning, and Michael Sheen. –– S.S.
Wreck-It Ralph (PG) Derivative and yet likable. This Disney animated comedy is about a 1980s video game villain (voiced by John C. Reilly) who gets sick of his job and jumps into other games to become a hero. The movie will be required viewing for gamers of a certain age, thanks to cameo appearances by iconic video game characters and a universe where characters from the different games freely intermingle after the arcade closes. Yet the movie is more than just nostalgia, as evidenced by a fraught plotline when Ralph befriends a little girl created by a programming glitch (voiced by Sarah Silverman) in a girly kart racing game and tries to help her compete in the race. With its funny voice cast and animation inspired by the looks of various video games, this is well worth your quarters. Additional voices by Jane Lynch, Jack McBrayer, Alan Tudyk, Mindy Kaling, Adam Carrolla, Horatio Sanz, Ed O'Neill, and Dennis Haysbert.
DALLAS EXCLUSIVES:
Holy Motors (NR) The first feature film in 13 years by Leos Carax (Pola X, The Lovers on the Bridge) is this surreal piece starring Denis Lavant as a man who is a contract killer, a fashion photographer, a homeless woman, a millionaire business tycoon, and a goblin who lives in Paris' sewers, among other things. Also with Edith Scob, Eva Mendes, Elise Lhomeau, Michel Piccoli, and Kylie Minogue.
A Late Quartet (R) This drama centers on a renowned classical string quartet whose members are thrown into upheaval after the group's founder (Christopher Walken) is diagnosed as terminally ill. Also with Philip Seymour Hoffman, Catherine Keener, Mark Ivanir, Imogen Poots, Madhur Jaffrey, Wallace Shawn, and Anne Sofie von Otter.
The Other Son (PG-13) Lorraine Levy's French-language dramedy is about a young Israeli (Jules Sitruk) and a young Palestinian (Mehdi Dehbi) who discover that they were switched at birth. Also with Emmanuelle Devos, Pascal Elbé, Areen Omari, Khalifa Natour, and Mahmoud Shalabi.
A Royal Affair (R) Based on 18th-century Danish history, Nikolaj Arcel's drama is about a German doctor (Mads Mikkelsen) and an English-born queen (Alicia Vikander) who push her insane husband King Christian VII (Mikkel Boe Følsgaard) to liberalize Danish society. Also with Trine Dyrholm, David Dencik, Thomas W. Gabrielsson, Cyron Melville, and Harriet Walter.