The aural signature of Dreamy Soundz (the studio) centers on that bathtub reverb, but the music you hear from Dreamy Soundz (the record label) is a little harder to pin down. Robby attributes the development of his and Jennifer's newly minted label to another of Fort Worth's rising rock outfits, Skeleton Coast, a band whose atmospheric pop is built on layers of found-sound samples, multi-tracked guitars and the same sort of top-of-the-line mics, compressors, and Pro Tools-ready mixing board you'd find in the studios of Hollywood and Nashville.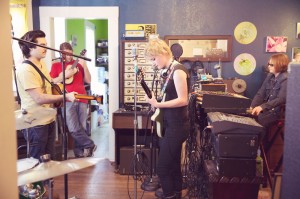 Recorded at the Swamp (a.k.a. Electric Barryland) in Justin, the sonics on Skeleton Coast's self-titled debut are complex and varied, whereas the bands the Ruxes play in (Solo Sol, Year of the Bear, Bitch Bricks) are comparatively pared down rock 'n' roll.
"It's kind of funny that Skeleton Coast was the first band we put out that wasn't one of our own," said Robby. "They're so different than the punk and garage stuff we normally record, but when I heard their album, I knew it was something great."
The members of Skeleton Coast got to know the Ruxes over the past year, through mutual friendship with Jake Paleschic and Joey Gorman, two local musos who'd recorded at Dreamy Soundz with their band, the Longshots. While the sweep and scale of what would become the Coast's LP was a lot bigger than the Dreamy Soundz living room, Skeleton Coast still sought Robby's and Jennifer's input.
"After they finished at the Swamp, Bobby [McCubbins, frontman of Skeleton Coast] came over and played it for us, because he wanted to know what we thought," Robby recalled. "He played the first song, and I thought it was pretty good. And by the time the third song came around, I was like, damn … I was blown away, and I asked him straight up if Dreamy Soundz could put out their record."
McCubbins and his bandmates were elated. "Robby and Jenn really liked our album, and they were really excited to release a record that was already done, to just be able to get it pressed and into stores." he said. "I think Skeleton Coast fits with the other bands they've put out. Even though we're a lot more atmospheric, we're still covered in reverb. I don't know if they'd put anything out that wasn't covered in reverb."
Dreamy Soundz pressed the eponymous Skeleton Coast debut at A&R Record and Tape Manufacturing in Dallas. As if a husband-and-wife team using inexpensive analog gear in their living room wasn't DIY enough, Jennifer and the Coast boys assembled the packaging themselves.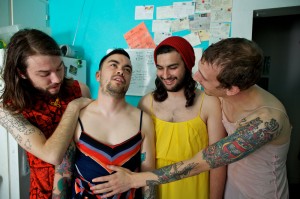 "Stan, the guy who runs A&R, basically just handed us everything and told us, 'Here, you guys figure it out.' And so we put together all the sleeves there at the record plant." McCubbins said.
Likewise, getting the records into stores required a little bit of Dreamy Soundz legwork. Most indie stores will let a local band sell its record on consignment, but bands normally have to make the effort to get them there. Robby has taken his label's wares to all the mom-and-pop stores in DFW, as well as Waterloo Records in Austin.
"We've got records in every local music store — Doc's, Good Records, even a couple head shops that sell music — and now we're looking for a distributor," he said.
Ideally, Dreamy Soundz would distribute Skeleton Coast and its other bands through a company called Revolver, which specializes in getting garage rock records into stores where fans of vinyl routinely pick up 45s by indie bands most people have never heard of. That Skeleton Coast doesn't necessarily fit in the garage, so to speak, doesn't seem like a problem to Jennifer and Robby.
"Skeleton Coast kind of goes with anything," Robby said. "And anyway, it's just a really good record. Personally, I put it up there with the best albums to come out of Fort Worth — ever, really. And I'm even talking about Ornette Coleman. I just really love their band."
The Ruxes also have high hopes that a higher-profile imprint will notice Skeleton Coast and want to pick up their record, which is why the Dreamy Soundz deal is basically a handshake. "With Skeleton Coast, we didn't want to lock them into a deal in case a bigger label comes around and wants to put them out," Robby said.
Along with the Skeleton Coast album, Dreamy Soundz' catalog includes 7-inch records from Year of the Bear and Solo Sol, as well as a Solo Sol LP. This year they'll add six more, including an album by critical favorite Madràs, recorded live at Stay Wired Coffeehouse the night before frontman Jeevan Anthony had to return to his home in Dubai after his student visa expired.
Other upcoming Dreamy Soundz releases include albums by the Fungi Girls, Jake Paleschic and Patriot, and Year of the Bear. More bands making their debut on the label are a young Joy Division-influenced band called The Fibs, the proto-punk snarl of Oddlot, and a ukulele, bass, and trumpet combo called Lazy Summer.
Lazy Summer will also be featured on a Dreamy Soundz comp that includes heavy jazzbos like Yells at Eels, Gunga Galunga, Mora Collective, and Black Dog Revisited, which will be backing local slam poet Tony Rizzo.
"I've always been a big fan of jazz," Robby said. Unlike the Ruxes' other releases, the jazz comp will printed on CDs. "I just want people to hear these musicians," he said, "and CDs are more accessible to a wider audience than tapes or vinyl."
Robby is particularly excited about the jazz comp. "Each band gets two tracks, and we're doing it on CD because I wanted an album cover where we could fit bio info on it for these bands," he said. "I want to sell it at coffee shops, Spiral Diner, places where you don't normally find CDs."
Lo-Life Recordings a local label run by War Party's Cameron Smith and Doom Ghost's Vern Marigold, has partnered with Dreamy Soundz in releasing the 16-track compilation tape Group Therapy Vol. 1. The comp is mostly garage and punk bands like Smith's and Marigold's outfits, plus Fungi Girls, Dallas-based Sealion, and the hardcore band Big Fiction. But it also includes bands whose diverse sounds are poppier than four-on-the-floor punk rock: Fou, Mailman, and Siberian Traps.
"Robby and Jennifer both have really eclectic tastes, and they just like anything good, which I totally get," said Smith.
The Group Therapy comp will be available at a release party at the Where House on Sunday, Feb. 24, an event that will feature a midway, dunking booth, and raffle prizes from Fairmount-area businesses.
"We're funding it out of pocket, but that's OK. The downloads are free, and we wanted to keep it analog. We just love music, even if we're not making money," Robby said.
"We don't mind too much," added Jennifer. "We record in the red, and our budget's in the red, but with analog, the hotter the better, so who cares."
Dreamy Soundz plans to release a second volume toward the end of the year, in part because the Ruxes couldn't fit all the bands they wanted on one volume. "It's something we want to do every year. There are a lot of really good bands around here — we just didn't have room for everyone," Robby said.
Despite being older than the people they're mic-ing in the living room, Robby and Jennifer Rux have a youngster's ear for the scene — or rather, the youngsters have the Ruxes' ear.
"We basically try to be as informed as possible about what's current around here," said Jennifer. And we definitely go out quite a bit."
Regarding what he thinks is "current," Rux cites The Fibs. "I just really like to help these younger bands out," Robby said. "I go back to Kelly Parker, helping my band out when we were that age."
Then there are the old guys. "What's funny is, we're mainly helping out the younger people in the scene, but we're also putting out maybe the oldest band." He's talking about Oddlot, a rock band notable for its trashy, grimy sound reminiscent of Funhouse-era Stooges, as well as for the ages of its members, all of whom are in their 40s.
In an industry in which the production costs are rising while the profit margins get tighter and tighter, the big hitters of the record biz are a lot less willing to put money on no-names from places like Cowtown. That a label as small and niche-y as Dreamy Soundz can make a go of it with cassettes and vinyl records is invigorating, especially when the emphasis is on heart and quality rather than units sold.
"The main thing is, if we put it out, we love it," Robby said.