You need to know I don't think there's anything wrong with it," the 60-ish man is saying, while insisting again that his identity be protected. He's pushing scrambled eggs around on his plate at a chain restaurant on University Drive.
"Call me Henry," he suggests; that's not his real name. Fiddling with a sprig of parsley, he mentions that he's retired, divorced, and has two grown kids who have finished college and moved out of Texas. "So I guess I am at loose ends somewhat."
Henry's here to talk about joining a dating website, SeekingArrangement.com, where wealthy older men (and some older women) look for financially strapped younger women (and some younger men.) There's no splitting hairs on this site, the brainchild of Singapore-born Lead Wey, who graduated from the Massachusetts Institute of Technology with an entrepreneurial drive, a BS in electrical engineering in 1993, and an MBA in 1995.
Wey got his U.S. citizenship 10 years ago, changed his name to Brandon Wade — "it's more Hugh Hefner-esque," he likes to say — and after a few years working as an executive and a technology consultant, went into business for himself. The business: playing matchmaker, with a down-and-dirty twist. Wade calls his website members "sugar daddies" and "sugar babies," leaving no room for speculation about the sort of "arrangements" the site promotes.
"Let's face it," Wade said from his office in Las Vegas. "It's human nature for successful people to want younger and more attractive partners. It's also natural for younger men and women to seek out more experienced, sophisticated, wealthy and generous partners, specifically those who have the means of providing them with comforts and luxuries."
Wade touts himself as a "dating expert," although he admits he had lackluster success with women and limited dating experience during his college career. "I was very socially awkward." Wade said. "I didn't have a girlfriend until I was 21."
That fact and sheer loneliness made him wonder about dating websites, he admits. Raised in a traditional Asian family, Wade turned to his mother for advice. He says she offered him a kind of encouragement. "She said everything would change after I finished college and had some financial success." His mother told him the women would be interested as soon as he was in a position to be generous.
Henry doesn't seem prepared to accept the idea that his adventure on SeekingArrangement will be different from other chatty, feel-good dating sites. Sure, the site features attractive, fit, and seemingly eager women looking for dates with attractive, fit, and seemingly eager men. But the men's listings paint a different picture.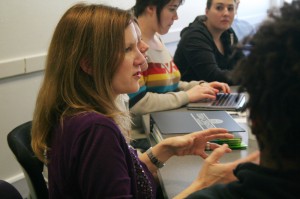 "The guy that told me about this site said there are a lot of older men seeking younger women," he says. Henry's not bad looking, isn't overweight, and has most of his hair. He's wrinkled, in the way that Texas men who spend a lifetime outdoors usually are. He doesn't seem to notice the excessive cleavage in many of the women's photos. "I don't think I want to pay a monthly allowance to a stranger, no matter how beautiful she is. That doesn't seem right."
But that's exactly the idea that SeekingArrangement promotes: the fantasy that older men can still be attractive to sweet young things — if they're prepared to pay for the pleasure.
Wade says this site doesn't pretend to be anything other than that. "I think two people in a relationship or arrangement need to be brutally honest with each other," he said. "It is only human instinct to be attracted to beauty, as it is to be attracted to wealth and power." Besides, he says, recalling his mother's advice, "It's no different from me giving money or other nice things to my girlfriend."
Only it is different. The arrangements this site hopes to facilitate sound suspiciously like prostitution, with Wade pimping a virtual universe of women who want to be "kept," to men who are in a position to "keep" them.
"I get the prostitution question every time I have an interview," he said. "I say it's for putting people together who are interested in establishing a 'mutually beneficial relationship.' It's far from a one-time exchange of money for sex, as would define prostitution." Wade knows the law is technically on his side. Since the 1970s, women (or men) can legally engage in sex for money, as long as there are other "duties" involved in the transaction — such as cooking or housecleaning. Massage therapy, perhaps, or pet-sitting.
Wade said that a recent survey of site users with college-based addresses showed that five Texas universities ranked near the top in numbers of women who have signed on as members.
"I think Texas State and the University of North Texas earned the rank of top 2 fastest-growing sugar baby schools for 2012," he said. "Look at the statistics." Raw data to back up his claims wasn't available.
"Hundreds of students from the University of Texas [at] Austin, Texas State University, University of Houston, University of Texas [at] Arlington, and the University of North Texas are already members of SeekingArrangement.com, where the average college Sugar Baby receives approximately $3,000 per month to cover the cost of tuition, books, and living expenses," he said in a press release. The release drew the expected disclaimers from college officials –– but also generated free publicity for Wade, like this story.
Spokespersons for each of the Texas schools highlighted in the news release reported no knowledge of the SeekingArrangement site or any buzz on campus about this new way to pay for a college education. Their usually terse replies to inquiries mentioned busy and effective financial aid departments and extensive efforts to help students secure scholarships, grants, and loans as needed.
Although he promised Fort Worth Weekly access to some of his Texas student "sugar babies" for this story, Wade delivered only one. According to the site statistics Wade quotes, that would make her one in a million.
********