The young, about-to-be-professional businesswomen at the University of Houston aren't talking about trading sex for college tuition, despite what Wade's press release says. Rather, these young women want to make their mark in business in a climate they believe has substantially improved in the last 40 years of the women's movement.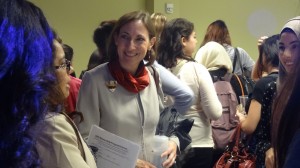 Assistant Dean Jamie Belinne said the women she teaches and counsels at the prestigious C.T. Bauer College of Business at U of H's Rockwell Career Center wouldn't think of selling themselves for cash or selling themselves short. True, if her students were involved with SeekingArrangement, they might not admit it to a professor. Or maybe they would.
"I have students who work as exotic dancers and some who manage gentle-men's clubs," Belinne said. "They tell me about it mainly so we can figure out how best to put that on their resumés."
Belinne said dancers and gentlemen's club hostesses and managers may feel safe because the clubs are set up to protect them from rowdy clients.
"They're never alone in these situations, as one would be on a website encouraging dates for money," she said. Belinne had never heard of SeekingArrangement until the Weekly called.
"The fact is, this sounds like a very dangerous position for a young woman to put herself into," she said. "Men are bigger and stronger, and if a young girl meets with a man alone who's obviously interested in sex, what if she's raped?"
Women who put their profiles on SeekingArrangement asking for monthly payments might have a tough time getting a jury to convict a man of rape, Belinne acknowledged. "A jury probably would say the woman was asking for it, don't you think?"
It's another situation where young women need to understand about personal power, she said. "We do talk about everything in terms of women in the corporate workplace," Belinne said. "They know their power in business comes not from their sexuality, but from compassion. We talk a lot about how young women in business define success and where young women get their power. It comes from educational preparation, understanding the world, mentors both inside a company and outside, and a drive toward leadership."
Early on in the U of H business school curriculum, Belinne addresses the unique issues for women in the corporate world and in the real world in general.
"One of my presentations about women and power starts with a slide show of sex symbols from the past, images of Marilyn Monroe and Mae West," she explained. She progresses quickly to the current cult of celebrity, showing pictures of Rihanna, Madonna, and Beyoncé. "The message from the media today is that women's power comes from their sexuality."
Then she puts up photographs of Eleanor Roosevelt and Mother Teresa. "Which of these women made it into your history books?" she asks her audience.
"Sure, there's still exploitation, but I tell the students that the good news is it's not as overt and profound as it used to be," Belinne said. She shares examples from her own life. At an earlier job at another college, she said, the dean would dress up like Santa Claus for the annual Christmas party. If women faculty members wanted their Christmas bonuses, they had to sit on his lap.  "We did it," she said.
Now, she said, people are very clear on what constitutes sexual harassment. "I think we've helped a generation of women avoid most of that."
When Gloria Steinem visited Fort Worth for a Feb. 4 rally in support of Planned Parenthood, some of the young students in Associate Professor Theresa Gaul's women's studies program at Texas Christian University were in the audience. Steinem was a journalist before she was an activist and in 1972 was one of the founders of Ms. magazine. She famously posed as a Playboy bunny to write a woman's perspective of the indefensible icon of Hugh Hefner's publishing empire.
At TCU, Gaul said, her young women students reject the idea that a woman's power is limited to her sexuality. As director of Women's Studies at TCU, she's seen a resurgence in that curriculum across the country, she said.
"It's more difficult in many ways now to be vocal, to be an activist, or to be committed to these kinds of causes," said Gaul. "We live in a political climate that is not the 1970s."
The students who crowd into her classrooms at TCU are diverse and have differing levels of awareness of the history of women's rights and the challenges for women.
"There are some really sophisticated feminist thinkers who are 18, 19, and 20 years old," Gaul said. "Others haven't really been introduced to the idea. Some are quite thirsty for that kind of knowledge." Her students are intensely interested in media images of women. "They are savvy and engaged with digital forums and social media," she said.
Alexis Lohse had heard about SeekingArrangement, but she is not a member. She entered TCU's women's studies program this year as a junior, after attending community colleges in Austin and Fort Worth. She's 32, married with two children, and sees herself as more experienced and more grounded than most of the younger students. She's outspoken and articulate.
Lohse sounds pragmatic when she talks about the website.
"I think if you can look at that phenomenon and take a Libertarian viewpoint, you'd have to say these people are 18 and older, they're entering into this contract willingly, and they know what's happening," she said. But it's still sad, she said, to see such relationships fraught with an old-school power dynamic between older, financially secure men and younger women.
"I think the media's representation of women is extremely dangerous and also very telling," said Rachel Russell, another student in Gaul's program.  "Some misrepresentation is done in a terrifying, implicit way."
She's an activist who abhors advertising that shows a woman's legs or torso but no face, and films that produce unrealistic images of women. She's concerned, she said, about a patriarchal society and attitudes that are shaped by "the glorification of masculinity, such as sexism, [and] homophobia."
Russell believes women's studies play a crucial role in higher education, along with courses that address issues of racial equality.
"Sexism and misogyny have become a lot more institutionalized, I think," Russell said. "Young women in my generation think of oppression only as something overt. The problem with that is there are many subtle patriarchal attitudes that still keep women down."
 ********
Wade immigrated alone to this country at 19 to get an education at MIT. He described himself as shy, taunted and labeled with stereotypes including "Asian nerd" by his peers. His academic success and drive only made the teasing worse, he said. And he was always looking for love.
His expertise in engineering and technology positioned him for web-savvy analysis and tech-related strategy consulting jobs after college. Before the dotcom bubble burst, he started a company called SourceGate Systems Inc., that allowed internet providers to increase advertising revenue. He worked as a technology infrastructure manager at General Electric and a management consultant with Booz Allen & Hamilton, a Fortune 500 consulting firm in New York.
Wade said he developed SeekingArrangement in his bedroom in San Francisco.
"It was profitable after the second week of launching," he said. "We had 2,000 members on the site. Since I was developing it alone and with no overhead, my cost was literally nothing."
Today Wade's firm has a real office in Las Vegas and a staff of 15. In addition to SeekingArrangement, he has launched SeekingMillionaire.com for millionaire matchmaking, WhatsYourPrice.com on which singles bid for first dates, and MissTravel.com, which he described as the first travel-dating site.
"I'll be able to announce my first reality show in a couple of weeks," Wade said. He won't name the cable TV network that he said intends to produce a program based on MissTravel.
Wade and his dating sites have been featured in The New York Times, the Wall Street Journal, and GQ, and on ABC's 20/20, Good Morning America, and other major network shows.
With all this notoriety, Wade, 42, said, he is most proud of getting married last year. He met his wife, Tanya, when she began working for the company.
"It's nice to have a female perspective on what we are doing," he said, adding that his wife is still involved in his business. "She's 13 years younger than I am, and it makes no difference at all," he said.
He's heard the criticism that "sugar daddies" and "sugar babies" have dramatic age differences. "We studied that and found that the average age is 40 for men, 27 for women. If the age gap was very big, I think a lot of people would raise some eyebrows. But it's not such a big issue," he said. Of course, the age difference between women and men is key to his marketing strategy on SeekingArrangment.com.
Henry said he's not buying it.
"I think this might appeal more to men who never had children, especially daughters," he said. "I thought I'd try it, and now I have a $180 investment in it."
He doesn't feel like he belongs with the "sugar daddies" on the site, who appear to come from every walk of life — doctors, lawyers, educators, catamaran sailors — but with one general objective. "Seeking a princess," says one post.  "Looking for fun, no commitment," says another.
It took Hugh Hefner eight years to amass his first $20 million with the help of attractive young women who bared it all in Playboy's pages and others, wearing skimpy "bunny" outfits, who served mostly male customers in trendy nightclubs.
Wade earned $10 million last year alone, with a moral compass directly aligned with Hef's and a storyline as old as time.
"Some girls think that because we can vote and pursue different careers, somehow feminism's work is over," Rachel Russell said. "It's not."
North Texas freelance writer Annabelle Massey Malloy can be reached at annabellemm@sbcglobal.net.